Join our Pudsey Bear Display at Cake International 2019!
CakeFlix are delighted to have teamed up with Cake International and BBC Children in Need  to create a huge display of Pudsey Bears at this year's Cake International at the NEC 1st to 3rd November 2019.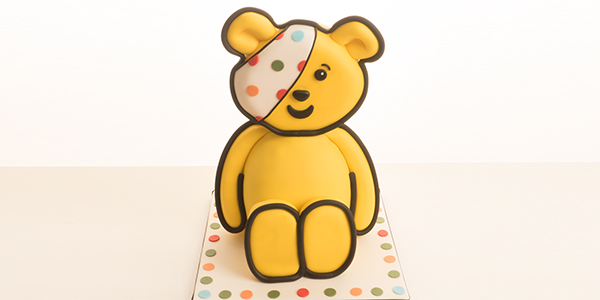 Paul Bradford will be creating a series of Pudsey Bear cakes to help guide anyone who wishes to enter. He plans to start easy and get progressively more challenging.
All Pudsey Bear tutorials are FREE to view and we hope that lots of people use them to help raise money by baking and selling Pudsey Bear cakes locally.
Check out Paul's Quick and Easy Pudsey Bear
Next in the series is Paul's 3D Pudsey Bear pictured here.
You can DONATE at any time to help us reach our target of £2000.
To enter you need to be a CakeFlix member or CakeFlix tutor.
CakeFlix Tutors please contact david@cakeflix.com for the link.
Members should sign into the CakeFlix website and will see below either their Premium or Pro icon on the top right of the page (must be signed into your account).
Click on the Pudsey Bear display at Cake International link and you'll get take to the page where you can enter the display, which is free of charge. However, as this is for Children in Need, we ask for a small donation, which goes straight to the charity. Once your entry has been confirmed you will be invited to join the private Pudsey Bear CakeFlix Group, which will keep you up to date with everything.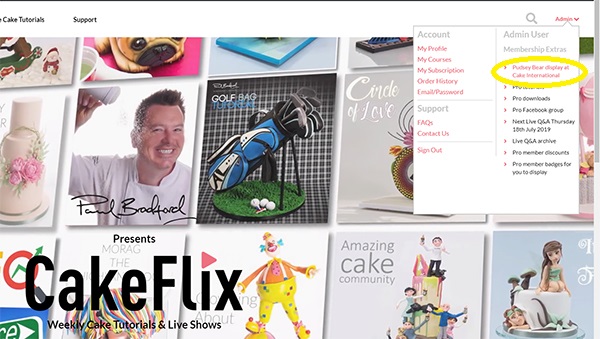 Any questions at all relating to the Pudsey Display please contact david@cakeflix.com