Transporting Cakes – A Mission Impossible?!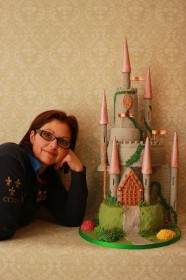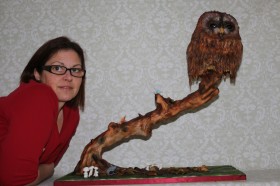 Paul had the pleasure of meeting Ann from special-2-me.com over a year ago when she attended his 5 Day Intensive Course. Ann is a keen cake decorator, who has followed Paul's online tutorials for some time and has experimented with a range of beginner, intermediate and advanced cakes. With hard work, dedication and lots of practice, Ann has been able to create a whole range of stunning cakes and decided to attend a 5 day Intensive Course with Paul, to expand her cake decorating skills and knowledge further. Something that many of us don't consider when heading to a cake decorating class is; How on earth do you transport your cakes home….and this is just what Ann done….!!
Attending a Cake Decorating Class
Tempted to try the one of Paul's Cake Decorating classes? – Go for it!
The classes are an amazing experience and if you are lucky to have a good mix of people, it can be brilliant fun too. You will make new friends and we even have a Facebook page now. Of course everyone arrives feeling a little awkward and nervous on the first morning, but you all soon settle into the warm and welcoming class environment. Paul's way of learning reflects a truly and amazingly patient tutor and there is no substitute for being there in a small group. You all bounce ideas off each other and pick up tips at a fast pace.
I would advise that you think about the output of the week and how you plan to get it home. If like me you fly to Scotland, be aware that you will have cakes to transport home.
"It'll be fine", Paul said
"We will box the cakes up for you" he said.
So on the evening of Day 5, with two very tall boxes in hand beautifully tied with mint green ribbon, a holdall being carried very gently and a sugar shoe wrapped up in tissue paper in my handbag, I arrive at Edinburgh Airport. My first mission was to actually get all this into the airport single handed and then, there I stand in the airport check -in with those words of Pauls ringing in my ears….
"Just have a story, it will be fine, and they will get you on the plane (but be prepared to cry)".
I am NEVER going to heaven now after a week at Paul Bradford's Sugarcraft School! Having spun the line that the boxes contained my daughter's wedding cake, hand made by me (her mother), I was now committed to that lie for the next 5 hours! And yes, I did have to get teary at check in; whilst I explained that my daughter would be heartbroken if her cake was not there for her wedding a week later (my Lord I was starting to believe my own lie). I eventually got escorted to the plane, a spare seat reserved for the cakes, and the pilot waiting to personally seat me ahead of the rest of the passengers. But not before I had to navigate security and having one of the boxes removed to be taken away for scanning and drug testing.
Now let's just review – the lie – a wedding cake.
Content of box 1 – on way to scanner in a wheelchair (please don't ask) – a chocolate wrap cake.
Content of box 2 – still with me and currently on the conveyor belt to the normal scanner – 1 large burgundy handbag cake
Content of my handbag – 1 pink sugar shoe with the matching box in the holdall!
I won't bore you with the details, as I am sure you have the picture by now, but there was lots of fast talking about Hen Party cakes and back up Hen Party cakes (in case of damage in transit), oh and of course unusual chocolate wedding cakes. I was almost dying inside and I never knew I could lie so convincingly and with such swift speed.
Of course on the plane, there were many visits to my seat by cabin crew etc., wanting the details of when the wedding would be, and where was it taking place, and what will the bride be wearing etc. I have never been so glad to get off a plane and out of an airport.
Was it worth it – absolutely every minute!
Today, Ann is back in the studio for a one-to-one lesson with Paul, as her daughter is getting married in August this year, and she is keen to learn some new skills to perfect a stunning new cake design! Here is a preview of one of her cake designs so far…..isn't it just stunning!!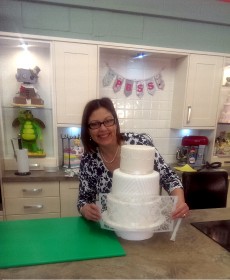 If you would like to attend one of our Cake Decorating classes, then follow this link to see the classes that are available near you!
x