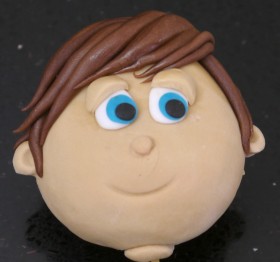 Although Paul prefers to create all his models by hand he is also happy to use moulds as and when the cake needs that particular touch.
Here Paul shows how to use a Karen Davies face mould and how to add your little touches to create a sugarpaste face to match your design.
The tutorial takes you through the consistency to use to get the best effect, layering the mould then adding all the little bits to make it look great.
Moulds are are a great way to get consistency if you're repeating the same design. Often used for example with wedding cupcakes where its important to get that consistent look across the whole display.
There are many good moulds out there but Paul's very keen on the range provided by Karen Davies . He finds them very easy to use and a very good selection.
Moulds aren't for everyone, but certainly worth knowing about especially if you're looking for repetition or starting out in cake decorating. You kind of have to create a design round the sizes provided in the mould whereas with freehand cake decorating you create the size to suit.
All said a very worthwhile addition to a cake decorators skill set. Lots more tutorial are available on our Cake Decorating Library.