Toffee Cake Recipe
with Sheila Jones
Skill level: Easy
HD Lessons: 1
1. Main Lesson
Method:
1. Ensure that all the ingredients are at room temperature.
2. Line the sides and base of the cake tin.
3. Preheat oven the 160C (fan).
Date mixture
1. Soak the dates in the cold tea for 24 hours (optional but the flavour is better).
2. Place dates and tea in a pan and bring to the boil.
3. Cook on a high heat for approx. 10 minutes till the mixture goes soft and 'gloopy'.
4. Remove from the heat and thoroughly mix in bicarbonate of soda.
5. Set aside and leave to go completely cold.
Cake
1. Cream the butter and sugar till soft, light and fluffy.
2. Break the eggs into a measuring jug and lightly beat together.
3. Gently pour eggs into the mixture and beat well.
4. Add the vanilla extract and beat well.
5. Fold in the cold dates mixture till just combined and no more.
6. Fold in the sifted flour till just combined and no more.
7. Pour the mixture into the cake tin, place in oven and bake for 40 – 50 minutes depending on your oven. Do not open
the oven door before then.
8. To test that the cake is baked, insert a skewer or cocktail stick into the centre of the cake. If it comes out clean, the
cake is baked.
9. Remove the cake from the oven and leave in the tin to cool for 30 minutes.
10. Turn the cake out onto a wire cooling tray and leave to go cold.
11. Wrap in cling film and place in the fridge for 24 hours till ready to use.
Note.
This cake can be served hot with a warm toffee sauce of your choice. If you prefer to eat it cold, spread some buttercream
over the top and drizzle on your own cold caramel or toffee sauce. Yummy!
Baking superstar Mrs Jones of 
www.mrsjonescakes.co.uk
 is here to teach us how to make her super tasty toffee cake recipe.
The cake has been in high demand for many members of the site and we're certain it's worth the wait!
If you have a question about quantities, the recipe or method then pop a question on our Q&A Page here.  
Downloadable tools and ingredients list
other US to metric and Metric to US
This recipe is for a 8″ Round cake baked to a depth of 3″ or just under. Baked in an Invicta cake tin 4″ deep.
Need to bake a different size? Use our Cake Recipe Re-Calculator, find the Toffee recipe then select your new bake size.
300ml of cold Earl Grey tea (brewed in a teapot)
225g Dates (roughly chopped)
1 teaspoon of Bicarbonate of soda
115g Unsalted butter
170g Soft brown sugar (light or dark depending on personal taste)
2 Medium eggs
1 teaspoon vanilla extract
170g Self-raising flour
1 x deep 8" round cake tin (or 1 x deep 7" square cake tin)
Baking parchment or grease-proof paper
Scissors
Oven
Oven thermometer
Digital scales
Kettle
Tea pot
Chopping board
Sharp knife
Pan for using on stove or hob
Measuring jug
Heat resistant glass bowl
Wooden spoon or heatproof spatula
Food mixer (upright or hand held)
Fork
Spatula
Crank handle spatula
Thin skewer or cocktail stick
Wire cooling tray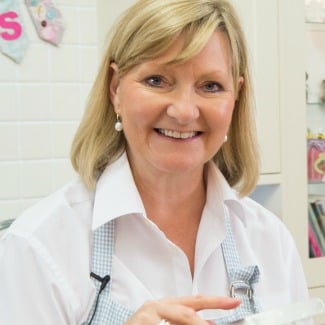 Sheila Jones
Taught by her Mum to bake, many of you will recognise Mrs Jones as our expert baker. She is also an accomplished cake decorator. As a former nurse and midwife, Sheila has turned her passion for creating delicious, elegant, bespoke cakes into a very successful business. Over the years, Sheila's baking skills have been consolidated by achieving a professional diploma of PME Masterclass Certificates in Sugarcraft, Sugar Flowers Royal Icing and Piping, and she has worked with the very best of cake decorators in the country. She is Chair of the Glasgow Branch for the British Sugarcraft Guild, a member of the Scottish Association of Master Bakers and a founding member of the Glasgow Baking Club. You will all recognise her as the baking expert on our online tutorials. It was one of her students who said that 'Mrs Jones' kitchen is where we bake, learn, laugh and indulge'.