This is now my third or maybe forth trip to Italy, the last trip was pretty much a standard trip, although it was the first time on my own and slightly freaking out as David was unable to join me. I was coming to terms with the challenges of driving on the other side of the road and a left hand drive car and those crazy Italian drivers lol… All in all we had a fab week teaching in the sun, down side was driving back to Nice from Italy and taking the wrong exit landing me in down town Nice nowhere near the Airport… Could I get back on the motorway… NO. I couldn't…! Well after 1 hour driving up and down I plucked up the courage to ask a French man directions (in schoolboy French) to the Airport, sticking my arms out like a kid to make the shape of an airplane to show what I was talking about. He must have thought I was mad, but it worked. My French must have been ok! Or the arm actions said it all. I will confess to having a wee bubble in the car moments before as I really thought I would miss the flight home.
Anyway back to this week´s story, this time around I've been asked to teach a few classes aswell as demo at the Institute of Cuisine in Arma di Taggia, in North-West Italy. The classes go well but the whole time I'm worried about the the big demo and the CAKE yes thee CAKE… I'd been asked to make a cake for Prince Albert of Monaco. I think it was for the Tennis open in Monaco….! I'm asked to run a whole day demo at the college in front of a class of about 8 to 10 students I was told! Bear in mind I don't speak Italian so trying to make it a fun demo was going to be very hard!
I arrived at this stunning building on the sea front with palm trees everywhere. I walk into the School with David and see a lot of people but think nothing of it, I remember at this point my only worry was I didn't pack a nail brush. When ganaching I like to de-ganache between cakes which includes scrubbing my nails, the little things lol. I start to walk across to the demo room and find a man setting up cameras and speakers in a rushed look, I turn to David raising my right eyebrows, we just get on with the prep when Andrea, our host and now friend, comes in to tell me the the School head has decided to allow all their students to attend…! At this point the doors open and all these people came rushing in to the room the noise levels go through the roof as everyone is fighting for a front seat… My heart is in my mouth. Instead of talking I just put my head down and prep like crazy! My biggest fear is keeping them interested for a whole day…!
The demo goes well. I find it hard to talk as it takes so long to translate so we decide to that I should just work and Andrea will explain what I'm doing…! 6 years ago cake decorating using sugarpaste was very new in Italy, never mind using ganache, so I really had my work cut out…..!!! We stop for lunch, I needed to be prised away from my table because I just wanted to clean up and prep for the afternoon.
However, the lunch was a whole new experience. Of course it would be, it was one of Italy's best know culinary colleges. We were treated like royalty, but all the time I just wanted to get back to prep. As I get ready to go again I can see David involved in some chit chat off to one side. Even he looked a bit worried when he asked to have a word with me. It only turns out that Prince Albert has asked for the cake today! He had to head off somewhere and wants to see the cake before he goes! WHAT! He wants the cake today…!? How's that going to work? Emmmm maybe you can make it part of your demo…! Geeezzzoooo you're kidding! My big moment to impress and I've to make it in front of all these guys and cameras! Noooooooooooo…….!
That's show business for you lol. So I make my then signature cake the exploding parcel cake (which looks really dated now) we made more of these for weddings than any other cake in the 9 years we ran the shop! Thankfully I had plenty of practice so could make the cake with my eyes closed… As you can imagine I was in a bit of panic but we got there and the cake looked OK. Not brilliant, but OK! I pack up and rush my way out the staff room as we had a deadline for delivery to the Palace, when bang I walk in to the student hall with a cue of students wanting my autograph and picture….WOW! This is the first time this has happened and it's great I really do feel like a VIP!
David catches some of it on camera… (bear in mind this is a very old video!)
The big problem is I need to get to the palace with the cake, I had to be pulled away from my screaming fans… lol! I jump in a tiny wee Italian car barely big enough for me never mind a tall cake, and we're off racing through the streets of Italy then onto Monaco like a F1 racing driver. I was Sugaring myself….! We get to the lower part of the Palace and need to wait for what felt like a month before we could drive to the top gate to enter the beautiful Palace of Monaco.
We're told no Cameras and not to wander off! We're greeted by Prince Albert's butler, to be told we just missed him by 5 mins and that he's very sorry to have missed us, at this point I'm still in cloud 9 as we're standing in the private kitchens and it's amazing, spotless and oh so very shiny. I'm introduced to the head chef, Christian Garcia (pictured below), who at that time was also the head chef to all the heads of state chefs! We have a chat and just before we're about to leave he's handed a note from the Prince asking me if I could make a LV Handbag for his fiancée… I then explain that I'm not allowed to make LV Cakes anymore and in my head I'm shouting "SHUT UP, just say yes!"… But it's cool as he replies that Prince Albert is good friends with the LV family so it'll be fine. I then fall over in shock!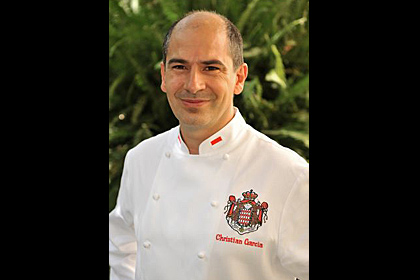 So, it's now my last day in Italy and should be a day off before the 2 day drive back to Scotland. We drove as back then it was very hard to get hold of the tools and ingredients needed, thankfully we had just bought our first nice car, a Black BMW, 6 series (with tinted windows POSH lol). So we looked the part as we're were told that we needed to deliver the cake to the Palace! So I make the cake in the morning and Andrea wraps it up to look really fancy. We head to the Palace mega excited as we're going to meet the Boss this time. We arrive at the gates and there are a lot of tourists outside so when we pull up at the gates they start to walk over to see who it is… I really do feel like a VIP now! We pass through and drive very slowly towards the office like two school kids giggling away wishing our Mums and Dads could see this.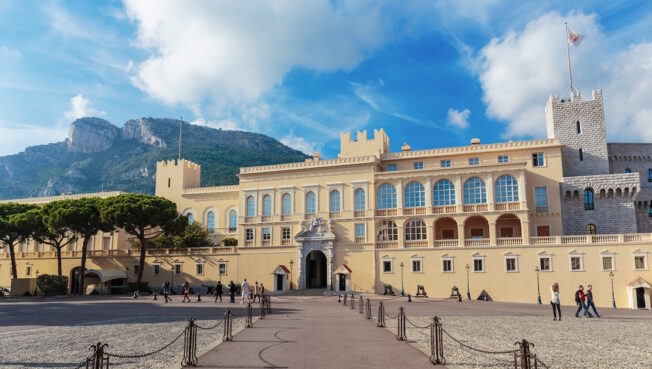 We're badged up and taken to the kitchens again, but this time we walk through the inner courtyard which was stunning I really wanted to take a picture 🙁
We walk into the kitchen office where Christian has just finished a call….GUESS WHAT we had missed Prince Albert again! Never mind just to be asked and stand in the Palace was enough for me! By the way there are pictures on the wall of all these amazing people shaking hands with Christian in this kitchen. Nelson Mandela was one off them… I better stop there…! To the side of my eyes a wee door opens and up pops a few members of staff looking very smart. I try to look behind them to have a nosy as I think it's the door to the Princes private quarters, all I see is a gold looking fancy carpet. They talk with Christian who then opens the fridge and brings out a large bottle of Champagne and opens it, on the label is the Royal crest so we're now drinking Prince Albert's own Champagne… WOW! It doesn't end there. We're then asked if we would like a tour of the Palace not seen by the public…. Emmm let me think…..oh YES why not will be the answer lol…! All I can say is WOW WOW WOW just picture it David, me and two butlers, we don't speak French and they don't speak English but what an amazing experience, we walk down the stairs that earlier I was trying to nosey down, we're taken to see all these rooms even the bedroom that the Queen had stayed in recently. The funny thing about the room was the bath enamel was peeling off (I never told you that). We're now walking in to the Room of the Gods this is where the heads of state meet with the Prince, there's lots of gold and full of very expensive looking ornaments, one of the butlers points to a strange carousel sitting on a table, he tells me to press the button. The next thing it starts to spin round playing music with arms popping out holding cigars, all I'll say is it was a gift from a USA president. I wonder which one??? lol
I´m now feeling a little light headed as the Champagne hits me (David's driving). The staff are also holding a glass which seems funny, we pass through a few other rooms then stop a big double door he looks around and we stick out heads in the room, it's very dark he pulls open a black sheet that cover a painting, I then realise the room is full of paintings covered in black sheets! The painting underneath is of the late Princess Grace, Prince Albert's Mum, it shows her holding a white Orchid with a view down to Monaco harbour from the Palace, WOW. We're then shown the Summer room where the painting was drawn, I hear this was her favourite room in the Palace, full of plants and a stunning views!
You would think that was it but oh no one last part of the Palace to see and that's the big arched windows to the right of the picture I've posted. So we're looking out the window and all you can see is the tourist looking at the Palace taking pictures. It really does feel like a dream. Well the next thing the Butler who looks the spitting image of Prince Albert (as I'm typing this I'm now thinking maybe it was him…) he puts on the Royal sash that hangs near the window, opens the window so the tourist can see him, waves, then closes the window… I look at David he looks at me WTFoxtrot, we're going to be sent to the gallows…! OMGoodness, did that just happen the two butlers are laughing like mad so we burst out laughing too, with a little OMG at the same time, in very broken English he says that if it was the Queen of England she would have him taken away, but the Prince Albert wasn't quite so strict! Outside I can now see people running over to the window where the butler had made a brief appearance, just in case he looks out again…! We're now walking back to the main office and given a nice gift plus tickets to see the public part of the Palace.
We do the tourist part of the Palace then jump in our car and head to the gates… it's like something from the red carpet. All these people trying to take a picture of us leaving the grounds… 5 minutes later were in down town Monaco and we both looked at each other shook our heads in disbelief then drove in to the commoners sunset. The end.