Growing up, I always had dogs as pets and always loved to see how dedicated and affectionate they are to us. When I used to walk through the door after a hard day's work, the dogs I had always greeted me with the same enthusiasm. The love dogs have towards us was one of the reasons that motivated me to host a collaboration about dogs.
I knew by choosing this theme I would give sugar artists an opportunity to replicate their own loved dogs in sugar and put a spotlight on them. The timing also seemed right: the collaboration was released in summer, when a pet is abandoned every single hour; I hope my collaboration contributed to raise awareness and make people understand they are family, not objects. 
110 sugar artists joined me in this adventure. It was so lovely to see sugar artists using a wide variety of techniques even including blown isomalt to create their dogs. Those adorable fur babies were definitely able to win their viewers' hearts. 
Sharon Siriwardena
Sharon's Creative Explosion Cakes
Click here to discover all the pieces :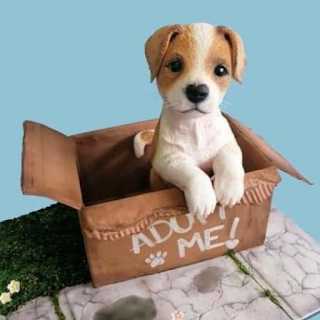 KARIN SAADE Art Cakes and Bakery, Colombia
'I made this little puppy for my little girl as a keepsake gift. The entire piece is edible even the box. All the details were painted and airbrushed to bring him to life.'
MONIKA SULAKAUSKAS Twisted Tortes, Canada
'Why did I choose a Pomeranian? It was actually a tough decision as I love all dog breeds. But I had made a similar dog cake before and I was aiming at improving my first attempt as it is not easy to recreate it's poofy hair out of solid cake and fondant. It took me too tries and I am sure there is still room for improvement! By the way, I have the best job in the world: I am a dog walker so I get to hang out with lots of them. Hopefully I'll walk a Pomeranian someday.'
SHARON SIRIWARDENA Sharon's Creative Explosion Cakes, USA
'I made this 3 doggy variations of cupcakes that have a more whimsical look: a Corgi, a Dalmatian and a Dachshund.'
VICTORIA WHITE Victoria White Cake Design, UK
'My inspiration was my Rottweiler, Jay. I made a frame with armature wire and sculpting mesh and covered it with candy clay sculpting chocolate. I sculpted the details then colored him using Rainbow Dusts.'
CINDY PASCHOUD De la Pâte Plein les Doigts, Switzerland
'I chose to represent our family dog, a Maltese, we named Oreo. I represented him in this position because it's his favorite's. It was made of cake and RKT and covered in Carma's Massa Ticino paste.'
SILVIYA JANKOWSKI Bicky Piccy, Botswana
'This is our baby girl Kalasha. She has a lot of toys but she loves playing with her balls. Sometimes she gets into trouble though as she hates to get wet.'
CHRISLYNN EIKEL Chrislynn's Confections, USA
'I chose a Basset hound in a hatbox because my pet basset, Daisy, was my first big gift from my husband when we started getting serious while we were dating. She is my joy and my muse and we are now happily married with 2 hounds, two precious children. I'll likely never own another breed of dog; they are so perfectly floppy and loveable!
ELIF DOĞANFloksia Cake and Sugar Designer, Turkey
'My piece is a gravity defying Doberman at play.'
SIAN LIDDELLSweet Delight Cakes, UK
'I am a huge dog lover. My piece is based on my dog Lola. Lola is a Weimaraner, a German gundog breed for royalty. This breed is renowned for their amber eyes, so it was something I really wanted to get across in my piece. My piece is made from Saracino modelling chocolate, the base was built up with a polystyrene ball and aluminum foil. Once finished, she was hand painted with dust and rejuvenator spirit.'
DEBORAH EDWARDS Deborah's Cakes and Sugarcraft, UK
'I love animals and couldn't resist a dog cake. It was also my husband's birthday at the time; I made my piece and I wanted to make a dog that I knew he would love.'
EVE EGGERS Eve's Zucker-Himmel, Germany
'I made my little British Bulldog completely out of Saracino modeling paste on a RKT base. I made the fur look with a horse hair brush and toothbrush and the small folds with a dentist tool! The little ball is also made out of Saracino modeling paste and rolled by hand and with small knobs… because she just wants to play!!!'
SOPHIE KRAHENBUHL Les Cocottes Popotent, Switzerland
'My piece is a blown isomalt dog.'
CLARISA BORUNDA Sweet Memories by Clarisa Borunda, Mexico
'I chose a Beagle dog because they are the most adorable and playful breed. My piece is a honey cookie decorated with royal icing, 2D volume technique and some hand painted details.'
ANGEL TORRES Angel Cake Designer, Colombia
'The Saint Bernard is a breed of dog native from the Swiss Alps and Northern Italy. He is commonly represented as a rescue dog carrying a wooden barrel with a hot drink or liquor from which rescued people in the snow can drink and get warm. In addition to my admiration for nature as a whole, this dog breed has always been one of my favorites and I was happy this collaboration gave me the opportunity to make it out of fondant. I hope you like it!'
SUSANNE REESE Susi's Süßkram, Germany
'Our dog is a Ratonero and Bodeguero mix. I rolled the fondant onto a thin cakeboard, let it dry and then painted it with a brush and food coloring with a little water.'
Click here to discover all the pieces :