They say good things come in small packages, and cake shops don't come much smaller than this. From the Scottish Highlands to a sleepy Yorkshire village, these bakeries prove size simply isn't everything.
Cakes in the Call Box – Argyll, Scotland
An old telephone box filled to the brim with delicious cakes is probably the last thing you'd expect to see as you wizz through a remote part of the Scottish countryside. But Cakes in the Call Box does exactly what it says on the tin. Friends Bron and Holly (left and centre) share a love of baking and decided to start up their own little cake shop as a way to bring a little sweetness to their tiny village Cladich, in Argyll & Bute.
The cakey duo spend their evenings baking, and stock up the revamped phone box each day. The cakes are stored in plastic tupperware and can be bought via an honesty box. The tiny cake shop as apparently garnered plenty of community support from the 30 residents of Cladich.
Edward Street Bakery – Yorkshire, England
Tucked away in the quaint West Yorkshire village of Saltaire, you may unwittingly stumble across the door to Edward Street Bakery. It'd be easy to miss, if it wasn't for the glorious smell of freshly baked cakes that comes from the 19th century cottage, wafting right down the street. Follow Edward Street Bakery on Facebook to find out when you can buy some of their goodies at their next pop-up shop.
Stortebacker – Corstorphine, Edinburgh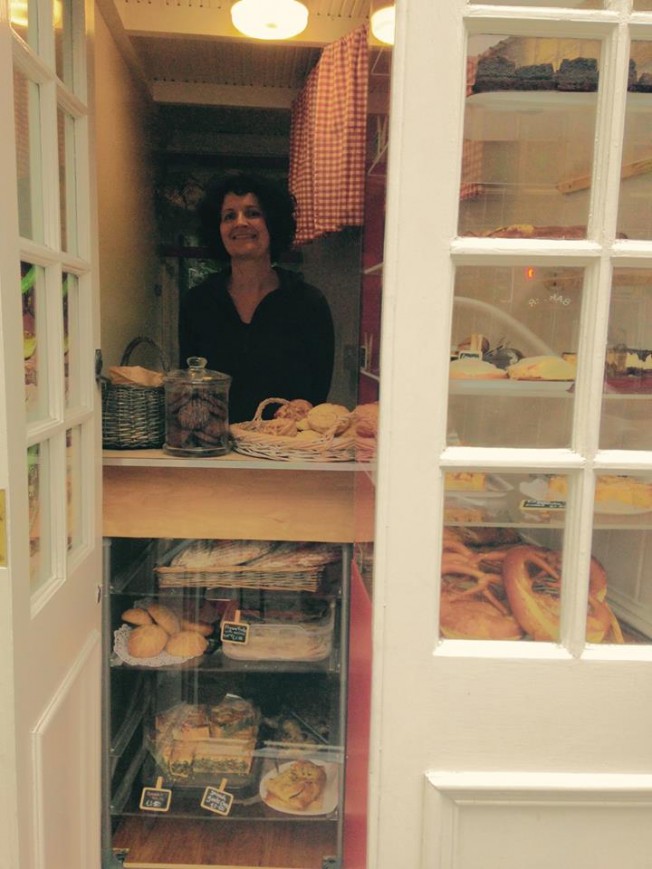 Blink and you'll miss it – German bakery Stortebacker is based in the Edinburgh suburb of Corstorphine, in one of the smallest premises on the high street. Step inside (if there's room!) and you can choose from a feast of sweet and savoury German baked goodies. Run by German-born  Kerstin Marks and Judith Lamb, the bakery has made its home in the 100 year old 'Wee Shop'.
Rumour has it the Wee Shop has been home to a watchmaker, a shoemaker, a tobacconist and confectioner, a surgical corset maker, a coal merchant, and an estate agent over the last century.
Do you have a favourite tiny cake shop? Share in the comments section below…