Last week, Paul and David were in Crete, where Paul was teaching at Greece's very first cake school. Here, David shares stories from their four days of exploring this beautiful corner of the world and their time with the wonderful folk over at Cake and Bake Stories.
One of the great privileges of teaching cake decorating around the world is getting to meet some amazing people and seeing some stunning places. Nowhere epitomises this more than our first trip to the beautiful island of Crete where Cake and Bake Stories have set up the first cake school in all of Greece.
Despite the challenges facing the Greek people as a result of the economic crisis, Cake and Bake Stories have managed to start their cake school in the face of everything having to work through things that most start ups go through, but with the added financial constraints of their potential customers.
However, it could be said that the crisis led to the growth of the school as Maria, the company secretary, had her pay in her accounting job cut quite considerably so sought other opportunities. It's often the case that recessions see the start of many new hobby style businesses, so if some good can come from all the despair it's that some seize the opportunity to do something they love rather than something they have to do!
On arriving in Crete, we were met promptly at the airport and taken to our hotel then straight out for a meal in the wonderful Lion's Square in Heraklion. Travel weary and now full from the meal we headed to the hotel at around 1pm – the Cretans stay up late, very late.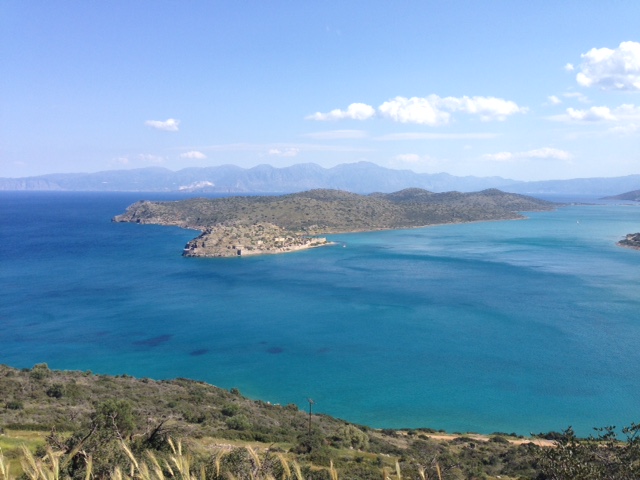 The following day we headed to the school to check things out and were welcomed by the school owner Xara and her husband and friends. There was a hive of activity getting everything ready with lots of ganache and cake cones in the making. We then headed off to Agios Nickolaos for some exploring, about an hour East of the capital Heraklion. The road itself wasn't great and the driving in Crete really has to be seen to be believed and that's from someone who's driven in Spain and Italy! The 1000cc hire car resembled trying to steer a washing machine on full spin – all a part of the experience. Arriving into the city, it became clear that the journey was well worth it. Surrounded by snow capped mountains, blue skies, blue sea and whitewashed buildings it was picture postcard Crete.
We wandered around taking it all in and enjoyed a bit of lunch at the lake, which was a small inlet from the Aegean sea. On the way back we hugged the coast until the road came to an end…I guess our Satvan wasn't as good as we thought! However, if we hadn't taken that route we wouldn't have seen the real rural Crete, with old ladies at the side of the road dressed in black knitting while looking after their flock of sheep. We eventually made it back to the main road, which was just as well as Paul's chocolate supplies were dwindling, but not before spending 20 minutes following a farmer and his heard of goats down a single track road. Got to mention here that the scenery was panoramic as we happily made our way slowly back to the hotel.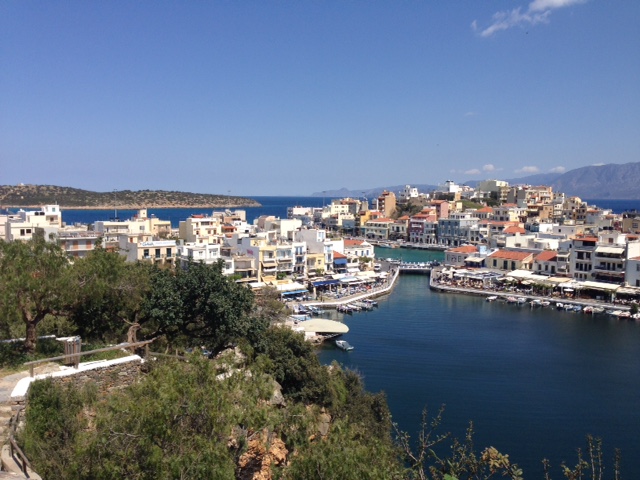 In the evening we were taken to a traditional taverna and wined and dined with no expense spared. Our hosts made sure we enjoyed all the local food and drink. This is the way to experience any country, but particularly one where the cuisine is such a big part of the culture and lifestyle.
Day two had us driving a couple of hours West to the ancient city of Chania. Quite stunning. This is where history really is history going back thousands and not just hundreds of years. The city walls had seen their fair share of action, but thankfully all was calm for our visit. Wandering in and out of some lovely quaint little streets and seeing places off the tourist trail was a breath-taking experience. Having had a bite to eat in the harbour area it was time to head off into the mountains. Following Maria's instructions, we headed through an amazing gorge which was surrounded by steep cliffs, trees and a river meandering its way through the zig zag route created by the gorge. Once we made it to the top the views were amazing, but that aside we were both thinking – who on earth thought it would be a good idea to build a road here?
This happened to be St George's day, which we thought was an English affair, but all the Georges in Greece, and there are lots apparently, were all out celebrating. It so happened that we had two Georges in our group so a special night was had, again, with plenty of food and wine and Cretan hospitality.
Holiday over, it was now time to get down to work. The ABC Block course awaited and a slightly nervous Paul and hosts prepared to welcome the first students to an International tutor. The course went really well, ran over a little, but the students didn't mind and all left with a huge smile and amazing cakes to take home. This was quite a result as many were very inexperienced, but all got there in the end.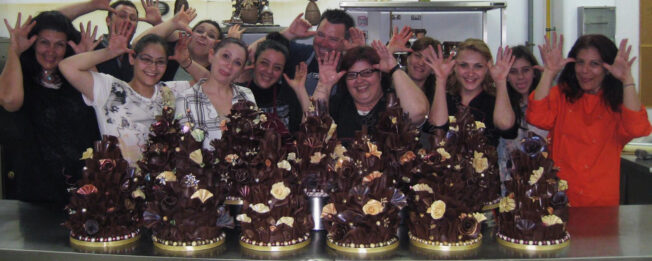 On the last day it was down to the old faithful Chocolate Wrap course. A lot of preparation had gone into this making sure all bases were covered. As always, this was the cake students were most nervous about making, but it all came together and there were lots of happy students by the end of the day.
A packed four days mixing business and pleasure and not much in the way of sleep, but there's no point in coming somewhere like Crete and not taking advantage of what's on offer. It must be said that there wasn't enough time to do all the things we would have liked to, but that leaves good reason for another visit.
An amazing trip, lovely people, great venue, excellent hospitality and somewhere we would highly recommend you visit.
Follow Cake and Bake Stories on Facebook.