Cake decorating is a skill that should be mandatory in the baking world. Cake decorating is to make your everyday plain creation into something worth looking at, worth taking pictures of, and most importantly, worth eating. This isn't just for birthdays – it's for all occasions! It can range from flavor to design. It can be as simple or as complicated as one wants, but it is a skill that should be acquired by all bakers.
This is to change the look of your cake to make it fit with any theme you are trying to do for any type of occasion. These are no longer the perks of "professional bakers", they are becoming very popular. It is also an art form. It is taking what's on the inside and changing it to match the outside. It simply consists of piping icing, making flowers out of gum paste, fruit jellies, chocolate shavings, modeling fondant and so much more. It also consists of changing the shape of your creations to fit with any theme you are using them for. It definitely changes the look of your cake to fit into a certain plot or theme that you might have going on. This can be very simple and very complicated all at the same time.
What does this skill mean?
Cake decorating can range from making a little bit of icing to make it look like a flower, or elaborate fondant sculpted flowers and different colors and textures of cake, cupcakes with cute laced icing borders, modeling chocolate for ones shaped like cars, animals (ducks, pigs), dinosaurs), or anything else in your imagination! It can be referred to as almost like icing magic, the possibilities are endless. This is not just for bakers but can be used by anyone who likes to bake and create. It is such a fun and artistic way of having fun with your desserts.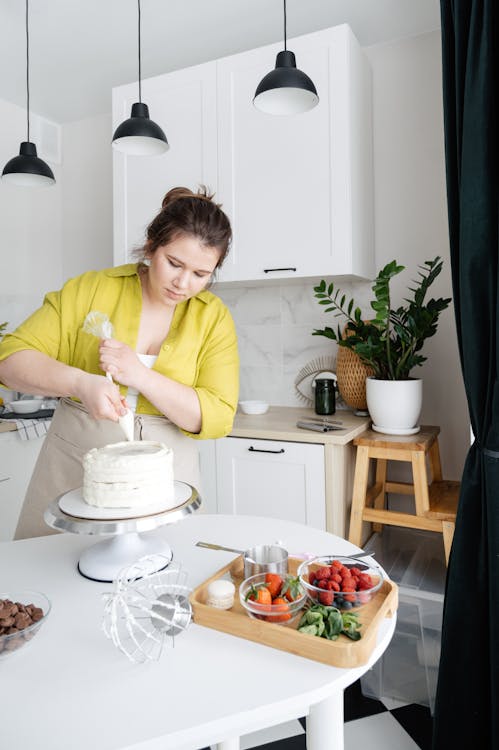 Essentially it's about having fun with your masterpieces! It is taking Cake and making it into an art form. It isn't just for bakers anymore but has become part of the Cake Hobby community that loves to bake and create things It is also a hobby, it is a form of Artistry. It's all about taking your skills one step further. If you enjoy making desserts, why not be a cake decorator? Desserts have been very popular for a long time now, so why not change the look of them as well? It has become a very popular hobby that everyone seems to be enjoying.
This technique as mentioned can be as simple or as complicated as Cake Hobbyists want to make it. It's all about having fun, and being creative all in one! Cake decorating doesn't have to be difficult at all but can be very interesting for anyone that engages in it.