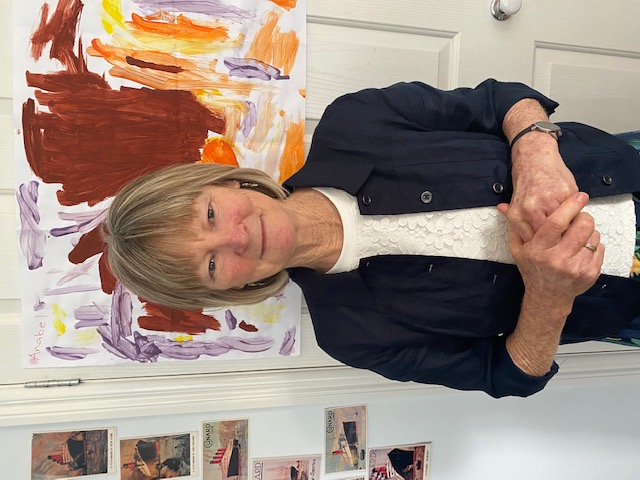 Helen has been chosen as CakeFlix Spotlight Member for August as a result of her amazing designs and ability to replicate tutorial cakes to great effect.
Paul was especially pleased with her version of Ashwini's Moth Orchid, but there are a number of designs that you'll recognise from her collection below.
Helen started cake decorating about 20 years ago when her husband had gone back to studying and she wanted to be able to make cakes for their children.  She had always baked cakes, but says that she never had the artistic flair for decorating them.  She enrolled in a course that she thought was for buttercream cakes, but ended up in a class for flower making and fondant covered cakes.  She really didn't think this was for her, but after making her first carnation (with a beer bottle top), she was hooked and amazed that it actually looked like a flower!
Being from Melbourne, she joined the Cake Decorators Association of Victoria and is now a committee member for their Westgate branch.
She is a firm believer in keeping everything because 'it may come in handy one day'. The kids are all so well trained that they will never throw out anything without asking if it is useful for cake making!  Her desire to build up apparently useless stock levels have been proven invaluable on a number of occasions. Who would have thought that corn husks would be useful, or champagne corks to dry frangipanis in! But all are easily available in Helen's storeroom. You can get a glimpse of Helen's craft room on the picture on the right (below).
Helen makes cakes for friends and family mostly, but she also has a few really good clients that she makes cakes for.  Her love though is in creating sugar flowers and she feels that she is in her happy place when creating them.  However, she declares that one of the best parts of cake decorating is doing cakes for children – the cakes are often colourful, fun and she takes great pride in seeing their little faces when they see them.  She recently made a Thomas cake for a little boy and he was so upset when his sister poked her finger in it!  She revels in having received so many beautiful thank you notes from clients and parents. She says that it always amazes her that they take the time to write when they have paid and already have so many other things going on.  "It is those notes and comments of approval that makes all the work and hours worth while".  She says with a big smile on her face.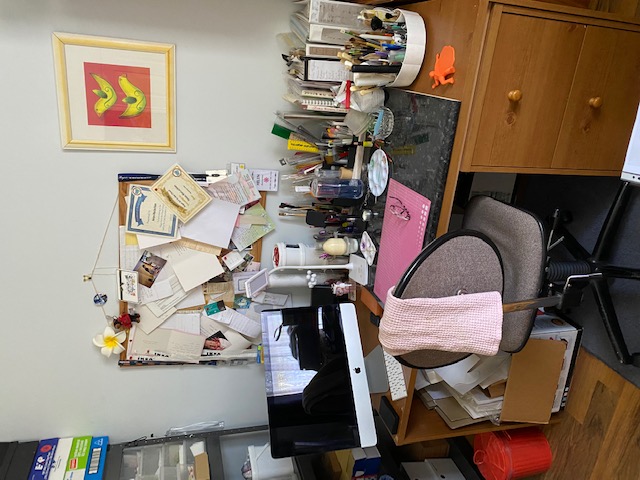 When Covid hit and lockdown confined everyone to home, this is when she found CakeFlix. She then became aware of Paul and so many amazing new cake artists and she was able to learn so many new skills and techniques that she would never otherwise have found, so Covid did have some benefits!
She still remembers the wonderful response from Rhiannyyd when she sent the photo of my version of Cyril's Cwytch through, that she had been doing for 6 weeks, and Michelle Pattinson's lovely reply when she sent her version of Michelle's cake.
"I have done many cakes from the tutorials and have loved them all.  Thank you Paul and David for this honour and all your hard work and bringing artists to me that I would never have found otherwise." – Helen MacLachlan
Interesting Fact
Helen's husband's family dates back to Scotland where the MacLachlan clan castle sits on Loch Fyne, just north of Glasgow. The original castle was destroyed by Royal Navy in 1746 as punishment for the clan supporting Bonnie Prince Charlie in the rebellion of 1745. This rebellion concluded at the battle of Culloden in 1746 where the MacLachlan clan and Bonnie Prince Charlie ended up on the wrong side of the Duke of Cumberland's men. This was the last land battle fought on British soil.  A new castle was built nearby, which we can be glimpsed through the trees, but the history lies with the ruins of the original fort.
Due to Covid, Helen had to cancel her holiday to Manchester and Ireland, which was scheduled for 2020. While she is still waiting to re-book, it seems a long way away as Melbourne remains in lockdown, which is reported to be longer than any other city in the world. Lets hope that Helen and the rest of us can get moving safely again very soon and get to meet some of those cake friends that we have all made since Covid struck.
Here is a small collect of Helen's amazing cakes…