After a six hour flight across the heart of Australia, we arrived in Perth. We were met by Megan, manager of the Malaga store, and taken to our lovely hotel across from the Perth Arena.
Up to this point I had been running 10km every day since landing in Australia. But Perth posed my biggest challenge yet. We arrived at the hotel at 3pm where the temperature was 36C. Our transport was booked to take us to the store at 5.30pm, which meant I had to go out running in the heat of the day. I quickly planned a route and was very grateful to see that the beautiful Perth Botanic Gardens were right on our doorstep, so off I went.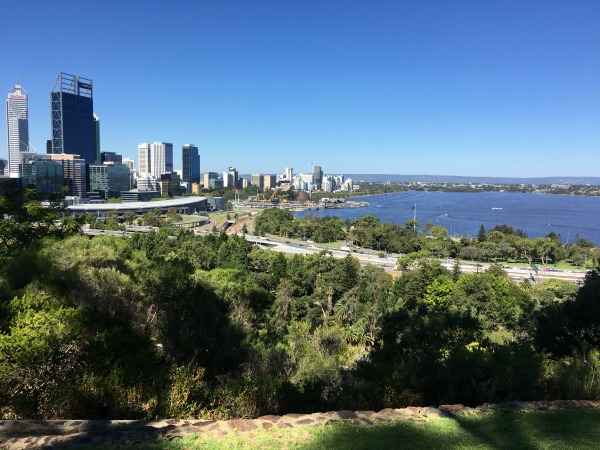 I managed to get back just in time for a cold shower. I made it outside, despite being somewhat exhausted, for 5.30pm. It was strange going to the Malaga store in Perth having lived in Malaga, Spain, for a couple of years. But the pronunciation is a little different, although we just couldn't get our heads around it… so stuck with the Spanish pronunciation.
Malaga was another well organised store with a lovely welcome and everything set out just as per Paul's request. This is when we realised how good the communication was between the stores, as the smallest points learned from the first demonstrations were resolved and the information had been passed on.
Watch Paul's introduction to the Perth – Malaga store on Facebook. The demonstration went well, with some talented designers in the audience. Paul was glad they introduced themselves after the event. There were lots of picture and autograph requests, so by this stage Paul really did feel like cake royalty. It was so lovely hearing how so many people had been following Paul's journey from the other end of the world. Time to pinch yourself and remember that all this started with a small cake shop in the quiet town of Linlithgow in Scotland.
The next day was to be the busiest of the tour with a demonstration at the Perth Jandakot store at 12.30pm, followed by the Australian Cake Decorating Network's (ACDN) infamous cake crawl coming to the store for 2 demos at 3pm and 4pm. As we were getting picked up at 10am, we needed to get up early to fit a run in. We both set off on our run backdropped by beautiful blue skies, what a great start to the day!
The trip out to Jandakot was lovely, with a calm, serene feeling and boats meandering throughout waterways.
We were welcomed by the store owners Joe and Casey and their team to another lovely store. Paul's nerves were starting to take hold, not so much for the Bake Boss demo, more for the ACDN whose ladies had already been making it known that it was going to be a crazy afternoon.  
You can watch Paul's intro to the Perth – Jandakot demonstration on Facebook too. The demonstration itself all went very well. As soon as the audience cleared he was on hyper mode, as the Chocolate Wrap demos – which had been taking two hours – had to be done in one hour for the ACDN audiences. So he quickly started preparing some decorations and layering the cone shapes in ganache to save time.
However, we got a call around 2.30pm to say that they were running behind schedule. The only solution was to cram everyone into the one demonstration, which gave Paul a little more time. But it was going to be hot with all these bodies and 36C outside. Thankfully Joe had enough aircon units to keep the inside temperature down, and to allow the chocolate work to be possible.
ACDN were a great, passionate crowd and enjoyed all Paul's stories and the humorous way he conducts his demos.  There were many fans in the group all wanting some of Paul's attention – and, of course, he duly obliged!
Liz, the ACDN organiser, had asked that during the demonstration if I would be interviewed to help people in their group with pricing and the business side of things. I didn't want to miss a promotional opportunity, so of course said yes. It was quite surreal as the interview took place outside the shop which was in a small retail park so there were plenty of people stopping to have a nosey at what was going on. We had iPhones and an iPad sitting in precarious positions recording everything, but the end result looked good. Inside the shop it was lovely and cool with lots of aircon units, but of course outside we didn't have that luxury. As the interview went on, it got hotter and hotter, and after only about 30 mins I managed to get my face sunburnt!
Back to the demonstrations and after tidying up, it was time for the pics. For a laugh Paul and Joe decided to have their picture taken with the ganached undecorated cone with the caption being 'he didn't get much done'. However, as soon as the cone appeared Joe took an almighty bite out of the side, which I guess shows how much he enjoys his own cake.
We were then treated to dinner. By this point in the day Paul was understandably exhausted, so it wasn't a late one. The benefit of an early night meant that we could get up early and enjoy some more time in the botanics,  before heading to the airport for our flight. Next stop, Adelaide…
David x