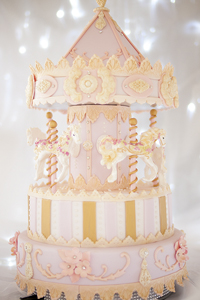 The week we filmed and released the Carousel Cake online course and it's a real WHOOPER. The course uses quite a few moulds and when working away through the night (we like to keep Paul busy) he discovered a new technique for getting a 50% sugar paste and 50% flower paste mix out of small to medium sized moulds. It's a real time save and on a cake with as much going on as this that's very important!
So we asked you guys on our Facebook page if you thought it would be a good idea if we made this lesson a free lesson. You said YES so…. we did 🙂
This is quite a long lesson (around 18 mins) and contains a lot more info on this section of producing this amazing cake so its well worth a look even just to get an idea of the type of content you can expect as one of our premium members.
Want to see more?
If you haven't already noticed you can join as a premium member right now and access all of this course plus hundreds more like it for only £9.95 per month. 

[s2If is_user_logged_in()]
[/s2If]
[s2If !is_user_logged_in()]
[/s2If]