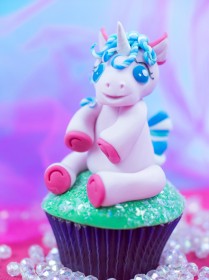 'Topping the list of life skills you never knew you needed? How to make a magical unicorn to put on top of your cupcake.'
These are the kind words of Jessie Moore Oleson, a freelance writer and illustrator, and head spy on Cakespy.com. Cakespy is more than a blog, it is a 'Dessert Detective Agency dedicated to seeking sweetness (literally) in everyday life', and what is more sweet than a sugar unicorn cupcake topper?
Figuring we would fit right in, we offered to do an exclusive tutorial for Cakespy, and much to our delight Jessie was interested in working with us! We filmed an exclusive 40 minute tutorial, split up into 4 easy to follow lessons, showing you how to make this adorable cupcake topper. The videos, along with tools and ingredient lists, are available for you to feast your eyes on right now. Follow this link to be dazzled by the magical unicorn 
Teaming up with Jessie has been a lot of fun, and we hope you like the tutorial!
Remember to check out the other blog posts and quirky artwork too. If you're anything like us, you'll be addicted to Cakespy in no time!