There's a chill in the air, and we're not just talking about the weather. The spookiest day of the year is just around the corner, and ghosts and ghouls across the land are creeping out of the shadows and getting ready to party in style.
If you're planning a Halloween bash, read on for plenty of inspiration to make it a party to remember this All Hallows' Eve…
Essential party prep
Before you do anything else, think about whether or not you want to give your party a specific theme. Day of the Dead is super popular right now, or you could go for a witches' tea party, vampires' ball or zombie virus outbreak theme… the possibilities are endless. And so are the cake making opportunities.
Get your party invites out early. Halloween is a busy time of year, so make sure you get your party in everyone's diaries well in advance. It also gives people plenty of time to plan their costume, particularly if they want to tie it into an aforementioned theme.
Don't forget your own costume. As the party host you'll want to set the tone with an outfit that wows.
Setting the scene
Kick off the party before your guests even step inside. Set up some lanterns and pumpkins outside, to welcome them as they arrive. You could even hide some speakers to creep them out with spooky noises emanating from the bushes.
Another fantastic trick is to set up a projector and large white sheet across your front window. You can get free projection loops from YouTube to give the impression your house is already jam packed with partying ghouls!
A lavish table complete with candelabras, pumpkins, gourds and squash, plus plenty of cobwebs will set the scene for a frightening feast. Candlelight is great, but if you're worried about having naked flames, LED candles are an excellent alternative. We love this table decorated by The Witch Crafts…
Finger food and nightmarish nibbles
With Halloween food, it's all about the presentation. While your Halloween cake will obviously take centre stage, your nibbles and extras should also look the part.
Kids love these wicked pizza fingers, designed by cutefoodforkids.com and topped off with red pepper nails. Or, for a healthy sweet snack, try this spooktacular Halloween watermelon. We can't tell if it's surprised or just trying to be threatening…
And who wouldn't want to dive into this meat feast? Shiver me timbers…
And finally – before we get to the main cake – cake pops are ideal for little ones if you don't want them to scoff too much sugar. Because we all know how scary that can be.
Terrifying tipples
Make a big batch of Halloween punch, so people can help themselves. It saves a lot of time.
If you fancy trying out some chilling cocktails, then try topping them off with some dry ice to create an eerie mist. Alternatively, incorporate some Irish Cream Liqueur into the mix and watch that devilish elixir curdle. Or keep the witches away, with some smoking rosemary…
Remember, what you serve is almost as important as how you serve it. Get creative with your containers, we love these ideas…
Harness the power of some petrifying props like gummy teeth, fake fingers or even a drip.
Creep-tastic cakes!
Now it's time to really impress and flex those cake decorating muscles.
Check out our Spider Cupcakes tutorial if you're looking for a design to delight the little monsters at your party. Its gooey insides are guaranteed to inspire screams of joy.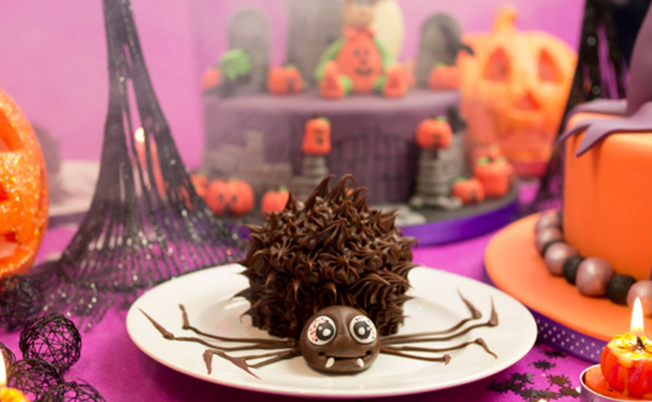 Or go for a real talking point and craft the Halloween Monster Cake. Perhaps you could even have a naming competition… before you eat him.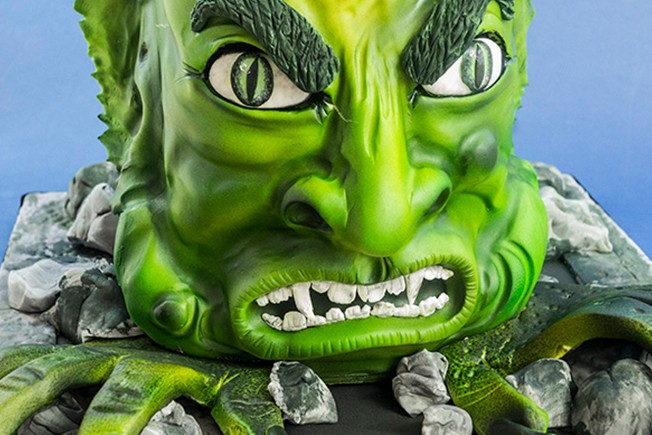 If your inner goth is just itching to get out, then switch up the colours of our Enchanted Castle Cake for a more sinister palette of greys, blacks and rivers of blood red.
Why not give this little chap a bash? Frankenstein's Teenage Monster is quite the character to provide some entertainment at your Halloween shindig. Go the whole hog and add the Bride of Frankenstein too!
Make it a night they'll never forget…
And last, but not least, rope in an assistant to put on a scary mask and jump out at them in garden as they leave. Nightmares guaranteed!
What's your top tip for throwing a Halloween party?