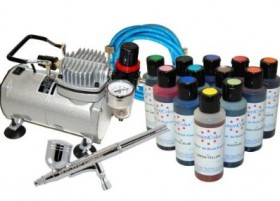 Having seen some amazing results with Airbrushing Paul was keen to find out what all the fuss was about.
Having used an Airbrush at college he hadn't felt the need to use it since. That was until he saw some of the amazing results that the airbrush can achieve. In January he attended a course with Airbrushes and was blown away by the results.
He wanted a piece of the action so after much consideration purchased his own Iwata kit and started to play. His only regret is that he didn't start using it sooner!!
The team at Airbrushes were very helpful and their support has been excellent.
Watch Paul here introduce some of the basics and give a quick demonstration on the results that can be achieved. I'm sure we'll be seeing a lot more of this on the Tutorial Library.