Everyone Can Bake!
by Rudy Martinez of Man Bakes Cake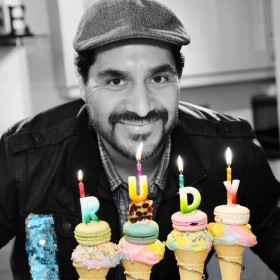 You may have come across Rudy or (he is most commonly known as Man Bakes Cake) as one of our guest tutors , or you may have came across his amazing cakes on various social media platforms! His cake decorating style focuses on colour, texture and humour whenever possible and his work has been featured in Cake Masters, Sweet Magazine, Cakes Design France, Cake Geek Magazine and Cake Wrecks Sunday Sweets. Having had a previous background in performing arts, he has created many cakes for the Broadway and entertainment field including entertainers such as Liza Minnelli, Whoopi Goldberg, Amy Adams, Bette Midler and Emily Haines.
Rudy has always enjoyed cooking, but began consistently baking after a football accident. He has a respect for all styles of cake decorating…although what is underneath is his main focus. The actual cake is king to him and he enjoys experimenting with flavour combinations, ethnic food influences and re-­imagining classic desserts in cake. His goal moving forward is to help people put cake into perspective for themselves and make it personal, original and fun by embracing ALL forms of cake art and realising that rules are meant to be respected and then broken.
Everyone Can Bake!
You can too!
Can you remember the first thing you baked? I can. It was a disaster. Yes. A disaster. Yet, I pressed on. And eventually succeeded. I even grew to like it. Today, baking is an inherent part of who I am. Baking is showing love and sharing a part of me. I believe anyone can bake. If you can read and follow directions, you can bake. I have heard many excuses from "it's too hard…I'm no good at it…ugh, all those ingredients" to any number of other reasons not to bake. Don't worry. I'm here to help you, encourage you and show you that with a bit of patience, will, creativity, resourcefulness, experimentation and flexibility you CAN bake and even enjoy it.
As I said before, my first attempt at baking was a failure. I was but a wee lad and I attempted a recipe that I clipped from the kids section of the Sunday newspaper. I gathered my ingredients and prepared what I thought would be a delicious pie. Nope. Not even my own Mother could mask her disappointment. What I ended up with was a gritty, oily mess. My first attempt ended up in the bin…along with my confidence. I was certain I had done everything right. What had happened? Had the baking gods chosen not to shine upon me? It stopped my interest in baking for years. It wasn't until much later while attending college that I would pick up whisk, mixing bowls and measuring spoons again and try my hand at baking.
This time around I decided to choose one thing and do it well. I flipped through a cookbook and decided upon cheesecake. It had very few ingredients and seemed simple enough. Did I succeed? What do you think? Not only was it a success, but it renewed my faith in baking. I still had trials and errors and still do, but it prompted me to try other cheesecakes, cakes, cookies, tarts and pies. Below is the recipe I used on that first cheesecake and the one I continue to use as a basic cheesecake recipe all these years later. I committed it to memory and can use it anywhere at anytime. I just remember the threes: three packages of cream cheese, three eggs, three quarters of a cup of sugar for the filling and three tablespoons of sugar and butter in the crust. One should always have a single, simple recipe memorised to impress people should the opportunity to bake arise. It's a good way to get invited to dinner parties. You become a sweet commodity.
Basic Cheesecake Recipe
Crust
? 1 cup graham cracker crumbs
? 3 tablespoons butter, melted
? 3 tablespoons sugar
Filling
? 3 packages (8oz. each) cream cheese, softened
? ¾ cup sugar
? 3 eggs
? 1 teaspoon vanilla
? 1 tablespoon cornstarch
Heat oven to 350 degrees. Mix crumbs, sugar and butter and press onto bottom of 9 inch spring-form pan. Bake 10 minutes and remove from oven.
Increase oven temp to 450 degrees. Beat cream cheese, sugar, vanilla and cornstarch with hand or stand mixer at medium speed until well blended. Add eggs one at a time, mixing well after each addition just until combined. Do not over mix. Spoon mixture over crust and bake for 10 minutes.
Reduce oven temperature to 250 degrees and continue baking for 35 minutes.
Turn off the oven, remove cheesecake and run a thin knife around the rim to loosen. Place back in oven for another 30 minutes. Remove and cool completely before removing rim of pan. Refrigerate for at least 6 hours to set completely.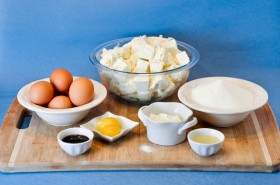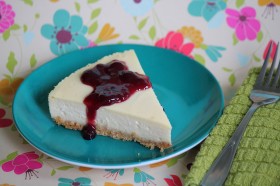 Image on left from Bakingdom.com
Now, lest I leave you with this recipe and hope you achieve the perfect cheesecake, here are a few tips. The number one complaint I hear is a cracked cheesecake. Your cheesecake can crack for many reasons and there are a few simple solutions. Do not overbake your cheesecake. It should still wobble a bit in the middle at the end of baking. It will continue baking and set up. You can also use a "water bath" which is a pan filled partially with hot water and placed in the oven. It keeps the heat and moisture in the oven and creates steam. I have used one and not used one and still achieved success. Adding the cornstarch helps. Do not overbeat the eggs into the cream cheese. Overbeating incorporates air and that air may choose to escape via a crack in the top. Your cheesecake should be smooth and creamy and delicious like the one pictured here. Don't worry if it cracks as you can always cover it with fruit topping.
Once you master this basic recipe you can start experimenting. I often use different cookies or a cookie/nut mixture for the crust. Gingersnaps work great. You can change out the flavouring, but remember not to add additional liquid as it will affect the consistency. Almond or lemon extracts can be swapped out for the vanilla. You can add zest to the batter. Swirl a bit of melted chocolate into half of the batter and make a marbled cheesecake. The possibilities are endless. Just remember that changing too much will change the cheesecake and not always for the better.
Now, get out there and bake. Experiment. Have fun. Try new things and let me know how you do. Oh, and about that first recipe I clipped? The paper ran an edit the following week explaining the recipe was reprinted incorrectly. It was nice to know my failure wasn't entirely my fault, but restitution is NOT sweeter than good pie.
Cheers!