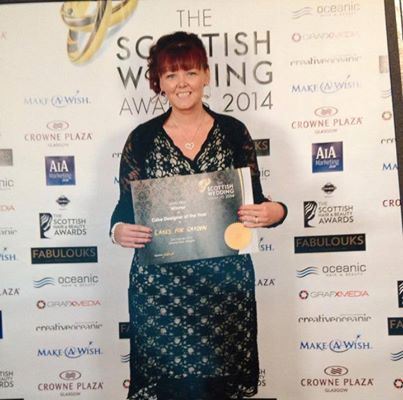 A huge CONGRATULATIONS to Nichola Gunn who runs Cake for Cayden in Hamilton who won the regional award in the Cake category at the Scottish Wedding Awards 2014 held in Glasgow on the 25th February 2014.
Nichola attended a number of Paul's courses a few years ago, is a member of the online tutorials and set up her business from home a while ago. She still runs her business from her home in Hamilton, which makes it all the more amazing that she won the regional award which just goes to show you you don't need to have a shop front to be considered amongst the elite wedding suppliers out there.
Have a look at the cakes on the Facebook Page which are amazing backed up with lots of lovely personable comments which shows how a small thriving cake business should look like.
Nichola was gracious to mention in her message to Paul that there were so many of his techniques that keep popping into her head and she can often hear his voice from a distant course or tutorial giving that special hint or tip that she thought she had long forgotten. She also mentioned how useful the online tutorials are and now that she maybe doesn't need to attend courses there's plenty available on the site to keep her updated with everything that's going on and those special hints and tips.
Congratulations to Cakes for Cayden to your well-deserved success.