Paul's Pinterest Picks
Every month I will select my favourite cakes that I have pinned on my Pinterest boards and feature them in a blog post. Do you use Pinterest? It's a great way to collect inspiring and exciting images of all things pretty, (particularly cakes!!) Feel free to follow me, by clicking here.
This month I have put together a collection of my favourite "naked" or what some call, un-frosted cakes. The term "Naked Cakes" is quite a funny one, however the cakes are just that – completely naked from all fondant/buttercream/ganache and exposing all the layers and flavours!! My idea of heaven!! This is a trend that was an extremely popular cake last summer and will be a big hit for many years to come – I can completely understand why! If you would like to give a "Naked Cake" a go, there are so many different styles and designs to choose from, so I thought I would pick a few of my favourite from Pinterest!
Mini Naked Cakes
These bite size delights are the perfect addition to any dining experience. This size of cake, would sit beautifully alongside other desserts on a dessert table, look exquisite on their own with a dollop of custard / ice cream, and of course just look utterly irresistible alongside a mothers day/birthday gift! Each of these mini desserts are uniquely designed using different flavourings, fresh fruit and buttercream. Which one would you choose?!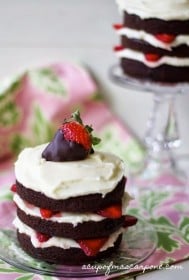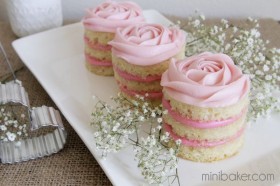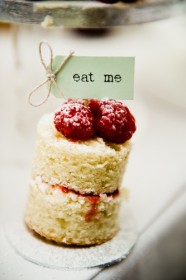 Large Naked Cakes
Like all naked bodies, we all come in all different shapes and sizes, some are tall, some are short and fat and others are just a big wonky….well it is the same story for the naked cakes…except no matter what shape or size naked cakes come in, they look utterly delicious regardless!!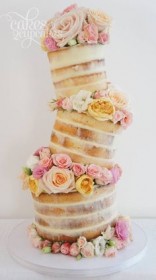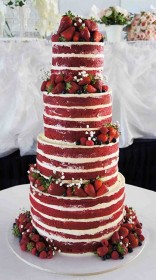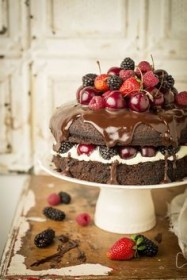 Square and Heart Shaped Naked Cakes
Looking for something a little bit different to your standard round cake? This stacked square cake looks stunning and really shows of the nice sharp edges. Or why not go all out for a wedding and offer heart shaped tiers. This is really effective and I can imagine a few brides would like having this option, as it is different from your standard naked cake! I came across heart shaped cake tins from the Cake Decorating Company.
 
Different Flavour of Naked Cakes
As well as your standard Vanilla Sponge Cake with cream and jam….yummmm, there are a variety of flavours of sponges, fillings and choice of fruit that you can use to make these cakes different and delicious! I have to say the The chocolate cake, with chocolate filling and raspberry topping is my clear favourite from this trio….what type of sponge/filling would you pick?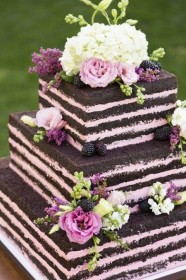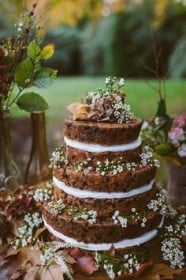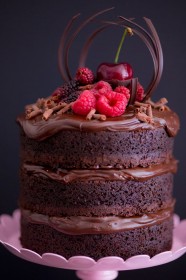 Semi – Naked Cakes
Do not fret however, if you are a little shy to show all your layers of nakedness, then there is the option to go semi-naked with your cakes and I think it looks just as effective. Semi-naked cakes would look stunning in a rustic/vintage themed wedding!
The cake in the centre is by the very talented Shannon Bond Cake Design
The cake in the far right is by the lovely Cove Cake Design
Both are fabulous cake designers and definitely ones to watch!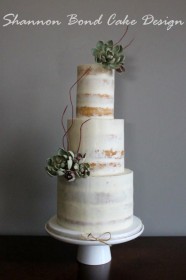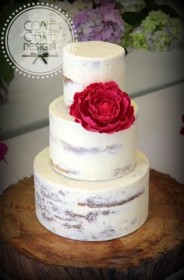 Naked Wedding Cakes with Additional Features
The beautiful thing about having a naked cake, is almost like having a blank canvas. If you want to add features to your naked cake, such as fresh flowers, bunting, fruit or even a fancy cake stand, then it will definitely add the WOW factor!! What would you add to your naked cake??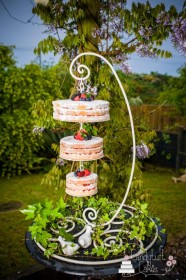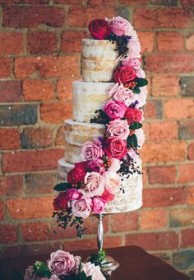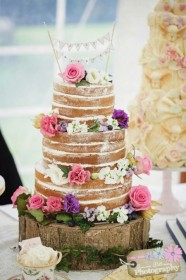 Naked Cake Problems
The only negative thing about having a Naked Cake is that the sponge cake doesn't last and will dry out and go hard very quickly. Often or not, some cake designers may add more moisture to their maked cake to try to make it last longer, however unfortunately this can cause the cake to appear almost "oily" looking in photographs. Nevertheless, if you or your customer are planning on cutting and eating the cake that day, it is the perfect cake to do so!! So tuck in!!
All of these stunning cakes can be found with links to their original creators on my pinterest board, which you can find here – https://uk.pinterest.com/paulbradford/naked-cakes/
Thank you for reading! I hope you enjoyed all the nakedness as much as I enjoy admiring naked cake!! 🙂