Modern Geometric
with Natalie Porter
Skill level: Intermediate
HD Lessons: 10
Highlights
Highlights from the geometric wedding cake course.
1. Explaining the design
Natalie starts with the tiers all covered, but in this lesson she explains the tiers, design and colours that she will be using on this course.
NOTE: If you need guidance on stacking or covering double barrelled cakes, please watch Paul's COVERING A DOUBLE BARRELLED CAKE course.
2. Making the rose
This design is centred around the beautiful roses. Watch how Natalie brings these amazing roses together using her trusted Rapid Rose cutters. They ensure a neat finish and in a fraction of the time that would be taken if making them by hand.
3. Making the leaves
Natalie hand carves the leaves then adds the wires before shaping. Of course, you can use a leaf cutter if you wish, but hand carving gives a more authentic look.
4. Making the buds
Using a simple, but effective, technique Natalie now creates the buds and secures them firmly to the 28g white wires. It's just then a case of repeating the process to create around buds. Always better to have too many!
5. Dusting the flowers
Natalie now begins to dust her flowers.
6. Geometric design
After creating an amazing antique gold/copper colour Natalie then starts to cut even strips to make up the geometric pattern. Natalie then places the strips to create her own unique pattern. You can choose to follow Natalie's pattern or feel free to create your own.
NOTE: The cakes are stacked at this stage. If you need some guidance please watch Paul's STACKING CAKES course.
7. Arranging the roses
This is where the cake really comes to life and all the hard work pays off, when you start to put the roses, petals and buds together. Look at the detail and time Natalie takes to get the positions just right, which is worth the effort when you see the finished design.
8. Other ideas
Natalie shares with us some other ideas for this tutorial.
9. PRO Lesson
Everything a Pro needs to know about making and distributing a cake like this.
Modern Geometric Cake Tutorial
Watch our easy to follow geometric cake tutorial and learn exactly how to make this wonderful design from Natalie Porter. With lots of amazing skills and techniques to learn, this design is perfect for someone looking for something a little different for their wedding cake.
In the following tutorial, you will learn how to:
Make a rapid rose

Create geometric patterns

Arrange sugar flowers

Dust colours

And much, much more
Don't forget to share your interpretations of this wonderful cake with Paul and the rest of the CakeFlix community on our Facebook group.
View hundreds of more world-class tutorials only at www.cakeflix.com.
Modern Geometric Wedding Cake downloadable tools and ingredients
Other US to metric and Metric to US
Cake or Dummy
5" cake (5" deep)
7" cake  (7" deep)
9" cake  (5" deep)
Cake Drums
10",8" Drums (Temp)
12" Drum
Ganache
Sugarpaste (2.5 Kg colour of your choice)
1.25 Kg Navy blue – Renshaws
1.25 Kg Purple – Massa Ticino
Navy blue – Pro gel – Rainbowdust
Flower paste
Colouring gels
Orange – Colour splash
Yellow – Rainbowdust
Lime Green – Rainbowdust
Antique Gold – Fractal
Dusts
Tangerine – Edable art
Fuschia – Sugarflair
Plum – Sugarflair
Leaf Green – Squires Kitchen
Wires
28g white wires
28g green wires
26g green wires
Other
Corn flour puff
Water pen
Posy picks
Spray glaze
Rejuvenator spirit or white spirit
White florist tape
Green florist tape
15mm Navy blue ribbon
Candle
Knives
Small sharp knife
Palette knife
Serrated knife
Paintbrushes
Modelling Tools
PME modelling tools set
Cutting wheel
Cakey Tools
Cutters
Rapid Rose five petal cutter (10cm)
Rapid Rose five petal cutter (12cm)
Moulds
Other
Polystyrene balls (25mm) on cocktail stick x2
Polystyrene ball (30mm) on cocktail stick
Rapid Rose pad
Cutting board
Firm foam pad
Ruler
Cutting wheel (rotary blade)
Floral tape cutter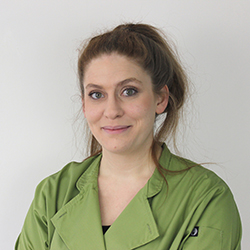 Natalie Porter
Natalie Porter is a multi award winning cake maker based in Hertfordshire, just north of London. She started making cakes about six years ago, when she decided to take on the challenge of making her own wedding cake... Since then she has made hundreds of wedding cakes, writes frequently for cake magazines and has invented the Rapid Rose - her signature tool and method for making sugar roses. She has recently added the Perfect Peony to the Rapid Rose range, is super excited to have filmed the tutorial with PBSS and currently working on her debut book.