What is Buttercream Icing?
Buttercream icing is a type of frosting made from butter, sugar, and can be adapted to use cream, vanilla essence and other flavourings.
It is often used to top cakes or cupcakes. Buttercream icing is also referred to as "American Buttercream" because it was invented in America. It is named after the original recipe which called for butter and eggs.
What's Buttercream Used For?
Buttercream icing is one of the most popular types of frosting because it's creamy and easy to work with. It doesn't crust, so it can be piped onto cakes or cupcakes easily.
Buttercream icing is made out of primarily butter and sugar. Some recipes will use egg yolk to thicken the mix, but that can also be achieved by adding more powdered (icing) sugar. Buttercream icing can be flavoured with different flavours like vanilla extract or cocoa powder or a plethora of flavour mixes specifically designed to work to flavour buttercream.
It's important to note that there are many different types of buttercream frosting recipes; it's not just one recipe that can be called "buttercream." Some recipes include cream cheese while others call for milk instead of water.
What You Will Need To Make Standard Buttercream Icing
INGREDIENTS
500g of unsalted butter

1 kilo of powdered (icing) sugar
EQUIPMENT
Microwave

Mixer

Metal scraper or spoon

2x mixing bowls
How to make buttercream at home…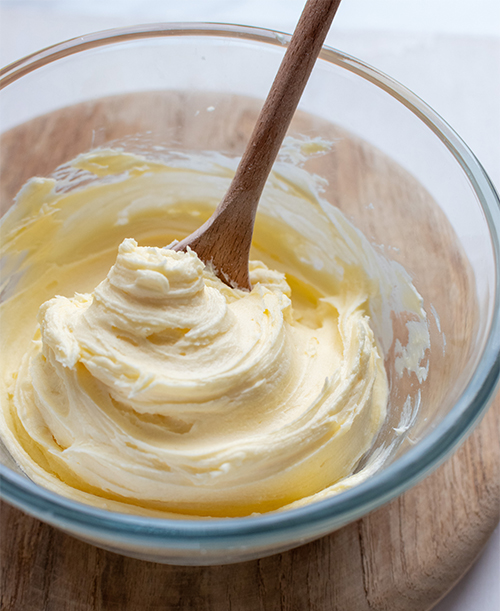 Cut your butter up into small chunks

Put the butter in the microwave on a high heat for a couple of seconds at a time to soften it up (don't melt it)

Add any flavourings you wish to your icing sugar (Paul uses vanilla extract in the video linked below)

Add the butter to the mixer and mix it on a low speed to bring it together (you can whisk in a bowl if you don't have a mixer)

Sieve icing sugar if lumpy and then add 1/3 of the icing sugar to the butter mix at a time. Allow time for each 1/3 to blend (your mixture should be quite stiff)

Get your spoon/scraper and make sure the ingredients are mixed through properly.

Scrape all the mixture from the sides of the bowl etc together

Mix again if necessary

Add any flavourings you like such as vanilla, lemon etc.

You can also add some milk, cream or condensed milk depending on taste to soften the mixture up
…and there you go, you know no how to make buttercream from home. As simple as that.
Video Tutorial
In this Video Tutorial, you will see exactly how to make buttercream icing at home: https://www.youtube.com/watch?v=jIJN1MFn-dY&t=184s
How long will Buttercream Icing keep once made…
The answer to this question is complex. It will depend on the ingredients used and their ratio. Generally, the icing will keep for up to five days at room temperature, but best kept in the fridge.
Buttercream Icing Top Tip…
The key to a great buttercream icing is patience. You need to allow the butter and sugar to come together in a nice, fluffy consistency before you add the cream and vanilla.
Whisk together the butter and sugar until light and fluffy.

Add the cream, vanilla extract, and buttermilk; whisk until smooth.
Thanks so much for taking the time to read this article from CakeFlix, why don't you sign up today over on www.cakeflix.com and get 7 days free membership? We can't wait to see you there! – David & Paul.