What is Chocolate Ganache?
Chocolate ganache is a mixture of chocolate and cream. It is a type of chocolate frosting that is used as an icing on cakes. The cream in the ganache gives it a smooth texture, while the sugar gives it sweetness.
There are many ways to make this deliciously rich frosting. The most common way to make it is by heating up cream and pouring it over chopped dark, milk or white chocolate. You can also pour boiling water over the chopped chocolate and then stir until melted.
What's It Used For?
Chocolate ganache is a chocolate cream that is used as a filling and icing for cakes, pastries and other desserts.
It is very easy to make chocolate ganache at home. All you need is unsweetened chocolate, heavy (double) cream, some sugar and vanilla extract (optional).
Chocolate ganache provides a much more firm structure to a cake than traditional buttercream. When the ganache sets it forms a solid base, whereas buttercream remains soft. 
The structure of the ganache is based on its melting temperature. The higher the cocoa content in the chocolate the higher the melting temperature will be. So dark chocolate will keep its structure firmest, then milk chocolate then white chocolate. 
What You Will Need To Make Chocolate Ganache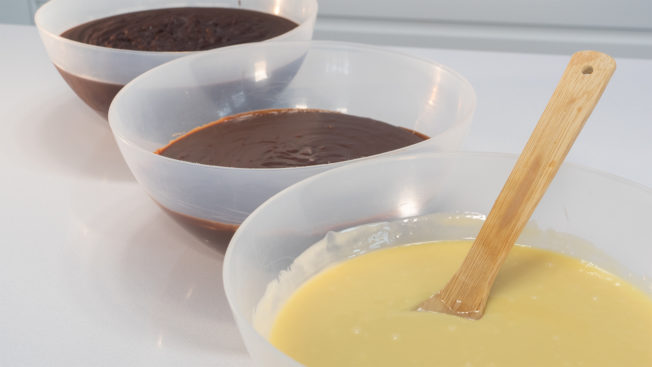 Ganache proportionment is very straight forward. Using the ratios below, which are chocolate to double (or heavy) cream:
Dark Chocolate ganache 2:1
Milk Chocolate ganache 2.5:1
White Chocolate ganache 3:1
If you need to have a more sturdy structure then you can increase the chocolate and decrease the cream in equal measure. This would be best used when the cake is likely to be placed in a warm room for example. 
This works for dark, milk and white chocolate ganache, but just a reminder that dark chocolate will always provide the most firm structure.
Tools/Utensils
Microwave

Mixing bowls

Mixing spoon
Ingredients You Will Need…
Milk, dark or white chocolate

Double cream

Vanilla extract (optional)
You can work out how much chocolate and cream you need for different sizes of cakes by using our free ganache calculator.
Step 1: Pop your cream in the microwave to boil it (this can also be done on a stove).
Step 2: Once your cream has come to the boil then pour it over the chocolate in a bowl.
Step 3: Start mixing the chocolate and cream with a spoon. You can either wait for the chocolate to melt a little or start this process straight away. The mixture may look a little curdled. don't worry about this.
Step 4: Stir thoroughly until mixture is thick and there are no lumps left in the bowl.
Step 5: Leave the ganache to cool and either seal it over with cling film or put it in a food bag.
Video Tutorial
In this Video Tutorial, you will see exactly how to make a chocolate ganache: https://www.youtube.com/watch?v=8VI7ZI4bd8M&t=2s
How long will Chocolate Ganache keep once made…
Ganache can last up to 2 days at room temperature,  2 weeks in the fridge and 3 months if it's frozen.
Chocolate Ganache Top Tip…
Pay special attention to Step 4, you need to stir the mixture together until it's well combined. This will produce a smooth, creamy texture that is perfect for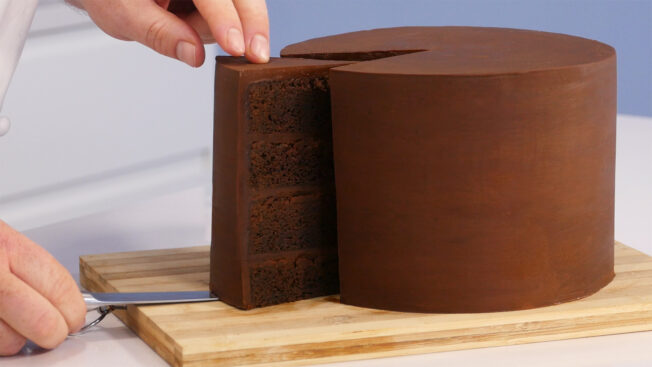 pouring over cakes or just eating with a spoon!
The process is simple. You need to mix all these ingredients together and then heat them on low temperature for about 10 minutes, or pop them in the microwave as above. After that, you need to take it off the heat and let it cool down for about 5 minutes. Afterwards, you can enjoy your delicious chocolate ganache.
Thanks so much for taking the time to read this article from CakeFlix, why don't you sign up today over on www.CakeFlix.com and get 7 days free membership. We can't wait to see you there! – David & Paul.