Too much stress imposed on students makes them look for effective ways to relax. They often take on new hobbies and try different leisure activities. Some young people give preference to baking as they find it soothing.
Baking can be viewed as a form of meditation. It requires full concentration and helps to get rid of all disturbing thoughts that may come to your mind. This hobby brings calmness and a lot of positive feelings.

Juggling between your baking hobby and college assignments
Baking is a time-consuming process that requires deep focus and significant effort. One can't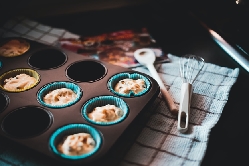 multitask while cooking a pie or muffins because there is a high risk of a small mistake that may lead to a complete failure. For most students, it's really hard to find an opportunity and bake their favorite cake in between classes. Therefore, they may turn to assignmentbro.com/ae, which is one of the leading essay writing services for college students. If you visit their website, you'll see that there are many options to delegate your home tasks. You can ask a professional writer to complete a paper on almost any subject and save your precious time for enjoyable activities.
The best baking blogs for students
The Vanilla Bean Blog
This blog was created by a self-taught baker Sarah Kieffer. Once she started feeling comfortable in the kitchen after some years of experimenting, Sarah decided to launch her own blog. As she says, it brings her much joy and satisfaction. If you need more inspiration for baking, you can even find some poetry and prose on Sarah's blog.
The Vanilla Blog is full of fancy baking recipes and cute pictures with Sarah's family and friends. There is a huge variety of recipes on her blog, from cinnamon rolls to a chocolate tart and brownies. Sarah has even released great recipe books '100 cookies' and 'The Vanilla Bean baking book' with numerous recipes of delicious treats and desserts.
The Pink Whisk
The Pink Whisk was launched by Ruth Clemens from Cheshire, UK. On her blog, you can find multiple helpful recommendations for baking. If you are a fan of macaroons, puddings, or chocolate truffles, you should check Ruth's recipes.
There is also a very convenient navigation that makes search effortless. You can choose a recipe by its type, for instance, a cake, pie, quiche, or bread. Another way to pick an idea for cooking is to check the 'Occasion' category. The recipes are divided into groups there, so you can select something for a wedding day, Christmas, Halloween, or Mother's Day. If you are not sure if you have everything necessary for a certain recipe, you can visit the 'Ingredients' category, then select products that you have in your kitchen cupboard, and find out what is possible to make from them.
Call Me Cupcake
This blog is run by a beautiful woman from the south of Sweden, whose name is Linda. As she is into photography, blog visuals are just stunning. Linda put her recipes into seasonal groups. For example, you can make Gingerbread House cookies or apple pie in winter, while blackberry galette or Pavlova dessert would better taste in summer.
Those who love buns will be delighted with amazing recipes of Swedish cinnamon buns or buttermilk saffron buns. There are also a bunch of cupcakes recipes, including espresso chocolate cupcakes and crème brûlée cupcakes. If you want to make something quick and relatively easy, you can choose spiced apple muffins or double chocolate muffins.
The Boy Who Bakes
The Boy Who Bakes is an admirable blog by Edd Kimber, a popular food writer and author of a few cookbooks. He also creates helpful articles for some magazines and newspapers, including BBC Good Food, Delicious, and Waitrose Kitchen. Edd often appears on TV as a resident of 'The Alan Titchmarsh Show' as well as a presenter of 'John and Edd's Christmas Bakes'.
On his blog, Edd offers sophisticated recipes for holidays, such as a gingerbread cake with cream cheese frosting and sugared cranberries. There are also a lot of bundts, quickbreads, cookies, brownies, and bars recipes.
Joy The Baker
Joy is a self-taught baker who managed to become a professional baker and a three-time cookbook author. Her blog is rich in original recipes, like apple and Cheddar pandowdy, salty honey pie, chili and cheese buttery biscuits, and pumpkin tarte a la Bouillie. Sounds quite extraordinary, doesn't it?
Probably, the biggest category on Joy's blog is the one with cookies. There are over 150 recipes to any taste, starting from simple peanut butter cookies to more sophisticated cappuccino cookies with espresso and white chocolate.
Author's BIO
Robert Everett is a writer and an amateur confectioner. Robert has recently started exploring popular baking blogs and created his personal list of the best resources, some of which are shared in this article. He loves experimenting with different recipes and baking techniques, so he masters his skills very quickly.