Vegan chocolate cake recipe with chocolate peanut butter ganache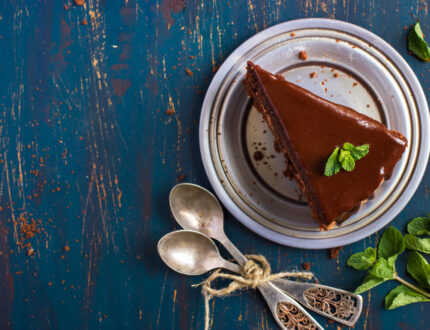 Veganism is more popular than ever! With more and more people choosing to live on a diet free from animal products!
However, Just because you're vegan shouldn't mean that you have to miss out on tasty foods such as cake, chocolate and other treats which are traditionally made using animal products. See our beginner's guide to vegan baking for more information.
That's why we've decided to provide all our lovely vegan CakeFlixer's with this simple vegan chocolate cake recipe from a blogger in the know over at Vegan Richa.
This simple vegan chocolate cake with peanut butter ganache is a must try for all our plant-based cake enthusiasts!
What you'll need?
Ingredients:
Cake
Dry batch
1 cup wheat flour
1 cup unbleached all-purpose flour
1/2 cup cocoa powder
1 1/2 tsp baking soda
1 1/4 cup powdered vegan sugar, 2 tablespoons more for sweeter – blend raw sugar to a fine powder to use or use wholesome sweeteners vegan powdered sugar
1/2 scant tsp salt
Wet batch
1 1/2 cups non-dairy milk divided
1/3 cup non-dairy chocolate chips or bar semi-sweet chips, or dark chocolate for dark/bittersweet cake
1/4 cup oil
1 tsp vinegar, apple cider vinegar or white vinegar
1 1/2 tsp vanilla extract
3 tbsp maple syrup
Ganache
1/2 cup non-dairy milk
1/3-1/2 cup powdered sugar
2/3 cup or more non-dairy semi-sweet chocolate like Enjoy Life
1/2 tsp vanilla extract
1/4 cup smooth peanut butter or almond butter or other seed or nut butter
Fruit preserves like raspberry, apricot, cherry (optional)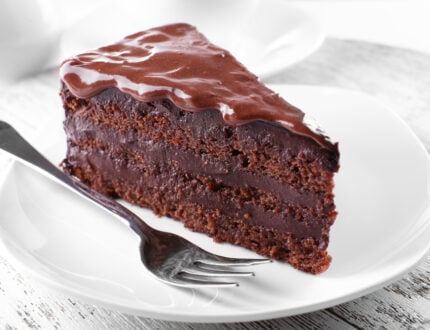 HOW TO MAKE THE VEGAN CHOCOLATE CAKE AND PEANUT BUTTER GANACHE?
Cake:
Preheat the oven to 350 degrees F/170ºC. In a bowl, whisk all the dry ingredients for the cake really well.
In another bowl, heat 1 cup of non-dairy milk and chocolate until just about hot (heat in the microwave or stove top). Whisk until chocolate is melted. Add in the rest of the wet ingredients and 1/2 cup non-dairy milk and mix in until smooth..
Add the dry to the wet and mix to make a smooth batter.
Transfer batter to two greased or parchment lined 8-inch cake pans.
Bake at 350 degrees F/170ºC for 32 to 34 minutes or until toothpick from the centre comes out clean. Do not overbake as the cakes can get crusty or dry.
Let the cakes cool for 10 minutes then remove from the pan and cool on the rack completely before adding a glaze or ganache. Cover the cake with a towel while it is cooling to prevent drying out. To shorten the cooling time, cover the cake with a towel or parchment or a lid and place in the fridge for 15-20 minutes.
Ganache:
Heat the non-dairy milk + sugar in a pan over medium heat, until just about hot. Mix well. Add in the chocolate, mix once and take the pan off the heat. Keep mixing until the chocolate is melted and smooth.
Add in the vanilla and peanut butter or other nut butter. Mix until smooth. Chill in the refrigerator for 20 to 30 minutes to thicken to desired consistency.
Pour some of the ganache on one cake. Spread using a spatula to even out if needed. Let the ganache set in the refrigerator for 15 to 20 minutes or freezer for 10.
Add a thin even layer of fruit preserves on the other cake (optional) (warm the preserves to make them easier to spread if needed). Place this cake on top of the cake with the ganache glaze.
Pour the rest of the glaze over the top cake. Spread using a spatula if needed. Let the ganache set in the refrigerator for half an hour. If you have more ganache left, pour over the set glaze for another layer. Cover the cake and let it chill for a few hours before serving.
Tried this vegan chocolate cake recipe or have one of your own? Tell us what you think in the comments below.