We needed a very early start for our flight from Melbourne to Auckland. It was an Emirates Airbus, which looked amazing with its 600 or so passengers on board. Looking at the schedule we thought it was a 5.5 hr flight, but were pleasantly surprised when the arrival time allowed for Auckland being -2hrs from the time in Melbourne. So we only spent 3 hours or so in the air.
We arrived on time, but due to the volume of people there were queues at passport control, followed by a forty minute wait for our suitcases. We then had to go through immigration and, finally, the quarantine checks that required our luggage to go through a scanner.
Mount Maunganui
Chris, co-owner of the Mount Maunganui store with wife Jo, was there to meet us. In true Kiwi fashion he was very calm, but we could tell he was beginning to get a bit worried by this stage. It was a 3 hour trip from the airport to the Mount and the demo was due to start in 3.5 hours, which wouldn't leave Paul much time for prep. However, they couldn't start without him so Chris put the foot down and got us there very quickly and safely.
As we approached there was a huge crowd waiting outside. It then dawned on Paul that there would be 70 at this one, with the previous ones being restricted by space to between 40-50. It really felt like show biz as we were driven around the back of the warehouse with lots of eyes and cameras being turned towards the car.
You can hear Paul's butterflies taking hold during this Facebook Live intro to the demo. It was another great demo with people travelling from six hours away just to see him. Now that's dedication!
It was standing room for many at the demo as Paul held everyone's interest from the start all the way through to the end, punctuated with the usual laughter and giggles.
There was time for a quick pic with the team, before heading out for a lovely meal with Chris and Jo along the beachfront at Mount Maunganui. It was a beautiful lively place and somewhere we really wanted to spend a lot more time.
The Auckland demo was scheduled for 1pm, so it meant leaving at 9.30am at the very latest. With an early flight the day before and a late meal I certainly didn't feel like running so early in the morning, but I'm so glad I made the effort.
Paul enjoyed a well deserved extra hour in bed, but that allowed me to take his phone for some pics. I'm delighted I was able to snap this route, which has to be the most amazing picturesque running route in the world!
As I set off from the hotel I could see the Mount in the distance, which was quite an imposing sight, backdropped by a beautiful sky. My route took me around the foot of the Mount, and with an extra 2km to find I thought – what the heck I'll take on the climb!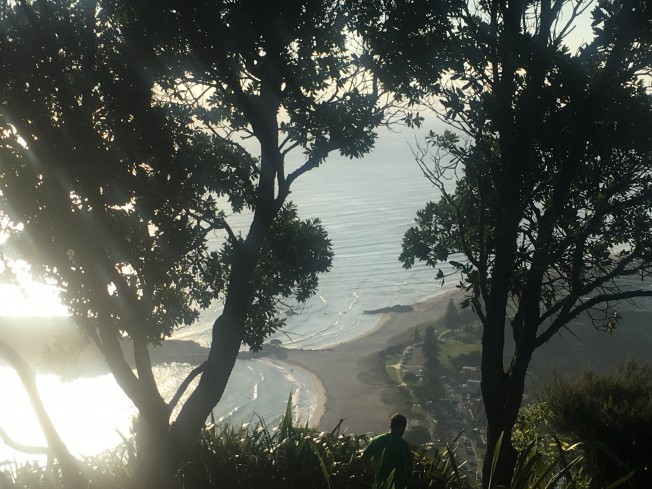 Here are just a couple of pics taken as I ascended. I was spoilt for choice as every corner and every clearing gave a different jaw dropping view.
Once I got to the top I couldn't help myself so took a selfie (excuse the perspiration, it was hot!).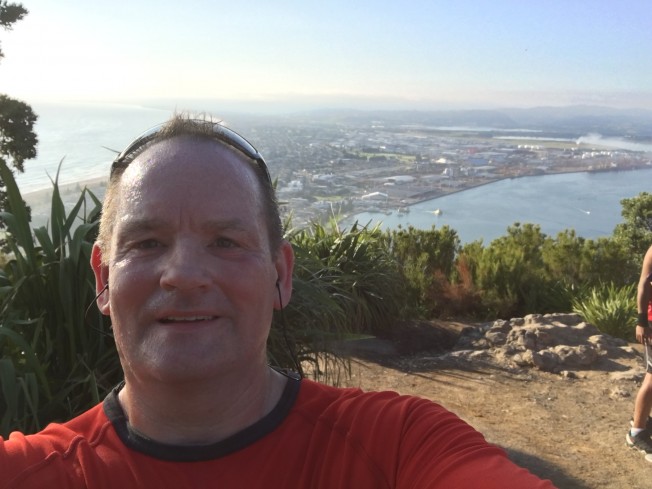 It was a great, albeit tiring, route and I loved every single minute. But there was no time to hang around as the clock was ticking for our lift up to Auckland.
Auckland
Due to traffic problems en route to Auckland, we arrived again to crowds waiting outside. We hurried into the store to allow Paul his prep time.
Having met so many lovely people in such a short period of time names, places and faces were all getting a little confusing. However, the management team in Auckland were both called Trish… so that certainly helped!
It was another big New Zealand crowd, with 70 are listed to come to this one. You can see Paul walking through the crowds on his Facebook Live intro.
It was another huge store and you'll get some idea of context with this pic, showing Paul showing off the finished cake. We were then presented with a lovely basket of food and drinks and two lovely All Blacks tops and caps. For anyone who doesn't know, there's quite a fierce rivalry between the Kiwis and Australians, so having seen Paul wearing the Aussie hat and glasses at the Tullamarine store they were keen to show him in the All Blacks kit.
We had another 6am international flight to get up for the next day to head back to Sydney, but the ladies were determined to make the most of the little time we had in Auckland. Shortly after the audience had disappeared, we then headed down to a beautiful beach for a refreshing walk. It was lovely and there were lots of people around, all smiling and enjoying the summer weather. We even managed to get a selfie…
We were then treated to another beautiful meal. Suddenly it began to dawn on me that despite running 10km every day I wasn't losing much weight. But I certainly wasn't complaining as the meals and hospitality were amazing everywhere we went.
Stay tuned for our final Australian blog post next week…
David x