Getting Here – do you need a car?
We can arrange collection and drop off at the airport at 25 euros a journey.
If staying locally or at any of the accommodation options below, we will pick you up and drop you off each course day free of charge.
Note that some properties do not provide an evening meal, but if you have a car that's not a problem.
Where to stay
There are a number of BnBs and hotels close by so here's a selection to help: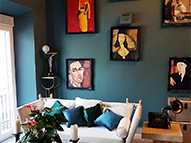 Cassa 44, as featured on Channel 4's A New Life in the Sun, is owned by our good friends Andrew and Brennan who moved to Alhaurin El Grande in late January 2018. Award winning restaurateurs, the 'boys' as they are affectionately known decided that after 15 years as chef and manager that it was time for a new adventure. Having searched the world for their new home, Calle Piedras 44 chose them. From €125 per night this represents great value for such a boutique experience in the centre of Alhaurin el Grande's old town. With a stunning view over the mountains and town below, Cassa 44 offers everything you would hope to expect from a home from home and more. Decorated in tones of Lichen, Black and Andalusian Gold, it is simply luxurious and incredible relaxing. 
Things to consider: luxurious, very high standard of hospitality and accommodation. In the centre of the old town there is culture dating back to Roman times right on your doorstep. 5 minute walk to all the local bars and restaurants. Pick and drop off available on course days free of charge.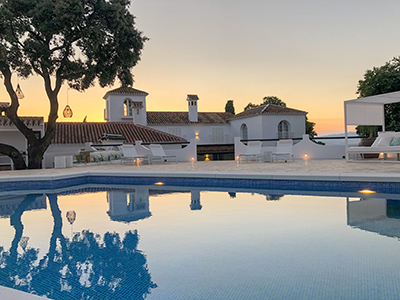 Casa luz Sur is literally next door.  From €90 per night. A completely renovated villa with five rooms which are spread throughout the garden. Guests can expect privacy and tranquillity due to the spacious design of the luxurious rooms. Every morning we offer a fantastic breakfast buffet with local riches such as homemade marmalade, freshly cut salamis and Jamón. The main house has a big living room which can be used by our guests at throughout the day. We like to create an atmosphere in which our guests feel comfortable and relaxed. Guests can relax in the garden, laze by the swimming pool or enjoy a drink in the lounge area. Note: Check in doesn't open until 2pm. If arriving before then maybe best to make alternative arrangements.
Things to consider: luxurious, next door and an amazing breakfast. There's no evening meal available and the town is a 20 minute walk away (steep hill on the way back).
Quote PAUL BRADFORD for a 10% Discount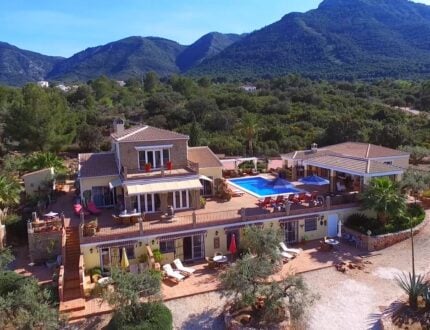 Finca Sonrisa Bed & Breakfast  is an idyllic place on a hill of Alhaurín el Grande, with a breathtaking view of the Guadalhorce Valley. From €105 per night. This B&B offers a lovely separate guesthouse, the Casita, two apartments, Rojo and Azul, a Studio and a DeLuxe room. Every day we serve a delicious breakfast. Choose from a wide selection of eggs, yoghurts, cheeses, cold meats, fresh fruit, smoothies and different kinds of bread. Tea or coffee and freshly squeezed orange juice are all served on the swimming pool terrace.
Things to consider: luxurious, peaceful, idyllic surrounding and an amazing breakfast.No evening meal available and a car or taxi needed to get in and out of town.
Quote PAUL BRADFORD for a 10% Discount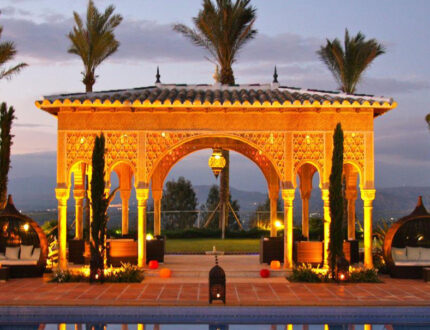 Hotel el Mirador is built of stately architecture, it combines traditional Andalusian style with classical architectural and decorative styles. From €45 per night it represents great value. It has 35 rooms, all with air conditioning, heating, telephone, full bathroom and with exceptional views of the Guadalhorce Valley. They also have a free Internet service for our clients, a cafeteria, gardens, children's playground, extensive parking, swimming pool, tennis court and a restaurant in which we combine international cuisine with the traditional cuisine of the region.
Things to consider: Excellent views and a 20 min walk to the studio. Basic rooms, very basic breakfast.  10 min (fairly flat) walk into town.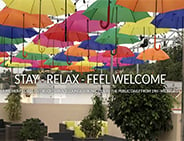 Hotel la Palmera is a seventeen all studio apartment  is in the centre of the town near the best restaurants and bars. From €40 per night it represents great value as you have all your self catering needs met and TV to make you feel at home. All interior spaces are fully updated with the highest quality furniture and items that you would not expect from an Apartment Hotel.  Every single item in the hotel was personally chosen by the owners with your entire experience in mind.
Things to consider: Located in the centre of town close to bars and restaurants. Self catering to a good standard. 20 min walk to the studio (uphill, but pick and drop off available on course days free of charge). Amazing roof top terrace.
Where to find us
We are 25 mins inland from Malaga airport. We can arrange collection and drop off at the airport at 25 euros a journey and if staying locally we will pick you up and drop you off each night free of charge.
Booking a course
Paul will be running courses throughout the year, but most of his bookings will be for private groups from 1 to 6. For more details on pricing click on the Spain holidays link.
For more information contact: [email protected].