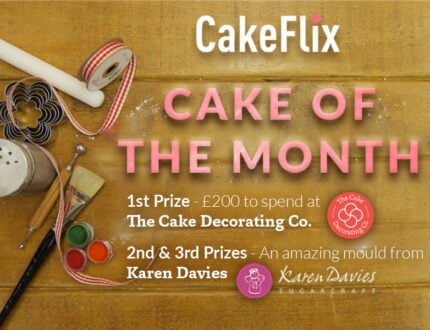 Cake of the Month is a monthly competition where members of the CakeFlix cake community compete for a whole host of incredible prizes from our generous sponsors The Cake Decorating Company and Karen Davies Sugarcraft.
Members submit their best work over the month, where entries are then judged by the lovely Paul Bradford (he told me to write that) with different prizes awarded for 1st, 2nd and 3rd place.
This Month's prizes…
1st place – £200 to spend at the Cake Decorating Co.
2nd place – A Premium Karen Davies mould
3rd place – A Karen Davies mould
To enter next month's competition for a chance to win simply enter your cake via our Cake of the Month form.
Now it's time to take a look at this month's entries!
Entries
Steampunk Masquerade by Nicola Jolliffe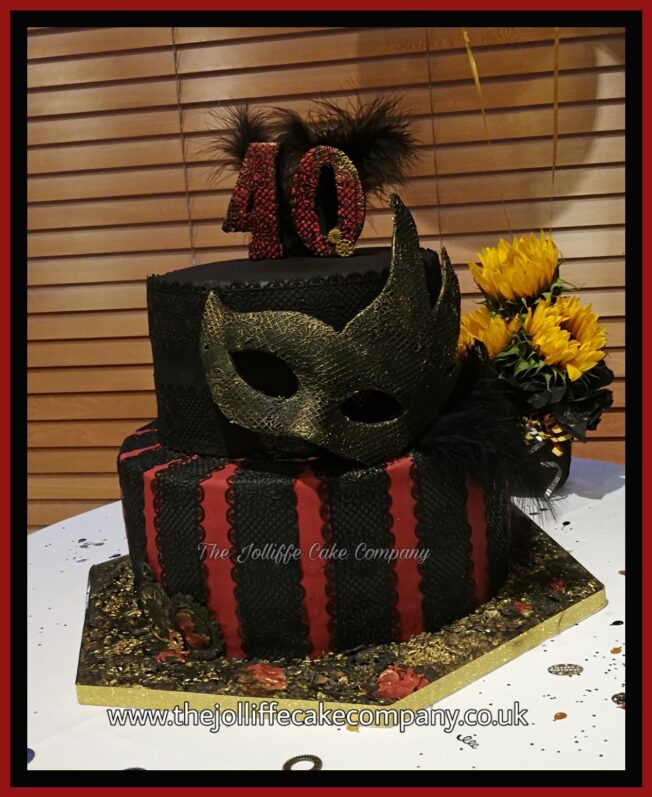 "This is the first cake I have made in a long time, after caring for my Dad, who has sadly just passed away. This was for a 40th birthday which had a Steampunk Masquerade ball theme. I hand cut the mask and 40."
Gone fishing by Gina Rickaby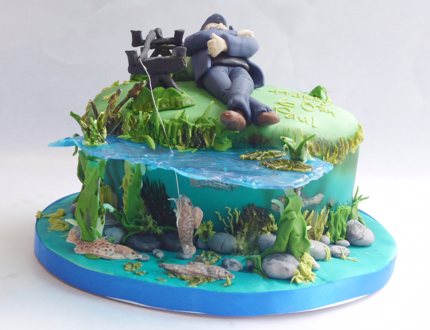 "A very last minute cake for my brother in-law whose birthday plans were scuppered last minute by the collapse of Thomas Cook. An alternative holiday was arranged and cake this travelled safely from Sussex to Dorset."
Why did the chicken cross the road … by Sue Cowley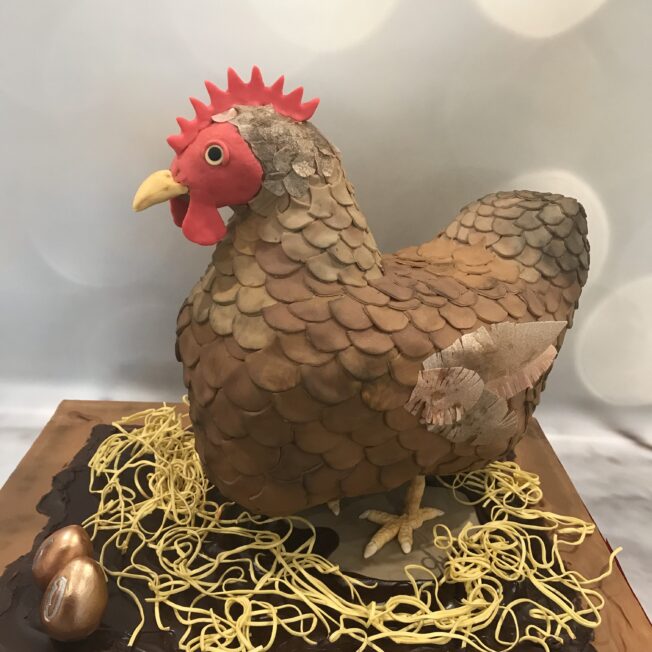 "A chicken cake for a lady who loves hens. Decided to bite the bullet and have a go at a gravity defying cake (my first!). The structured cake tutorials on CakeFlix were very helpful, and was pleased with the result. A bit worried the undercarriage might drop off in transit, but all was well!"
Purple chopper wedding cake by Karen Cutler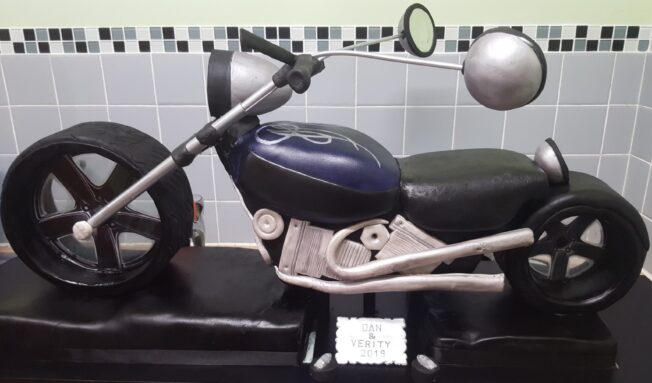 "A friend of ours wanted a motorbike wedding cake made and I asked for pictures. He said he only found one on a google search that he really liked and as luck would have it it was Paul's chopper he sent me a picture of. So here is my tweaked version to match the guys pride and joy."
Unicorn cake by Alison Howard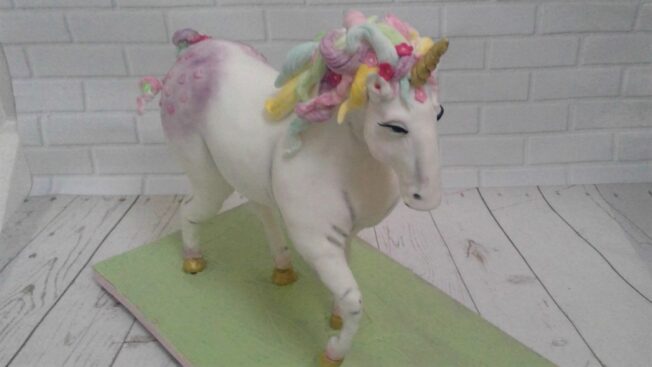 "Many thanks for Dot's armoured horse tutorial, without which I would not have been able to create this cake. This was a birthday Unicorn cake for little Chloe.
Thanks also for all your tutorials, they are great, especially the business ones on things like Facebook, & marketing etc."
Japanese Sugar Flowers by Lesley Reynolds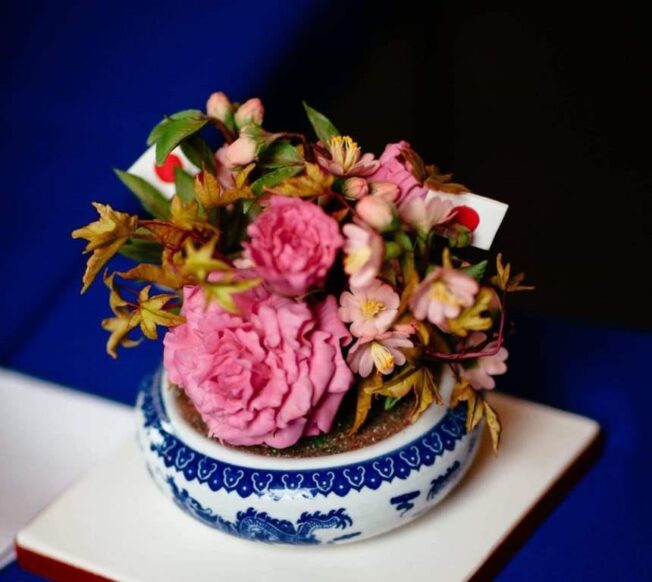 "This is not a cake; it is an arrangement of Japanese Sugar flowers; inspired by the Japanese Maple Leaf (Acer) Tutorial by Robert Haynes."
Vintage garden by Tammy Richards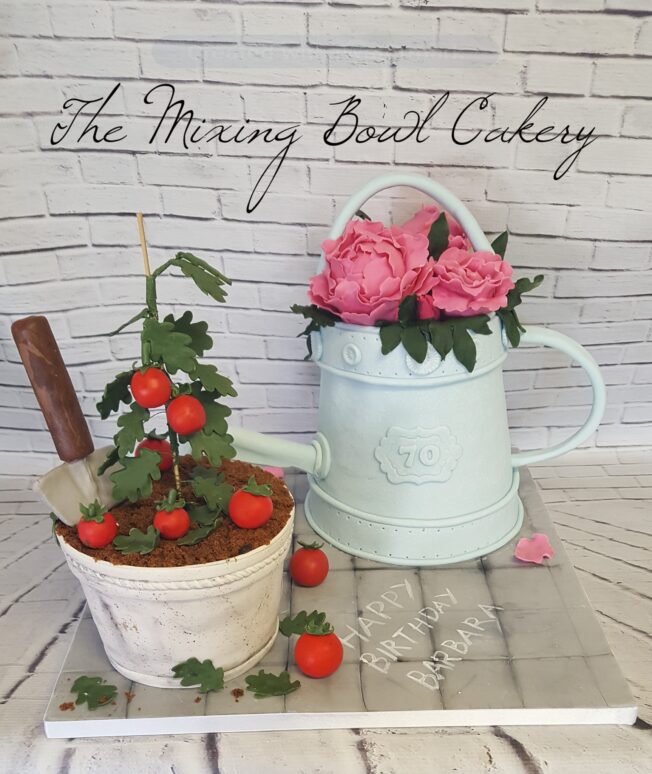 "Adapted from an earlier design inspired by plant pot and bucket tutorials. Request was for an avid gardener celebrating being 80 years young who was overrun with tomato plants and who loves anything vintage."
Joinery Cake by Sue Pinnick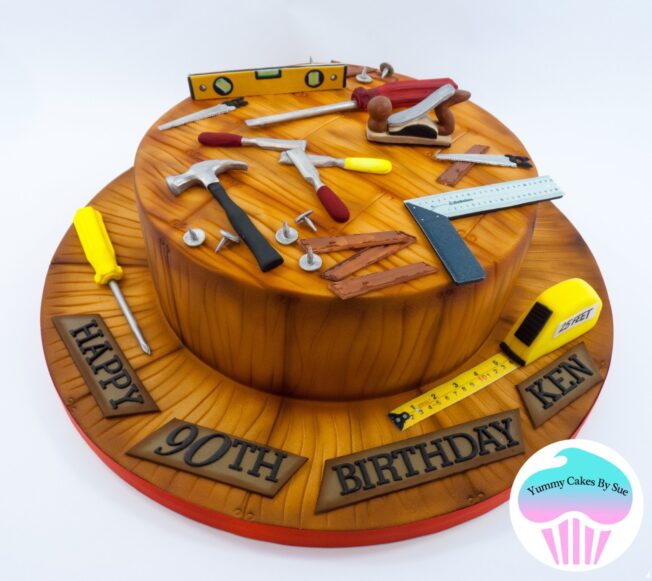 "The customer used to be a joiner. I recently got inspired by Paul to start using my airbrush more and here is the result.
I've also invested in new edible ink cartridges and cleaned my printer head so I could print out a spirit level, tri-square and tape measure ?"
Cake by Tuoyo Shackleton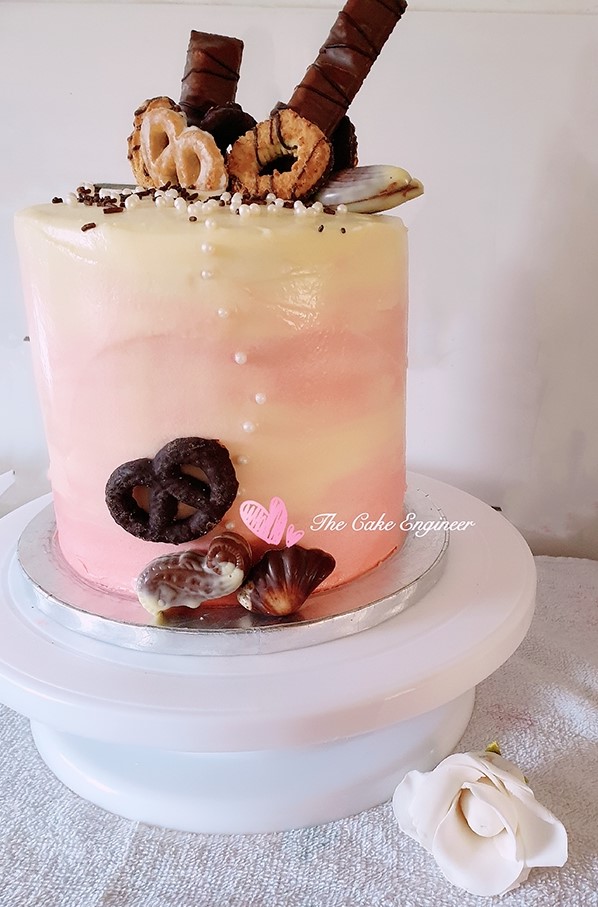 "I became a home Baker 2 years ago, decided to knuckle down and take things seriously. Some day I will be brave enough to quit engineering to become a full time Baker. I made this cake for my mum's birthday."
Unicorns forever by Carron Wilson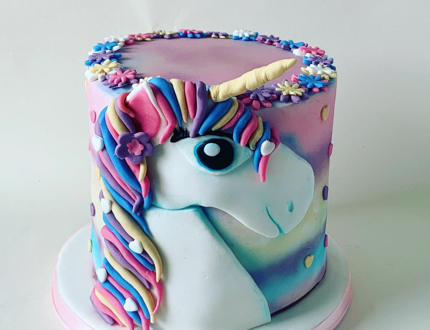 "I don't think the unicorn trend will ever disappear This was my first of what I'm sure will be many. Also my first time attempting to panel a cake in sugarpaste rather than cover in one go, took a bit of getting used to doing that! Coloured with my airbrush. The birthday girl loved it!"
Piano Cake by Cheryl Deepa Fernandes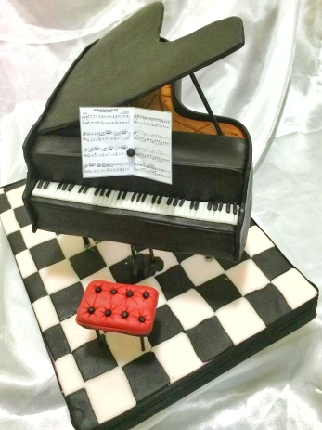 "This cake was made for my brother's 40th birthday. He is a pianist. I got inspired by Paul Piano tutorial and made this cake as a surprise for him on his birthday."
3rd place – Kinky boots by Ellie Reynolds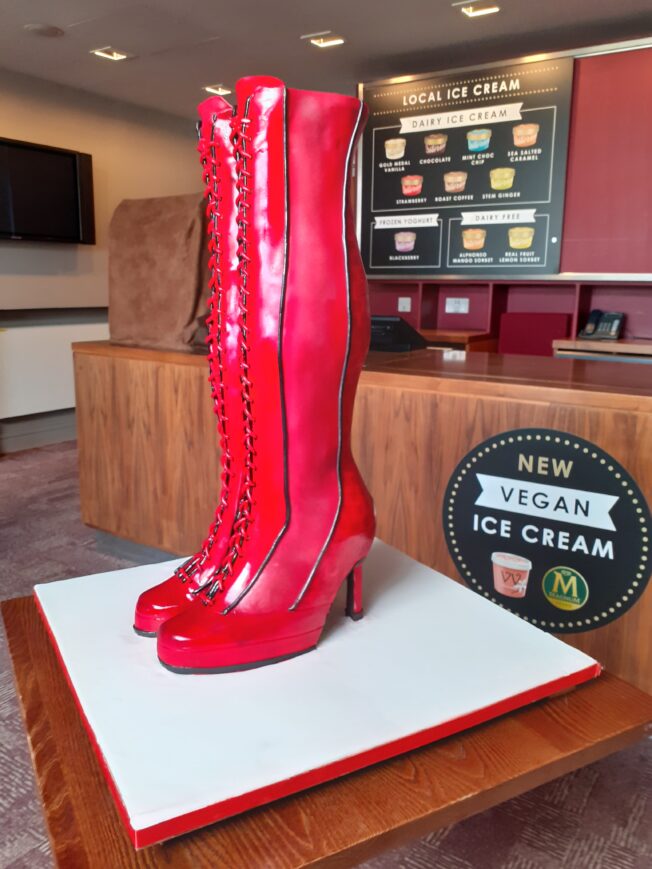 "I made this cake for the cast of the musical. It stood over 70cm tall. I watched a lot of tutorials on CakeFlix to figure out the board structure."
2nd place – Eric the Emu by Sally Feickert
"The real Eric the Emu befriended a group of workmates during a construction project I was managing, (I'm an engineer and cake maker!). He was such a big hit I thought it would be fun to create him in cake. He is my first structured cake and Marianne's flamingo cake tutorial was amazing! Thank you!"
WINNER – Floral Hoop by Martina Small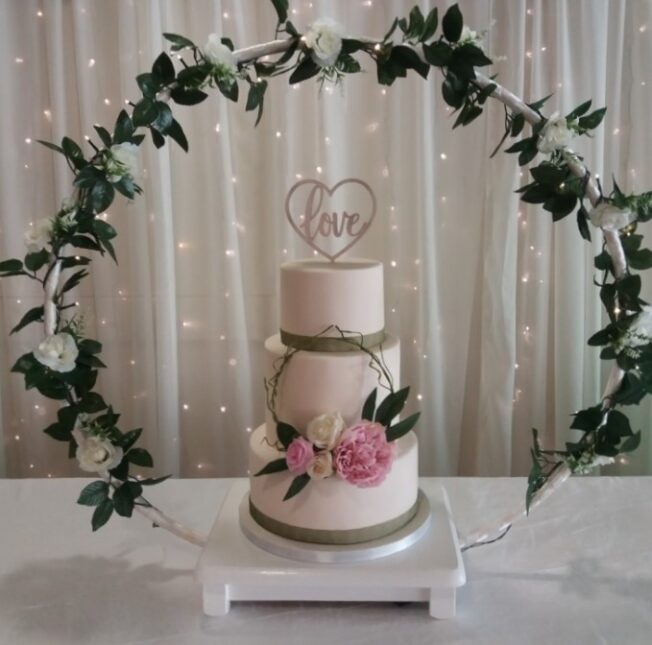 "I wanted to make this cake ever since I saw Natalie Porter create the Peony Flower Hoop on CakeFlix. So I tried my hand at it and used hers as a guide. My son made me the cake stand. x"
Congratulations to this months winners, runners up and all entrants. Prize winners will be contacted by the 10th of the following month.  
To enter next month's competition for the chance to win some more incredible prizes, submit your cakes using our Cake of the Month entry form today and let us know what your favourite cakes were in the comments section below!
Not a member? Take out a FREE week trial with us today at www.cakeflix.com