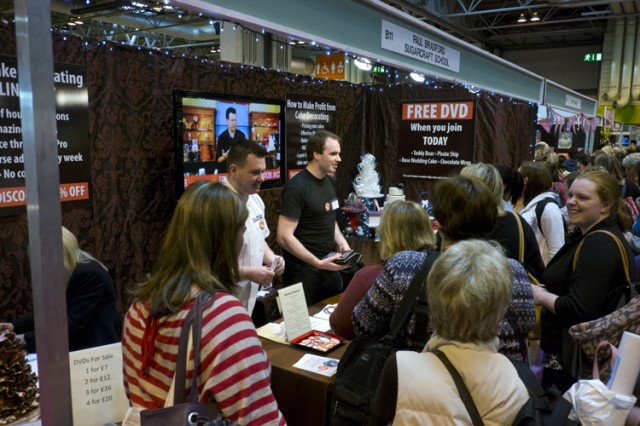 Well, Paul and David always told me "wait until you come to one of the shows to see just how big cake decorating is!" and last weekend, I went to one of the shows. Cake international 2012 at the Birmingham NEC was a real eye opener to just how big and exciting the cake decorating industry is today and also just how big and amazing some of the cake can be! Paul and David were at stand B11 for the full 3 days, they were kept very very busy chatting to new members of the school, as well as current members turning up to say hello. I however, had free reign to explore the event. So, along with Matt, who also works with us here on the website and Harry, who is in charge of our space program, we decided to film a short video to give you an idea of what you missed if you missed it and also because I always wanted to be a blue peter presenter but I never got my chance. Anyone from the BBC reading this?
The first thing I noticed about the show was just how much there is there to buy! There are loads and loads of cake decorating goodies to look at, test out, talk about and then maybe snap up some bargains. Not only that but there are a lot of new products on the market that you can get a first look at, such as a new digital magazine that caught my eye called Sugar Cake that I think I'll download on my iPad.
Seeing Paul do a live demo of how to make a Handbag cake was really entertaining. He only had 45 minutes to decorate a cake that would normally take a couple of hours, so It was great to see him work really fast but at the same time manage to explain what he was doing and also crack a few jokes! Paul said later that it reminded him of when he was running a cake decorating business and had a lot of orders to fulfil in a short space of time but factor in a couple of hundred people watching you and a video camera and the pressure is really on! Sounds like fun! Next, I'd like to see Paul Bradford the musical on ice! Maybe I can get a part in the chorus?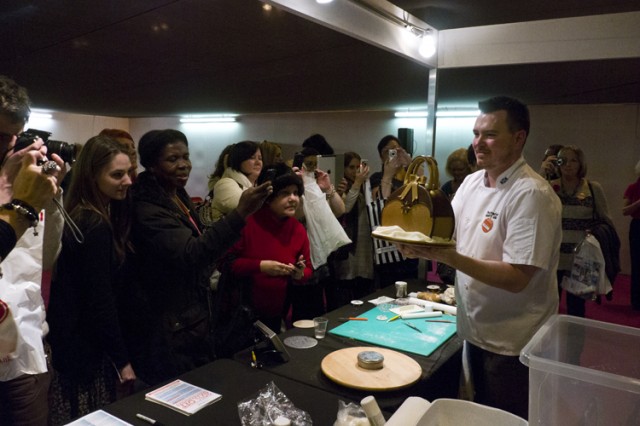 I think though, that my favourite part of the show had to be the competition cakes. They were truly amazing, not only must they have taken so much time and skill but some of them were very ingenious and those were the ones I tended to like the most. You can see what this complete novice had to say about the cakes in the following video (and there's a few pictures below too) but it's safe to say that anyone would be inspired to take there decorating skills to the next level. I wonder if Paul has time for another one to one lesson…. I'd really like to learn how to make a wookie cake!
This was my first show but it definitely won't be my last. I'm already looking forward to the next one!
By Paul Doffman – Customer support and lots of other cool stuff here at the School.
(We'll add some sources for the cake decorators soon, in the meantime, if you know anyone who made the cakes or indeed if it's you, get in touch!)
Some more photo's from the show…