[message_box type="note" icon="yes" close="Close"]In this weeks blog, we welcome another great guest post from 'madeitwithlove' (with a little help from hubby, Howard) – you'll probably recognise the name if you frequent our Q&A. If you haven't seen the Q&A, head over now to see some incredibly informative (and speedy) responses! Madeitwithlove talks about how to create the Chocolate Mud Cake recipe of our member 'headrabbit'…enjoy the post, we did! [/message_box]
Time flies…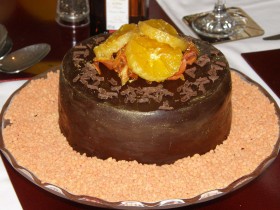 I can't believe how time has sped by. Seems one minute I was so excited about the cake show at the NEC which came and went in a flash, quickly followed by Christmas and all the rushing around that goes with it. I haven't had time yet to reflect on all the things we saw at the show. I'm just beginning to rummage around in carrier bags looking for all the stuff collected.
There were so many interesting new products and ideas, that to try and remember them all would need my brain to be the size of a mega super computer. A few favourite exhibitors have stuck clearly in my head, one of whom I'd like to share with you all today. I'd also like to share a really lovely long shelf life choccy mud cake recipe donated by PBSS member David Forsey (aka headrabbit), and mine and hubby's experimental recipe for non dairy ganache made with water instead of cream (oh and chocolate of course!). So here goes, bear with me there's loads to read.
At the NEC cake show I came across Sugar and Crumbs, a brand new and exciting baking ingredients company, offering a range of flavoured icings, cocoa powder, sugar paste and all things baking at very competitive prices. I was really interested in the icings because sometimes it's just time saving to grab something out of the cupboard and make a yummy filling. With hubby's birthday foremost in my mind (he being my constant long suffering guineapig) I wanted to try some of the products to team up with headrabbit's mud cake recipe and our new water ganache recipe.
The Recipe…
First off the recipe for the long shelf life chocolate mud cake, 'headrabbit' says:
"This is a sticky moist cake with very good keeping properties (4 -5 weeks in fridge and 3 -4 months in freezer) frequently used as wedding cake in Australia"
Quantities are for 8" round cake. Baking time 1 hr 40 minutes at 160c (140 fan oven).
190 gm butter
90 gm plain flour
125 gm self raising flour
420 gm caster sugar
30 ml vegetable oil
95 ml buttermilk
190 gm dark chocolate
40 gm cocoa powder
4 tsps good instant coffee
140 ml water
3 large eggs
½ teaspoon baking powder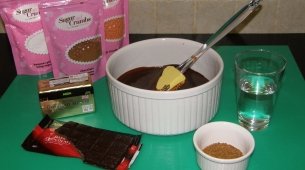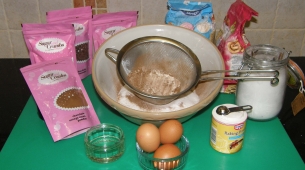 The Method…
1. Throw chocolate, coffee, butter and water into a pan and gently melt over low heat. Leave to cool for a few minutes.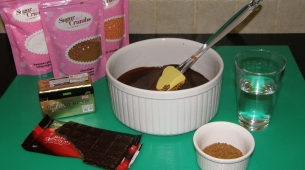 2. Whisk eggs, oil and buttermilk using hand mixer until combined, then add in the chocolate mixture.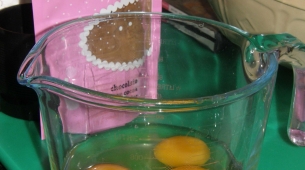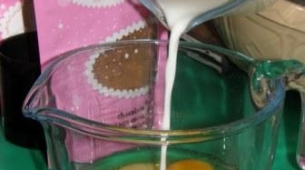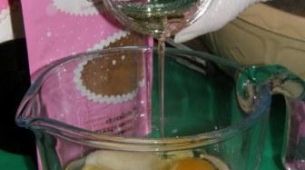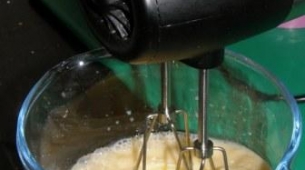 3. Sift flours, cocoa powder, baking powder in a large bowl, add sugar and mix in the chocolate mixture, to make a smooth batter. You can use the electric mixer for a couple minutes on low setting.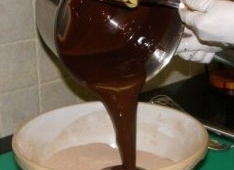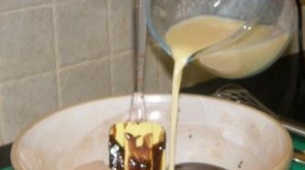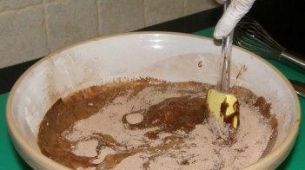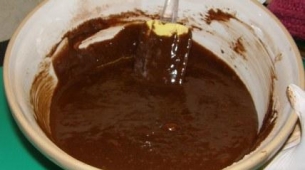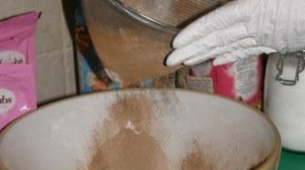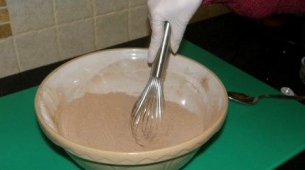 4. Pour mixture into lined tin and bake in preheated oven for above time. Cover top of cake with baking parchment half way through and test toward the end of cooking time.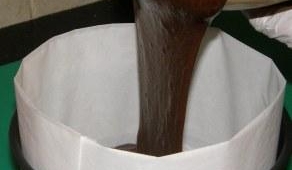 Additional notes
This is an unusually moist ( but delicious ) cake. So when testing with skewer in the normal way it will be cleanish, but a little sticky when done. I also found when lining the tin with double parchment inner and double brown paper collar outside reduces doming and cracking.
That is the recipe and this is my bake (except that I used Sugar and Crumbs chocolate orange cocoa powder instead regular cocoa powder and I did not lag the outside of the tin, but double lined the inside with parchment). I've baked this cake before and the results are always the same. The cake must always be chilled well before torting because it is so moist.
Next, the buttercream filling…
This I couldn't wait to try. I just made up butter cream in the usual way and added the extremely intense flavoured Sugar and Crumbs chocolate orange cocoa powder. The wonderful aroma of the orange wafted through the house and the butter cream itself tasted irresistible ( this admission from a buttercream hater!).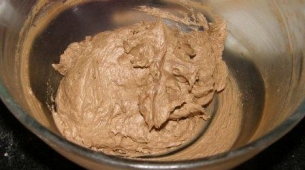 Once cooled and torted I brushed each layer with Cointreau and filled with the orange buttercream. The experimental water ganache ( see recipe) was used to cover the cake then dressed with simple homemade candied orange slices and peel. Wow the smell of this cake is just all too tempting!!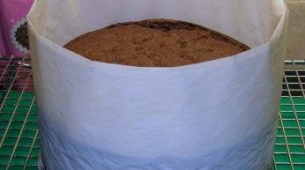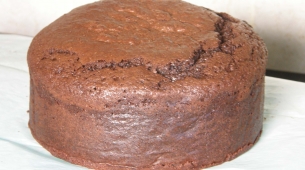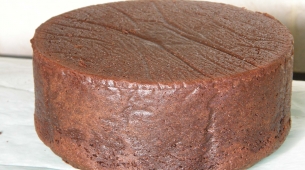 Finally the ganache….
The inspiration behind this is a number of enquiries made by members for dairy free ganache, so here we have tried, and I think, succeeded in producing a ganache which has no cream and is a perfectly palatable and suitable product for decorating and filling cakes. We played around with different combinations of chocolate and water.Then,after consulting a local chocolatier this is the recipe we came up with, enough to comfortably cover thickly an 8" round cake…
300 gm dark chocolate
80 ml boiled water (still hot)
30 ml glucose liquid
In a pan throw in the chocolate, hot water and glucose liquid, gently melt on low heat. When melted cool to body temperature so the ganache is still runny. Pour over the cake and with palette knife work it to spread over the top and sides the cake.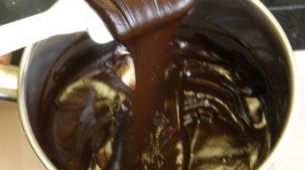 Let the ganache set, decorate and add finishing touches. In the photograph of the finished cake are orange crunch granules and chocolate blossoms made by Sugar and Crumbs. The orange granules can be added to cake and cupcake recipes for an extra crunchy bite.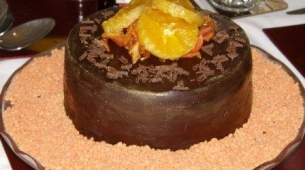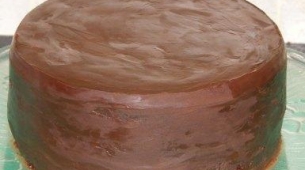 So guys, it's time to ENJOY!
My thanks to headrabbit for his fab recipe and a special thanks to Joy Stevenson from Sugar and Crumbs for supplying me with her lovely products to sample.
– Madeitwithlove and Hubby, Howard.