Cake of the Month – April 2019 edition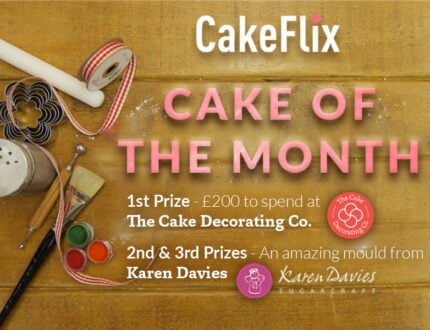 Cake of the Month is a monthly competition where members of the CakeFlix community compete for a whole host of incredible prizes from our generous sponsors The Cake Decorating Company and Karen Davies Sugarcraft.
Members submit their best work over the month, where entries are then judged by the lovely Paul Bradford (he told me to write that) with different prizes awarded for 1st, 2nd and 3rd place.
This Month's prizes…
1st place – £200 to spend at the Cake Decorating Co.
2nd place – A Premium Karen Davies mould
3rd place – A Karen Davies mould
To enter next month's competition for a chance to win simply enter your cake via our Cake of the Month form
Now it's time to take a look at this month's entries!
All in the family

Sue Pinnick had a regular customer who wanted to get her daughter-in-law a special cake for her 30th, with a turquoise and lime green combination.  They discussed several different themes but decided on this colourful family-orientated design!
Butterflies, fairies and bluebells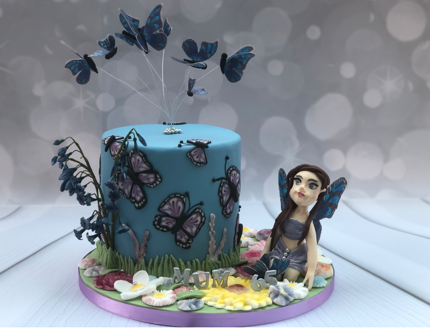 Sarah Mitchinson made this beautiful fairytale cake using a mixture of tutorials, including Barbara Regina's Italian Fairies. She finished off the design using Karen Davies moulds.
"You're a cake Harry!!!"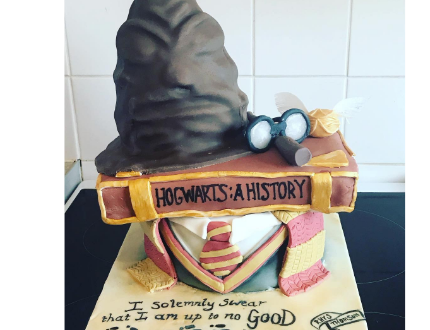 Carron Wilson's son wanted a Harry Potter themed cake for his birthday. So, Carron blended a few different tutorials together and come up with this design fit for any mogul or wizard!
Blaze of glory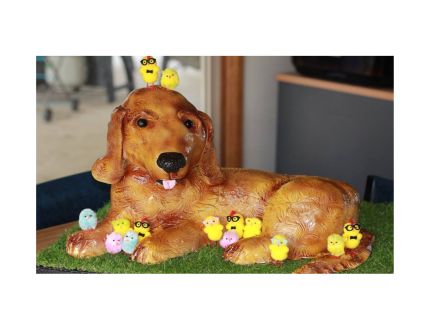 Mandy Suckling made this for a very special ladies 80th birthday. The cake is a  representation of her golden retriever 'Blaze'. The little chickens were added as she used to live on a farm. Very similar to Paul's Golden Retriever filmed 5 years ago!
A cake to go 'around'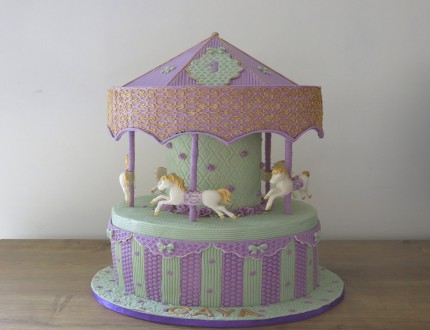 Francine Kotler Elfassy has made a Carousel Cake for the first birthday of each of her grandchildren with each one slightly different, varying in colour, textures and size.
You can leave your hat on


Gina Rickaby was simply given the brief of 'elegant hat cake' when asked to make this stunning cake. Gina used Natalie Porters Rapid Rose to make the side spray with cake lace Ophelia and Crystal Candy Fishnet lace. The detail on the brim was made using royal icing.
Winter is here…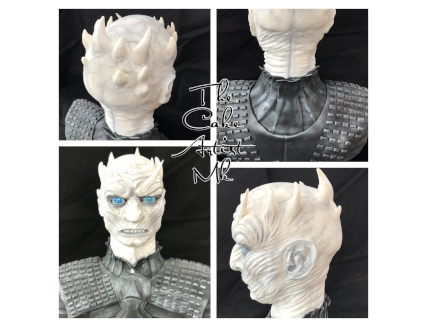 Ruth Wallace made this Game of Thrones Night King cake for her sons birthday. Ruth used the
Space Angel
and
Gilbert the Goblin
tutorials to help create the design.
A wedding wonder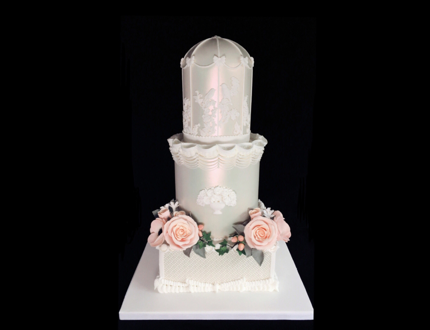 Wendy Jordan created this mesmerising wedding cake complete with eye-catching peach sugar flowers and intricate patterns. The colours of the flowers really bring out the patterns.
Owlin' at the moon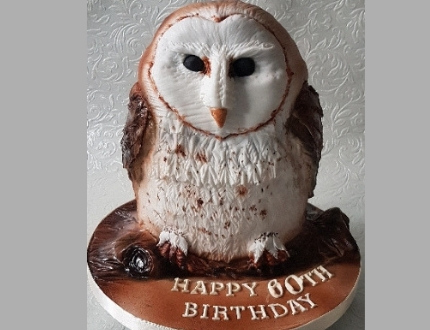 Ken Willis made this furry friend for a 60th birthday party. You can read about Ken Willis' journey into the cake world here.
World cup winners!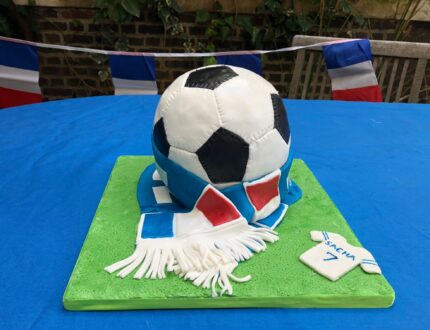 Caroline Attal made this for a young fan of the World Cup winning French football team. She need not worry about learning how to alter her design for the Scotland one 🙁
Boxing glove
Katrian Bailie was asked to create a boxing glove cake for a 16th birthday.  The wooden board was based on Paul's watering can cake tutorial whilst the leather effect on the glove was based on Rhianydd Webb's naughty dragon.
An acoustic taste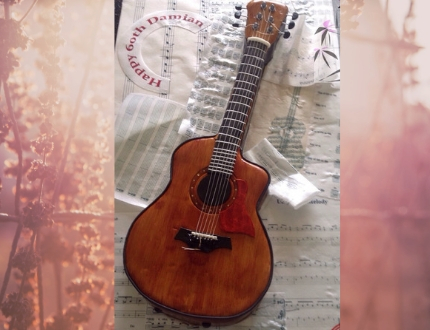 Vivien Green made this acoustic guitar for a recent musicians 60th birthday. We're sure it managed to pull a few heart strings!
3rd Place – Liann Armstrong – Williams
In third place, this month we have this Halloween Cake made for Liann Armstrong's Annual Halloween Party. Liann love all things Gothic and believe it or not this was her first time trying armature! Liann's made a fantastic job, perhaps inspired by Paul's Halloween witch cake tutorial.
2nd place – Gina Epperson
Gina Epperson made this cake for her county-wide church wild-game dinner for over 100 men who hunt & fish. As you can imagine they were quite taken away by it. Credit should go to her husband as well who extruded every piece for the basket.  Rose Macefield won Best in Shows cake with her Catch of the Day cake which was filmed at CakeFlix as cake tutorial in 2014.
WINNER – Sylvia Tippett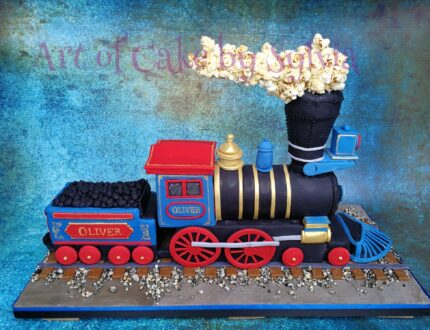 Our winner for May is Sylvia Tippett who made this wonderful version of our steam train cake tutorial. Sylvia's client asked for a colourful steam train for her son's birthday, specifying lots of details including a coal bunker behind the engine and steam coming out of the funnel. Sylvia used Paul's Steam Train cake tutorial. as the starting point for the cake and took it from there.
Congratulations to this months winners, runners up and all entrants. Your work will be visible on our Cake of the Month carousel throughout May.
To enter next month's competition for the chance to win some more incredible prizes submit your cakes using our Cake of the Month entry form today and let us know what your favourite cakes were in the comments section below!
Not a member? Take out a FREE week trial with us today at www.cakeflix.com