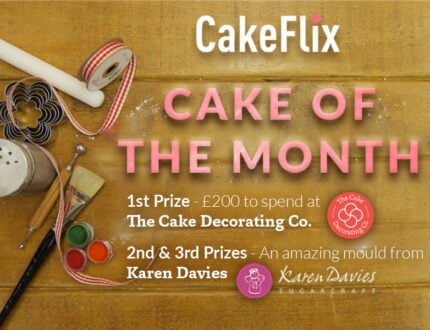 Cake of the Month is a monthly competition where members of the CakeFlix community compete for a whole host of incredible prizes from our generous sponsors The Cake Decorating Company and Karen Davies Sugarcraft.
Members submit their best work over the month, where entries are then judged by the lovely Paul Bradford (he told me to write that) with different prizes awarded for 1st, 2nd and 3rd place.
This Month's prizes…
1st place – £200 to spend at the Cake Decorating Co.
2nd place – A Premium Karen Davies mould
3rd place – A Karen Davies mould
To enter next month's competition for a chance to win simply enter your cake via our Cake of the Month form.
Now it's time to take a look at this month's entries!
Entries
Super Mario Mad

Carron Wilson made this for her Super Mario mad nephews 8th birthday. He's autistic and doesn't speak much so all he requested was a bomb. The candle on the cake acted as the wick for the bomb and as you can imagine, he was thrilled.
On your bike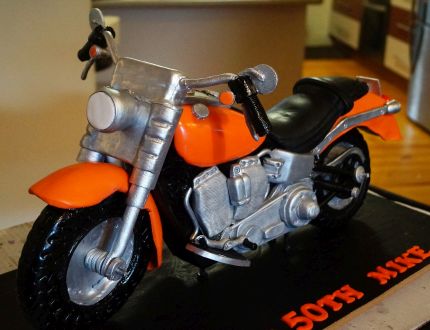 Mandy Suckling had a client request a Harley Davidson motorbike 1/4 the size of his real bike, luckily our motorbike cake tutorial was released just before the request came in/
Fit for a Viking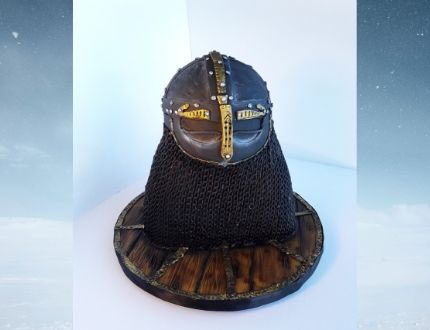 Stephanie Thériault made this Viking helmet for her son's 16th birthday. She took inspiration from several of our tutorials on how to make a bust to come up with this fantastic design.
All ships ahead
We stick with our Viking theme now with this Viking-esque boat from Ken Willis. Lots of time and effort has gone into this one and we simply love the effect he has made for the sea.
Puppy eyes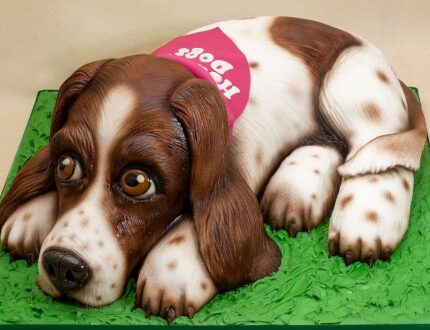 Julie Rogerson made and then kindly donated this carved Springer Spaniel cake to be raffled at a local dog walking event. The event was to raise money for Hearing Dogs for Deaf People. As you may know, we are big fans of dogs here at CakeFlix, so we're happy to hear that sales of raffle tickets for the cake raised almost £200 for the charity!
Big wheel…little wheel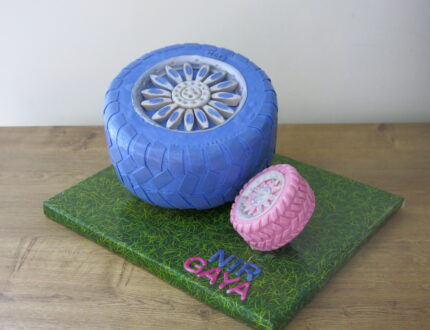 Francine Kottler Elfassy made this combined birthday cake made for her son in law's 41st birthday and his 10-month-old baby girl (her granddaughter). For each grandchild's first year Francine makes a cake a month and this one was inspired by Paul's upright tyre cake, whilst using the structure of Paul's Rainbow Panda cake.
Ahoy Matey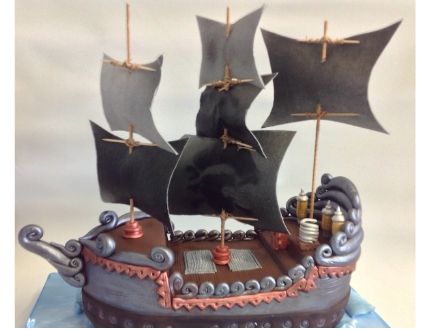 Viv Green used Paul's Pirate Ship Tutorial for this cake, adding her own take on it by making the chocolate sponge with chocolate filling and rum flavouring (we like rum almost as much as we like dogs). Made for a Pirate ship lover celebrating his 50th. The cake was made from 8″ square.
Let the games begin…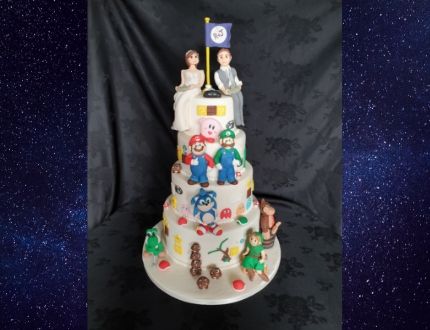 Amanda Roberts made this very unique wedding cake for a newlywed couple with a taste for gaming as well as cake. From Pacman to Mario, let us know if you can name all the characters in the comments below.
In bloom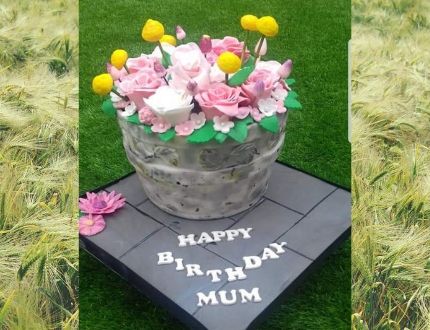 Julie Bailey made this beautiful flower pot cake for the most important person in her life, her mum. We love the arrangement and the collection of different colours and types.
Somewhere to keep your phone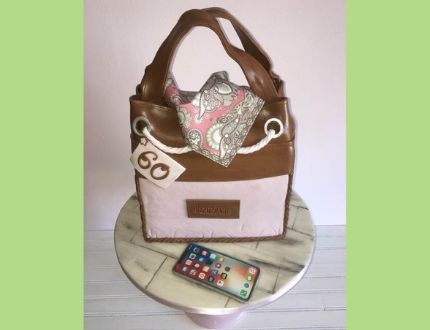 Jane Ross was asked to design a handbag cake and edible mobile phone for a 60th birthday. She used a combination of modelling chocolate, modelling paste and sugar paste before printing off a scarf pattern on a sugar sheet to finish off the design.
Route 80

Sarah Mitchison made this on request from an old friend for her Mum's 80th birthday. The different themes on the cake represent different aspects of the Mum's life. She looks after 3 dogs and a parrot, likes line dancing, crown green bowling, hill walking, keeping fit and is always on the phone.
Knitting with sugar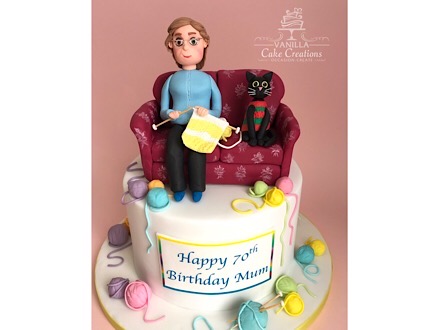 Julie Winstanley made this birthday cake for a lady who is an avid knitter. She also loves to spoil the family cat, so of course she had to include her furry little friend.
Horsin' around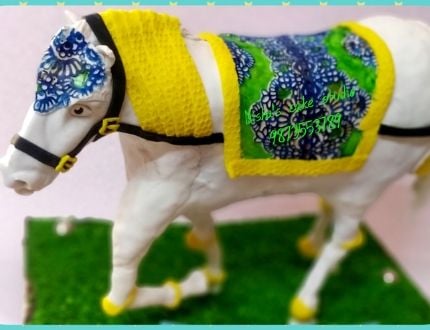 Nisha Gupta always likes to try new things when it comes to making cakes. Here is her beautiful take on Dot Klerck's Armoured Horse cake tutorial.
Built for speed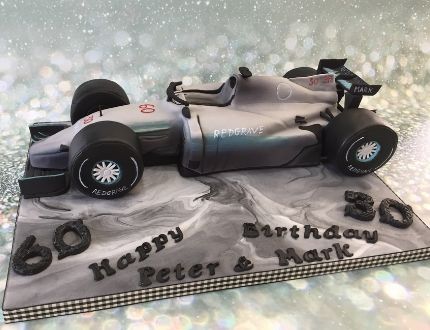 Chris Lloyd was tasked with making a F1 car driven by a particular famous British racer. The cake was made as a joint present for a father and son who are avid F1 fabs.
Shhhh, it's a secret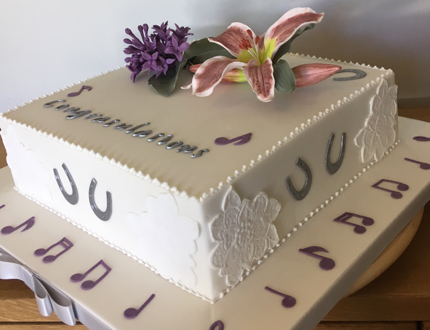 Wendy Kirkland was asked to make a 65th Birthday cake for a SECRET WEDDING! 80 guests were told that the couple had married that morning after 37 years together. Musical notes, and horseshoes to represent their love of music and riding. Wendy says Paul's Lilly tutorial was "invaluable" in the process.
Lord of the Cakes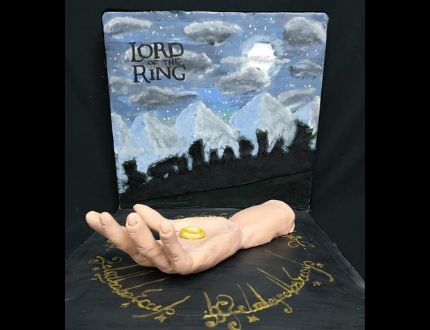 This Lord of the Rings themed cake is a collaboration cake from Sadia Iqbal and the Sugar Junkies.
The Collaboration name was 'movie memorabilia' and the Sadia's team decided to go for JRR Tolkien's classic.
Sugar and sew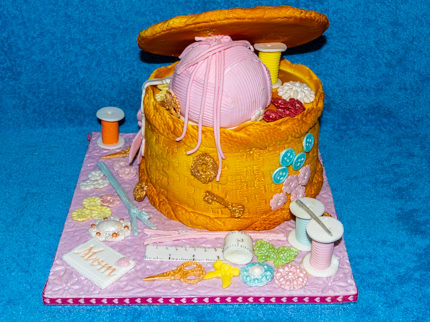 Patricia Turnbull had never made a large cake before joining CakeFlix in January. After bingeing on our tutorials she decided to try to make a sewing basket cake for her mother's 81st birthday. She was so shocked she cried and we can understand why with the amount of effort that has gone into this.
4 tiers of marriage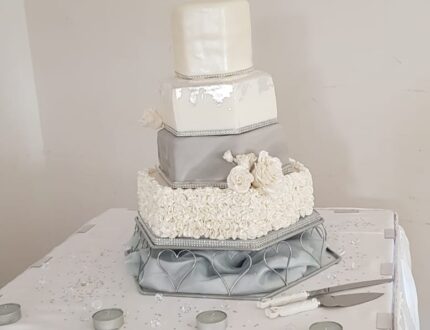 Debbie Padilla Dominguez made her first 4 tier wedding cake and it went down a treat. Each tier has a different colour or technique and we love the frills at the bottom.
The Prize Winners
3rd place – Jean O' Connell wonky floral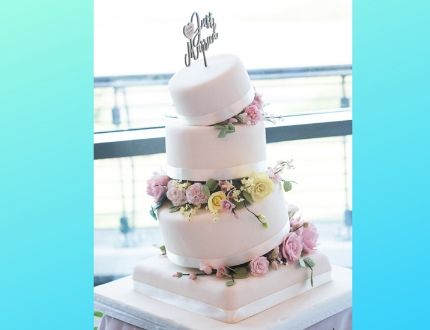 Jean O'Connell made this cake for her son's wedding. It caused her many a sleepless night worrying how to get it all slanted and for cake not to fall off. The flowers are all handmade by Jean and of course, it was her son who wanted it slanted (their always the awkward ones) and her daughter in law who asked for the flowers. Simply stunning.
2nd place – Helen Swan fortnight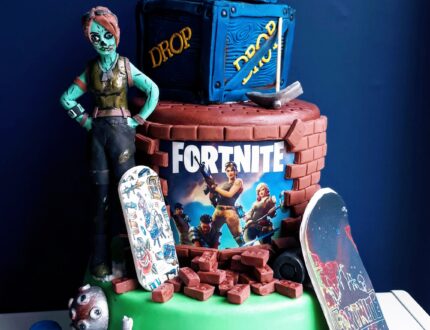 Helen Swan had a request for a birthday cake this month on the theme of the computer game Fornite. Helen had to look it up as she had no idea what the customer was talking about (I'm sure this will come to a shock to many parents reading this!). Each player in the game has a character called a skin and you have to earn it too, so Helen modelled the gamer's skin, this one had Ghoul Trooper!
1st place – Gina Rickaby – floral wedding cake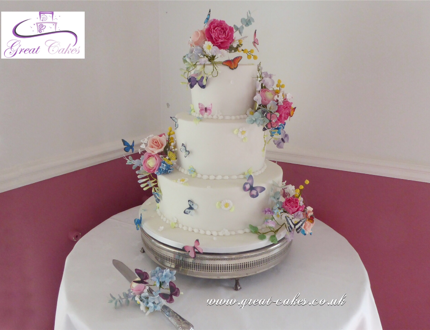 Gina Rickaby made this magnificent cake for a client who wanted a full-size cake rather than dummy tiers. The theme was colourful flowers with butterflies. Gina has been a pro member for 3 years, so says she used her knowledge from a large combination of tutorials to make this one.
Congratulations to this months winners, runners up and all entrants. Your work will be visible on our Cake of the Month carousel throughout June.
To enter next month's competition for the chance to win some more incredible prizes submit your cakes using our Cake of the Month entry form today and let us know what your favourite cakes were in the comments section below!
Not a member? Take out a FREE week trial with us today at www.cakeflix.com