Every month we hold a #CakeShareFriday, where we will select a collection of our members' cakes to post on our blog.
Would you like your cake to be featured in our blog? Watch out for our #CakeShareFriday post on Facebook and your cake could be featured here too!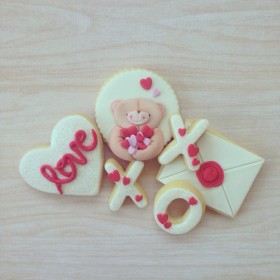 I love these cute little cookies by Iced Creations Australia. These would be cute to put into a little goody bag for any special occasion, birthdays, Mother's Day or just to let someone know you are thinking about them. Definitely a cute little gesture that would make anyone's heart melt! The little addition of glitter, dusted over the surface makes them extra special!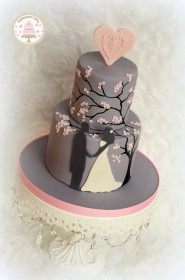 Thank you very much to Sugarpatch Cakes for sharing their beautiful cake. I really love the colour of this cake, along with the baby pink ribbon and fondant heart. It really gives the cake and the black silhouettes a feminine edge! Lovely and romantic for Valentines or for a modern Wedding Cake.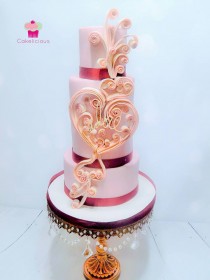 This cake by Cakelicious would be the most perfect cake for someone who is getting married tomorrow, Valentine's Day. The different shades of pink used on this cake is perfect for a Valentine's theme and it is accentuated with the pretty, dark pink ribbon. I love the different height's of the tiers and this really clever filigree hearts design, with the entwined word "love" is so unique! Definitely one to pin to your pinterest board if you are planning a romantic wedding or a pink themed celebration!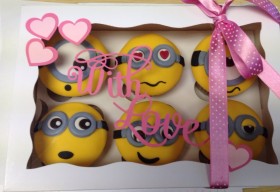 Minion Cupcakes!! These cute cupcakes by Susan Harper would be a lovely gift for anyone who needs cheered up!! It mean's they can take one for their lunch each day, and will still have a smile on their face, particularly with these little cuties (who couldn't smile at these?!) Such a nice idea for any big kid at heart and are a good way to send your love without being too….how can I say, cheesy!? Everyone loves a bit of cheese though right??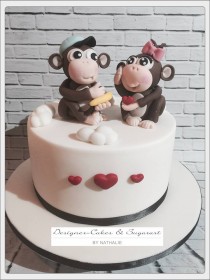 This adorable cake by Designer Cakes by Nathalie, is super cute with it's cheeky little monkey's! This is an adorable little cake that can be used for so many different occasions (I know plenty of cheeky monkeys that could put this cake to good use!) I particularly love the little expression on the female monkey, as if she was blushing! This cake could easily be adapted to any animal you may like, dogs, cats, or even teddy bears! Lovely idea!
---
Thank you to everyone who shared their lovely Romantic and Valentine's Day cakes, it certainly put a smile on all of our faces! We love to see all of your pretty creations and hopefully your cake maybe the inspiration that someone needs to go and bake a cake!
If you would like to enter our #Cake Share Friday and see your cake featured in this blog, then keep an eye on our Facebook and share your cake!!
Until Next Time….
Happy Valentines Day Everyone!!