This week we have put together a collection of my favourite "owl" cakes. Owls, are extremely cute and popular birds, not only in the cake world, but can be found decorating dinner plates, kid's pencil cases and purses to name a few. Owl themed cakes, cupcakes and cake pops are wonderfully animated and full of character, and can be as brightly coloured as you like. Having an owl cake in your collection is definitely a safe bet, because anyone from kids to grandmas are going mad for them at the moment. So to tie in with this weeks tutorial the "Owl Handbag Cake" we thought it would be good idea to put together a collection of owl inspired sweet treats, to inspire your Owl Cake design!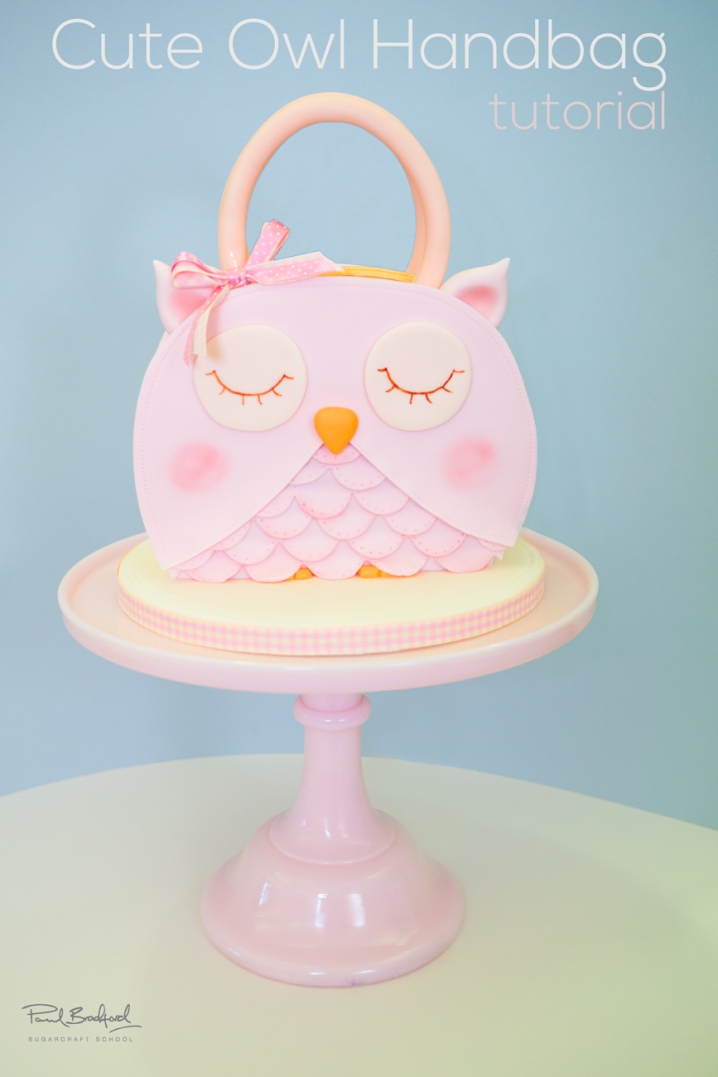 PS. Members can watch our easy beginners tutorial which teaches you how to make this cake here!
Large, Individual Owl Cakes
These adorable individual owl cakes are a lovely idea for any child's birthday, owl lover or someone who shares our admiration for cute little things. This size of cake, would perch beautifully alongside any other yummy treats in your shop window or at your daughter/granddaughter's birthday spread! Each of these owls are uniquely designed using different feather techniques, colours and patterns! Which one would you choose?!
Cute Owl Cake Toppers
No matter what the shape, size, colour – these little guys are adorable!! I love how playful the colours can be mixed and matched and still come out looking pretty! As you can see from the photographs above, the little owl toppers look great on their own, on top of a cupcake, clustered together to form a little family on top of a big cake, or simply perched on their own. Who could eat them?!
Owl Wedding Cake Toppers
Looking for something a little bit different to your standard wedding cake? These cute owl cake toppers are just the perfect alternative to standard cake toppers. I love how the owls have been customised in the photograph on the right with the cute skip hat and tie for the groom and the pretty little veil and flowers to match the rest of the cake, for the bride! Lovely customisation idea and really makes it personal to the person getting married.
Owl Cake Pops
If you don't have a lot of time to make a cake, or you are looking for additional sweet treats to add to your party, or want to have additional options to offer your customers, then why not try these cute little owl cake pops?! Again they can be customised to match your colour scheme and can be as colourful or as simple as you want! We particularly like each cake pop to be slightly different to the next, giving them their own personalities and creating a talking point at the event!
So if you are stuck on what cake to make your not so girlie granddaughter, or are having a design block when it comes to creating new, exciting cakes for your customers, then why not offer them a cute owl cake?! By simply changing up the colours,pattern or size of the cake, you have created a new and fresh design that will hopefully be enjoyed by many!
If you fancy giving an owl cake a go – why not use my easy beginners tutorial which is available here. Simply adapt the owl colour, facial expression or the fact that it's a handbag and create a masterpiece of your own!
Please send us your owl cake snaps on Facebook too! We love to see them. You can connect with us on Facebook here
All of these stunning cakes can be found with links to their original creators on my Pinterest board, which you can find here – https://uk.pinterest.com/paulbradford/naked-cakes/
Thank you for reading – If you like what you read, post a little comment below !:) x