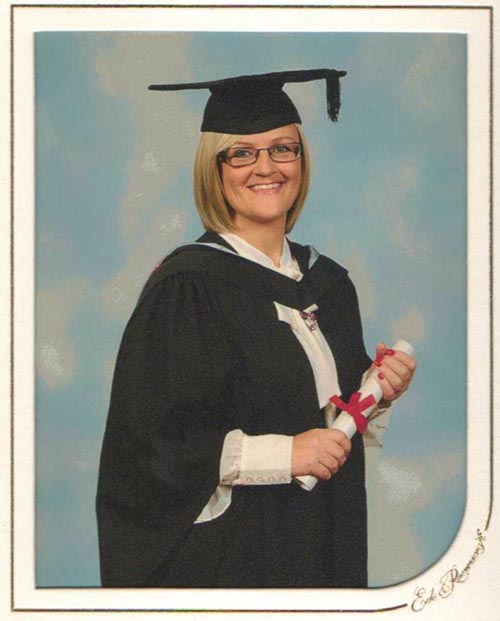 I am married to Gary and have three children, Martyn (32), Bethany (29) and our youngest daughter, Grace (23) who's yet to fly the nest.  Gary and I were both born and raised in Matlock, Derbyshire, and although we grew up on adjoining streets and have known each other well since childhood, we became a couple around 25 years ago and now live just a few miles away from our beloved hometown.
My interest in sugarcraft began in 1988 when my best friend, Mary, bought me a sugarcraft book to keep me occupied during pregnancy with my son.  I'd always been creative and a little bit 'arty' but I just loved trying new crafts.  Making dolls' house miniatures was my guilty pleasure and I loved baking so cake decorating, particularly modelling in small scale, was a great way to indulge in all the things I enjoyed.
In 1998, a local paper asked if I'd be willing to feature on their regular 'Matlock Successes' page.  Although I had been running a successful little cake decorating business for several years and was delighted that the newspaper wanted to write about me, I panicked about having no formal qualifications and worried that it could be frowned upon.  The article and photos they printed brought in lots of new business including a cake for one of the writers of Emmerdale and another for a News of the World journalist, however, I was still concerned that I was self-taught and had no recognised qualifications so I decided to enrol on an accredited sugarcraft course.  The internet was still in its 'dial-up' infancy so after what seemed like an entire day phoning around colleges and community education providers, I was finally able to find a 3-year CENTRA/ABC Sugarcraft course at Castle College, Sheffield.  At the time, I didn't drive, was breastfeeding a newborn baby, had already missed a majority of the first term of the course and lived around 20 miles away from the college but I was determined to get my qualifications so knew we'd work around all of that somehow.  Besides, it gave me a legitimate reason to indulge in an entire day of 'playing' with my passion and mixing with likeminded people!
After a hugely enjoyable, but challenging time, by the time I finished college, my cake diary was heaving.  I was loving being busy and enjoying the various challenges of each order.  I enjoyed miniature modelling and making wired sugar flowers above anything else, and being able to use the internet to research brides' flowers and details for all the weird and wonderful cake orders I was receiving meant I could tackle every cake request that came my way.  There were no online tutorials or inspiring cakey pics back then but at least when I was asked to make a cake for one of the designers of what was then called 'The Millennium Dome', I could find clear pictures with just a few clicks of a mouse.  I used to pull up photos of books or album covers then recreate them on tiny squares of flower-paste as a way to incorporate favourite authors and musicians into a cake design. The recipient was usually so delighted to see such personalised detail that they were forgiving of my primitive brushstrokes!
In 2007 I was working as PA to the MD of a water company, which was relocating. This meant that we had to move house and it was on the day that we were moving that I felt a lump on my neck, which was diagnosed as Hodgkin's Lymphoma. After undergoing six months of intensive chemotherapy, we were beyond delighted when I finally received the, "You're in remission!" in the summer of 2008. After such a life changing experience I made the decision to return to cake decorating and sugarcraft – the one job that had given me complete job satisfaction despite the crazy working hours!  I felt an immediate rush of excitement and couldn't wait to start unpacking my tools.  I don't really remember thinking about what Gary would say about me leaving my steady, well-paid job, but fate immediately stepped in anyway so I didn't need to.
Soon after I was delighted to become a Sugarcraft Tutor for West Nottinghamshire College. As I'd be teaching adults, I was able to start teaching whilst I studied for my teaching qualifications so I started teaching in October 2008 and enrolled at Derby University shortly afterwards.  Never one to do things in halves, juggling family, university coursework, teaching and a slower-than-I'd-hoped recovery proved tremendously difficult at times but the tears and hard work paid off when I graduated in 2011, aged 41!
Teaching up to 10 college classes each week was unbelievably rewarding then a small group of students requested more adventurous classes than I was able to offer through the college and it prompted me to trial some small classes from my home.  Gary built a large conservatory onto the side of our house and this provided the ideal classroom.  I was already registered with the EHO and Inland Revenue so just needed to ask the EHO to check out the new teaching area and update my Public Liability Insurance.
During the spring of 2009, whilst still working for West Notts College, I was commissioned by London-based artist, Jane Wildgoose, to work alongside her in her 'Life is Very Sweet' exhibition at The Harley Gallery on the Duke & Duchess of Portland's Welbeck Estate, Nottinghamshire. The installation was inspired by a 155-piece dessert service commissioned by Margaret Duchess of Portland, and a set of Chinese watercolours from the Duchess' collection that reveal the story of how the discovery of the secret of porcelain manufacture in the West in the 18th-century led to replacement of intricate sugar-work, traditionally used as decoration on aristocratic dessert tables, by fine chinaware.  Working on the installation was fascinating and also gave me the opportunity to work alongside food historian, Ivan Day. My work at the gallery featured in a variety of publications including Cake Craft & Decoration magazine, Flower Arranger and The Lady magazine.
My private classes were growing increasingly popular and soon became a major part of my working week so I needed to come up with a name for the school.  I asked students for suggestions and two suggestions caught my ear but for different reasons.  I thought Cakey Bakey Art was a bit silly but nonetheless quite catchy and I absolutely loved 'Cakes With Class'.  I asked students in my various classes for their opinions and, within a few minutes, one student was referring to it as 'Classic Cakes' and another thought it was 'Classy Cakes'.  On the other hand, everybody remembered Cakey Bakey Art and everyone seemed to love it so once I'd checked whether the domain was available Cakey Bakey Art was born!  As it happens, cakeswithclass.com was already taken anyway but I couldn't resist registering cakeswithclassuk.com as a back-up in case I had second thoughts later!
One of my students recommended a young web designer who built me a basic website and typed me a list of instructions explaining how to copy and paste coding to add new classes to the calendar.  The website terrified me but in no time at all I was receiving regular bookings via the website, word of mouth recommendations and the Facebook page I'd set up to share photos of students' work created in class. Within just a few months the private classes and small retail gallery became my main focus, so in February 2012 I taught my final class for West Nottinghamshire College and Cakey Bakey Art Sugarcraft School became my full-time career.
The conservatory was a great way to keep my work area separate from our family space but it proved difficult to keep cool during the summer and just as tricky to heat in the winter so a year later, we extended our kitchen to create a large teaching kitchen and used the conservatory to display an ever-growing array of demonstration cakes and samples along with a small retail gallery of tools and equipment.
In 2013, after seeing some samples I'd made for QVC shopping channel, Katy Sue Designs asked me to demonstrate their products at Cake International.  As 1:12 scale miniatures and dolls' houses had been my guilty pleasure since childhood, I was already familiar with the quality of Katy Sue Designs products and I jumped at the chance.  I was later invited to demonstrate at the 38th ICES Convention Kentucky, USA and during the trip, Sue asked me to consider demonstrating for them on UK television.  I was flattered to have been asked and loved the idea but I'd lost my confidence since chemotherapy and really didn't think it was something I could ever do.
A couple of weeks after returning from Kentucky, I was invited to the TV studios in Peterborough and after a nerve-wracking but successful screen-test, my first live TV show was set for 24th October 2013. I remember standing in front of my make-up mirror, feeling sick with nerves and wanting to back out of that first show before asking myself out loud what was the worst that could happen.  I tried to imagine how I'd feel at 7.00 pm when the show was over and had been a success, then I imagined how I'd feel at 7.00 pm if I'd cancelled the show.  The worst that could happen was that I'd be a nervous wreck but that wouldn't have been the end of the world and I'd tackled much bigger challenges in the past so I slapped on my lip-gloss and headed to the studio.  My co-presenter, Nigel May was hilarious and extremely welcoming so was the perfect partner to have by my side.  Although I still felt nervous, in no time at all we were at the end of the one hour show and I was packing away my tools and feeling so proud of myself for not throwing in the towel.
I went on to demonstrate on many live TV shows for both UK and American audiences, including several Cake Academy shows (in association with Cake Masters Magazine), demonstrating Karen Davies moulds on Create & Craft TV and demonstrating alongside Rosie Dummer (aka 'Rosie Cake Diva') on her shows on The Craft Channel. I was also lucky enough to be invited to design projects for Cake Craft & Decoration Magazine, some of which were featured on the front cover.
I've taken part in many charity and community events including teaching classes for the Teenage Cancer Trust, community volunteer projects for Museumaker and was delighted to be asked to work with The Harley Gallery again when I was commissioned to recreate a replica of the newly opened Portland Collection Gallery, built within the grounds.  Although the planning and production of such a large commission certainly put me through my paces, I'm immensely proud to have contributed to such a prestigious event.
Regularly working with a variety of quality, food-grade moulds including Karen Davies Sugarcraft, Katy Sue Designs and FPC Moulds, has given me the opportunity to show how moulds can be used to bridge the gap between commercial and bespoke cake decorating and I get great satisfaction from thinking of new ways to use a particular mould.  Changing small details of the moulded embellishments, either by frilling, pinching or cutting to enhance the detail, creates bespoke decorations with commercial speed and means I can achieve an array of unique embellishments from a single mould.
After seeing some of the many samples I'd made for Katy Sue Designs, I was approached by Search Press Publishers and asked whether I'd like to write a book about using moulds and mats to decorate cakes.  I knew I could decorate cakes but I wasn't sure I could write about it in a cohesive manner.  I've never been good at asking for help and had no clue how to write a book so I spent a couple of months scribbling sketches, writing lists and trying to create a rough plan of how the contents of the book might look.  I treated each project like a class so creating the instructions turned out to be no different to writing the lesson plans I'd been writing for my classes.  Although the publisher wanted the book to focus on beginner and intermediate levels, I wanted to incorporate as many other Sugarcraft techniques as possible as I was eager to show that I had lots of other skills that didn't involve using moulds.  There was a delay when the first editor assigned to my book changed jobs but when I was finally assigned a new editor, things moved pretty quickly and I spent a few manic months juggling preparation and baking for classes, teaching 5 or 6 classes each week, making and writing instructions for my book projects, travelling back and forth to London for Rosie's TV shows and trying to snatch some kind of family life.
My book, 'Vintage Cake Decorations Made Easy' was published in 2017 and along with a dedication to Gary and my children for putting up with the constant cakey-mayhem, I dedicated it to my lovely friend Mary for planting the seed that started this entire journey! I was thrilled to see my book in print and to read so many fabulous reviews but my proudest moment was during a Christmas shopping trip with Grace when we walked into WH Smith and found my book sitting on the shelf alongside many of my Sugarcraft heroes.  I was tempted to scribble a little note and pop it inside the front cover but thought better of it!
The release of my book seemed to prompt a flurry of new bookings and teaching almost every day of the week meant I'd often catch a glimpse of Grace hovering in the hallway, desperate for something to eat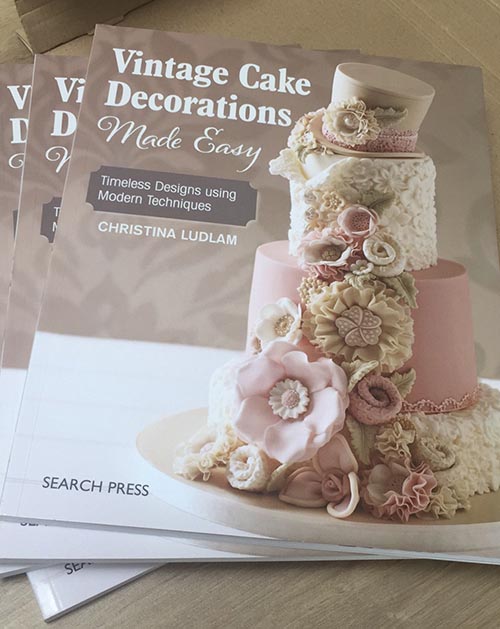 after school, but not wanting to come into the kitchen and disturb my class.  We're lucky to have gardens to both sides of our house and a detached garage at the end of one of the gardens, so Gary set about building me my own classroom including a bathroom and small kitchen onto the side of the garage.  I've been teaching in the new classroom for a few years now and love having my own workspace.  I feel so proud when students walk through the door and tell me what a fabulous place I have and I reply with, "Thank you, my Husband built it for me".  They often ask whether he's available for hire!  I'm a bit of a hoarder when it comes to Sugarcraft tools, books and magazines so I don't think I'll ever have enough space but it's great to have my little haven at the end of the garden and to be able to display some of my cakes or to work late without disturbing anyone else.  When we were building the class-room it was tricky to know exactly what I wanted/needed so we got the basics built and I seem to have spent the past 3 years asking Gary to tweak all the bits I thought we could improve, but I absolutely love my classroom and feel extremely lucky to have it.
Little did I realise what an invaluable asset my lovely classroom would prove to be when the world was plunged into madness in March 2020.  Lockdown not only prevented students attending classes but my medical history meant that I needed to shield so I was advised to avoid leaving the house/garden with immediate effect.  Although I was concerned about the sudden loss of income during the first few weeks, I initially welcomed having a few spare days to deep clean and reorganise the classroom.  One of my lovely students, Julie, made a point of messaging me every morning, sometimes with a quick "Good Morning" but often with much longer messages to air our worries and concerns over the strange world we'd suddenly found ourselves in.  I didn't realise it at the time but we would continue to text each other every single morning since lockdown began and to this present day.  It was reassuring to have regular contact with someone from the outside world and I'd reply to Julie's early morning message then keep to my usual routine as much as I could, getting myself ready for work and even continuing to wear my Cakey Bakey Art tunics.  I'd get out to the classroom by 8.00 am each day and I'd busy myself whilst Gary set to work on building a 'lockdown project' water feature. Both being self-employed and neither of us being able to work was really starting to worry.  I was spending all day in the classroom listening to the 24-hour news channel and finding myself transfixed on the daily government addresses and announcement of the ever-rising covid figures.
We stuck rigidly to the rules meaning I literally walked from the house to the classroom and back each day, seeing nobody from outside of our household for months.  I did my shopping online and my medical appointments were all taking place online.  I couldn't see my older two children, nor my parents who were also shielding.  My Mum had been diagnosed with Non-Hodgkin's Lymphoma and was undergoing chemotherapy and Bethany was struggling with her mental health so both were on my mind constantly.  Karen Davies very kindly put some work my way which kept me busy for a few weeks but without the daily interaction with students, I was spending way too long with my thoughts and could feel my cakey mojo slipping away from me.  It seemed everyone else was cracking Zoom calls and online teaching whilst I couldn't even get a reliable wifi connection in the classroom let alone even make a Zoom call!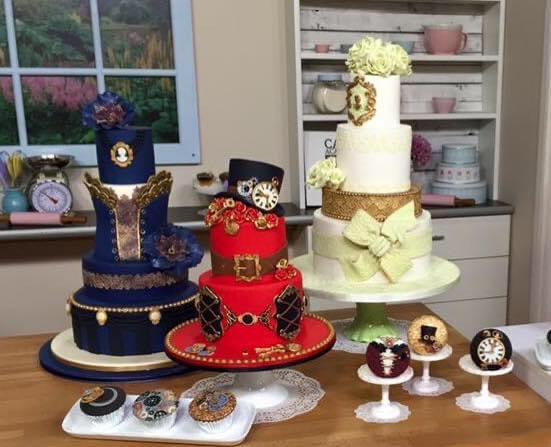 I started scrolling through my phone and stumbled across a Facebook post advertising Caking all over the World and couldn't wait to watch.  I spent an entire Saturday glued to my phone screen, watching livestream after livestream and loving every minute as my creative mind filled with lots of new ideas.  I immediately loved the Cakeflix Family feel and couldn't believe I hadn't signed up sooner.  I set a reminder on my phone so I didn't miss the start of the next Caking all over the World event and I started chatting with a few Cakeflix members, including the lovely Mish Pattinson.  Karen Davies had asked me if I'd do a Facebook Live broadcast to show the cakes I'd been making for her as it was unclear as to when she'd be permitted to travel to collect them.  The wifi connection from the house to the classroom was really hit-and-miss so that was my first hurdle.  I also knew that it would be much better if we could switch between two cameras during the broadcast as it would enable us to set up both cameras beforehand and not risk messing things up during the Live.  Mish was fantastic and so generous with her knowledge, literally spelling out exactly what I needed to buy in order to set up a Mesh Wifi network to improve the wifi signal and she recommended using Switcher as a way to switch between two camera angles.
So, I designed a cookie jigsaw project that I thought would appeal to adults and children alike and hoped it might be used as a way to entertain children during the lockdown craziness.  I'd created a template and incorporated lots of Karen's moulds as well as ways to adapt the design to work without the moulds I was using.  I roped Grace in to help me to set up the lights, laptops and mobile phone cameras ready for our first Facebook Live.  Grace constantly reminded me that it didn't need to be perfect and she did everything she could to help me, from writing out huge prompt sheets with opening lines for me to read to setting up a private 'test' page on Facebook so we could create a dummy-run Live ten minutes before the real thing.  I know I've always been hard on myself and I've lost count of the times I've put off doing things for fear of not getting them 100% perfect but I just can't help it.  Had I not agreed to do the Live for Karen, I know I'd have thrown in the towel at the first sign of a dodgy wifi signal.  So, as 8.00 pm arrived, Grace pressed the 'broadcast' button and I immediately fluffed my opening introduction.  We both broke into fits of giggles as Grace somehow managed to delete the couple of seconds before anyone saw it.  Take 2 also got off to a shaky start but I loved being able to show off all the cakes I'd been working on and I started to feel some of my cakey-self returning as I worked my way around to my workstation ready to start demonstrating the cookie jig-saw.  No sooner had I found my stride and Gary appeared at the classroom doorway to tell us that the wifi connection had been interrupted and the broadcast had ended.  Thankfully, he'd been watching indoors so gave us the heads-up early on otherwise I could have rattled away to a blank screen for another two hours!  It later became obvious that the fact that Gary was watching our broadcast in the house was putting additional demand on the wifi signal and was likely to be the reason the connection failed in the first place (that, and the fact that so many people were now working online so the internet was already slower than normal) but we were just thankful that he stopped us in our tracks and we were able to restart and make our apologies in a second (OK, 'third') broadcast.  This broadcast was far from perfect and we had to switch to filming with Grace's iPhone, but I managed to get to the end of the demonstration before Grace lost all feeling in her arm after trying to hold the phone as still as possible to avoid any further mishaps despite the fact that we had at least four different phone tripods out on the table!
I'd hoped that doing the broadcast for Karen would spur me on to do some regular Facebook Lives for myself and maybe even publish a few online classes or tutorials.  Even after receiving so many photos of the fabulous cookie jigsaws made by some of the lovely people watching my demo, all I could think about was the unreliable wifi connection, my initial stumbles and all of the niggling little less-than-perfect bits.  In hindsight, I know I should have been reminding myself of the many live TV shows I'd breezed through and the lovely comments I've received about my cakes in the past, so how difficult could a little Facebook Live really be?  But the truth was that although I had Grace helping me as much as she could, I felt this was all on my shoulders and I took my far-from-perfect performance as a total failure.
Gary and I love travelling and try to squeeze in a holiday every few months as it's the only way we actually stop ourselves working and revitalise ourselves ready to start again when we get home.  To be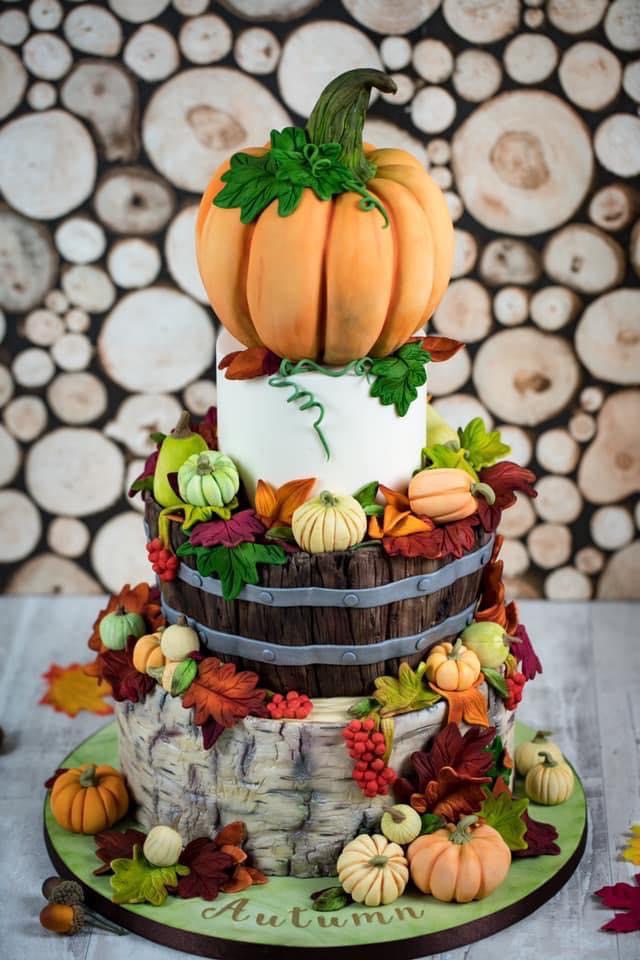 honest, I always take something work-related away with us and have even been known to book an additional 22 KG luggage allowance to take a suitcase full of dummies, tools and fondant to work on some cakes for Karen whilst we spent a month on our favourite island of Tenerife, so I never really leave the work behind entirely, but when your passion is your job it's not really class as 'work' is it?  Anyway, as lockdown and shielding clocked up weeks into months, and our planned holiday dates were gradually cancelled one-by-one, I found I was recognising less and less of my regular life and so many of the things that once made me feel so lucky were gradually being taken away.  I knew the restrictions were only temporary but there was so much uncertainty and I was struggling to envisage how the business I loved would survive.  Looking back, I now realise that every face-to-face class I teach gives me a little ego boost.  I love the interaction I have with my students, chatting with likeminded sugarcrafters, sharing knowledge and creating beautiful cakes together in class is what made me tick and now those things were taken away I really couldn't see a way forward.  I was feeling suffocated by absolutely every tricky or negative detail in everything I did – or didn't do!  I was permanently anxious and struggling to sleep as I'd lie in bed reminding myself of my daily failings and end up with a head full of negativity.
With no classes to prepare for and no holidays to look forward to, I really struggled to feel positive.  My only real contact with the outside world was social media and I believed that everyone else was handling lockdown perfectly and I was the only one struggling.  I'd suffered with clinical depression over 20 years earlier after my friend Mary (who planted my obsession with Sugarcraft) tragically passed away with cancer on the day I discovered I was pregnant with Bethany, and although this wasn't on that scale, I felt terribly low and couldn't help feeling that everything I'd worked to achieve since being unwell was falling apart as I was being left behind and forgotten about in the cake world then along came Cakeflix Train the Trainer!!  I forget whether it was a Facebook ad or a Cakeflix email I received but as soon as I read the course content, I fired off an email to David.  It genuinely felt like someone had stepped inside my head to see what I felt I was lacking and then created a course to provide exactly what I needed to help me to plan a way forward.  I knew that if I was left to my own devices, I'd continue swimming around in circles getting nowhere and within a few minutes of chatting with David I knew TTT was for me.
Lockdown #1 measures were being eased and overseas travel was suddenly possible, albeit with certain restrictions, so we booked a month-long escape to sunny Tenerife (along with my extra 22 KG suitcase packed full with cakey paraphernalia) and I scheduled a Zoom call with lovely David and Paul.  After months of feeling lost and low, David and Paul helped me to find my focus and worked with me to create a plan in order to work towards my objectives.  I immediately felt supported and started to see a way forward.  Being terrified of technology wasn't going to suddenly make me tech-savvy, and admitting out loud that my 50-year-old brain was feeling left behind in the modern world wasn't admitting failure, it was the first step to finding a way forward.  David explained a few possible solutions in easy-to-understand language and even sent me links to the various software, webcam and microphone suggestions so I knew I was looking in the right place.  He helped me to break down my ultimate goals into smaller, achievable, measurable steps which meant I could start to create a productive path forward.
I spent the remainder of our time in Tenerife making plans to update my out-of-date, poorly functioning website, writing a new business plan, ordering new webcams and working on Halloween cakes for Karen Davies.  Restrictions in Tenerife meant that most restaurants and attractions were closed and the streets were completely deserted, so we managed to take liberating daily strolls (wearing masks in almost 40 degrees) and enjoy a little sunshine after being confined to an empty classroom for months, then it was back to the sunny terrace to work on my plans.
We returned to the UK and I'm delighted to say that each of the cakes I'd decorated and packed into our checked-in luggage had survived the flight home.  After our quarantine period, I was able to fit in a few classes before most places were plunged back into local and then national lockdowns again.  Although I was able to start working through some of the goals David had helped me to set, the reality of another period of shielding, Christmas without my two grown up children, Bethany being terribly unhappy at work and showing signs of depression, learning that my Mum's Lymphoma couldn't be cured and all of this on top of almost a year of lost income was taking its toll and I started to feel overwhelmed again.
CakeFlix to the rescue again!  David invited me to join the Cakeflix Bootcamp at the beginning of January.  Although we had lots going on at home, I looked forward to locking myself away in the classroom for each of the sessions and I loved how David talked about the strategies and various people who motivated him, and then to read all the ideas and enthusiasm in other members' comments.  As soon as each session ended, I worked through the notes I'd taken and started to action my plans.  I contacted my Niece's fiancé as he's a Web Developer and we talked through building an entirely new website.  David had mentioned how 99Designs offered a design contest option for designers to submit logo designs which I could narrow down to pick my favourites and then ask others to vote for their favourites.  I loved the idea so I paid for the logo and branding pack then waited for the designs to come in.  The first couple of designs were nothing special but within a couple of days, the designs were coming in thick and fast and I was able to ask the various designers to tweak the designs, alter colours, incorporate borders and change fonts, etc.  It turned out to be such an enjoyable experience and the second I saw the fourth logo to be submitted, I knew it was perfect.  I received well in excess of 140 logo designs by the end of the 5 days and although I'd already found my perfect logo, I still invited everyone from the CakeFlix Bootcamp group to vote for their favourite.  I was thrilled to see that my duck-egg blue, Art-deco-inspired choice was a firm favourite with over 90% of those I'd invited to vote too so I set about ordering new stationery and incorporating my new branding into the new website design.
David talked me through how to film a short demonstration using three camera angles and how to use Camtasia software to edit the clips into a short video tutorial.  I can't say it came naturally to me but after a few emails back and forth, I managed to create a short stencilling video before David suggested a couple of tweaks with the camera angles and I produced another couple of short videos which I felt comfortable sharing on my Facebook business page.
During the second lockdown, Grace persuaded me to watch the Netflix Bridgerton series.  I don't watch a deal of TV but I love period dramas, so whilst Bridgerton was not quite the Downton Abbey or Catherine Cookson style of period drama I was expecting, I loved the stunning gowns and elegant interior furnishings and almost immediately set to sketching out a 5-tier cake design incorporating an 'appliqued' tier inspired by one of Daphne Bridgerton's gowns and an open 'theatre' dummy tier complete with flowing sugar curtains and 1:12 scale working chandelier and wall lights.  Roses feature heavily in the lavish sets of the Bridgerton balls, and there's a subtle appearance of a bumble bee too (a nod to Daphne's late father who kept bees and apparently died after a bee sting but I believe we'll hear more about that in series 2) so I included both in my design.  I spent several days recreating my sketches in cake dummies.  After posting photos of my cake online, I received an enormous number of requests for a tutorial so I set about making the entire cake again but filming every minute detail as I worked.  I'd also spoken with David after being asked by a few Cakeflix members whether the tutorial I was creating would be for Cakeflix.  I was flattered that David and Paul said they'd love the tutorial.
I made a start on filming the tutorial.  I lost count of the number of retakes and mishaps I encountered during filming and I hated asking for help, but as I'd filmed about 90% of the tutorial and just needed to record an intro, final assembly and an extra film to show some additional ideas, we suddenly learned that Bethany's mental health was much worse than any of us had ever imagined.  Bethany has since written openly online about mental health and I have her permission to speak about it here but at the time we received that late night call from the Mental Health Crisis Team, it was like they were describing a complete stranger to me.  Although Bethany admits to hiding her true feelings behind a mask of perfect make-up and smiles, I still felt I should have somehow spotted the signs.  Everything else ground to a halt as we supported Bethany and got her the professional help she needs to rebuild.  It's a work in progress but Bethany is in a much better place now and I'm confident that we're all learning from the process; it's also helping me to recognise my own personal limits.  One of the most valuable pieces of advice we were given in Cakeflix Bootcamp was 'Excellence in place of Perfection'.  Since I first heard David say these words, I've repeated the advice to all three of my children and to many of my students as I know it makes perfect sense.  I just need to remind myself to put it into action much more and to know that I don't have to keep going around in circles trying to achieve perfection when excellence is more than good enough!
As the most recent restrictions were lifted and we were able to reschedule some of the postponed classes.  I worried about whether I'd even remember how to interact with people, let alone teach, so I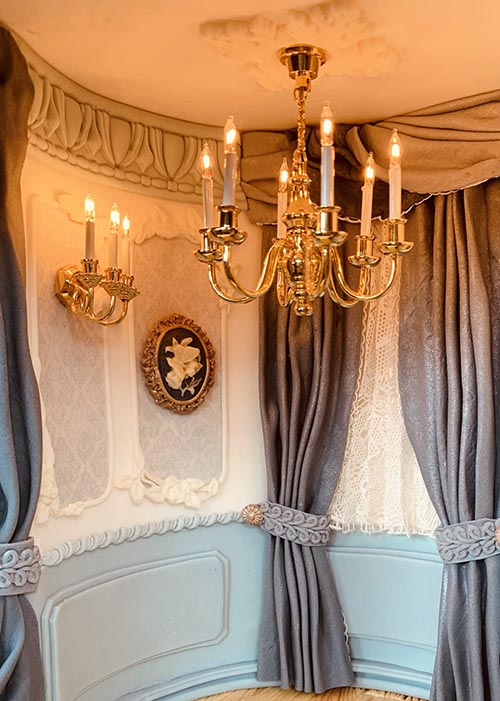 initially scheduled the postponed one-to-one classes, gradually increasing to two and then three students in a class but we're now back to full four-student capacity and I'm breathing a tentative sigh of relief.  We've incorporated some measures to ensure everyone feels safe in class and I can't wait to get back to put the craziness behind us.  I'm continuing to test daily and I prefer to wear a mask when students are inside the classroom but I'm delighted to say that my classes are starting to book up again and if recent feedback is to be believed, it's a huge relief to know that I haven't forgotten how to teach after all!
So, fast forward to the end of August 2021.  A post from Melanie Underwood popped up on my Facebook page, advertising a small handful of Cake International Authors' stands available at a reduced price.  I wrote a book a couple of years ago so I guess that makes me an author, right?  Although I'd demonstrated for many of the big names at Cake International (Karen Davies, Katy Sue, Queen of Hearts Couture and Crystal Candy), I never dreamt it would be possible to have my own stand at the exhibition.  I thought it over for an hour, spoke to Gary and Grace and decided to message Melanie.  We arranged to speak on the phone the following day and Melanie asked whether I had any online tutorials or classes that I could sell alongside my book on the Author's stand.  I sent her photos of my Bridgerton cake and she said that she didn't want to upset David and Paul but that I should consider using the tutorial for myself, particularly considering the tight time-frame and the fact that a majority of the tutorial was already recorded.  Our family suddenly suffered a tragic bereavement and I really wasn't sure whether I'd be able to commit to Cake International after all but I emailed David and his empathetic, sensitive yet constructive response was exactly what I needed to hear.  He agreed that it would be a great opportunity for me but said that I should allow myself a 'get out' if I couldn't realistically achieve what I wanted to achieve in just a few short weeks.  He offered me lots of advice about planning my display and said to set a goal that excites me then to focus on the goal, give it colours and to imagine it being a huge success.  I set about planning how I wanted my stand to look and I knew that my main focus was to be the Bridgerton-inspired cake so I wanted the vintage look to carry through my entire display.  I excitedly sketched, coloured, wrote list after list, ordered dummies, fondant, fabric, storage drawers, etc.  Grace started taking photos of the cakes as I decorated them then she used the photos to design some new roller banners.  We had a rather ill-timed holiday already booked for the beginning of October so I spent my time sketching out a couple of new designs and writing final checklists as we sat in the sunshine but I was secretly relieved to get back home and set to work sewing tablecloths and making voile swags to decorate the black exhibition stand.  I'd planned each day and had decided to prioritise the display cakes, then the decoration of the booth walls and allow the final 3 days before travelling to the NEC to edit all the tutorial videos so we could offer it as a show special and sign people up for the online class at the stand.  Although I'd demonstrated on many CI stands over the years, it was tricky trying to design the decoration without knowing exactly what we'd have to work with when we got there so I tried to work out measurements from the floor plan and from memory of past shows and we made the best of what we had.
I worked into the wee hours for ten days prior to the show as I was also teaching classes so had to constantly pack everything away as I prepared for class and then clean up and reverse the process after class to get back to the display cakes again.  I somehow managed to get together a display of cakes I was proud of, including a new Christmas version of my Bridgerton inspired cake, complete with a sugar fireplace, sugar mantle-clock, sugar Christmas cards and, of course, a working chandelier and wall lights.  I hand-painted holly on one of the lower tiers and made two huge Poinsettia in place of the roses used to decorate the Bridgerton cake.  I also needed to remake a couple of the cakes from my book, after all, my book was the only physical product I had to sell on the stand.
One final spanner in the works before we left for the NEC – Camtasia (the editing software I used to edit my videos) updated to a new 2021 version.  I still can't work out whether it was the update or whether my lack of tech-knowledge is to blame, but I spent an entire two days struggling to edit a single one of the 40 tutorial chapters I'd recorded.  I started with 55 chapters, each with 3 videos to line-up and edit, but realised a few of them were retakes so finally reduced the number to 120 separate recordings – 3 camera angles for 40 chapters.  For some reason, the audio file refuses to line up with the video, despite lining up the graphic equaliser display perfectly in the software program.  I knew David would be busy and didn't want to offload my problem onto him so at the end of the second long day of fighting with software I didn't understand, I threw in the towel and decided to move the release date of the tutorial to 1st December.  I was disappointed not to have it ready for CI but I was still going to get my display cakes to that booth and the delayed release date has given me time to re-record the entire tutorial if I have to.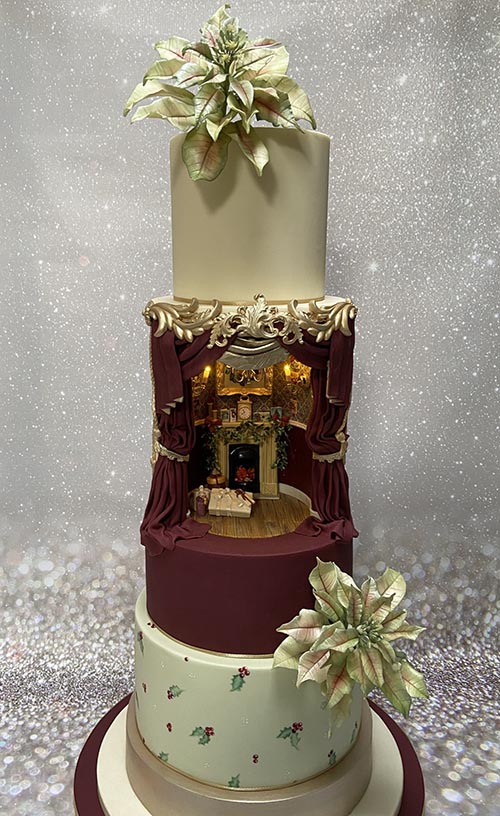 We hired a van, booked a hotel, and Gary, Grace and I loaded up the van to the rafters with every last item from my checklists.  Decorating the inside of the booth didn't exactly go to plan and I know Grace was tempted to disown me on more than one occasion as she climbed up and down on the chair to decorate where her 5' 1" Mum couldn't reach.  It was mid afternoon before we'd even started to unpack cakes and check whether they'd survived the journey but I'm delighted to say that we were so tired by then that David's 'Excellence in place of Perfection' came into its own.  We decided that no-one else knew that we'd planned a Georgian drawing room backdrop (which turned out to be far too short and left too much of the black booth exposed) so it didn't matter that we were now using three roller banners as a backdrop instead.  We managed to trip the electrics on the stand as I attempted to iron the tablecloths in situ, so they remained creased as we packed away the iron and reset the electrics.  We quickly unpacked the cakes which I'm delighted to say had survived the journey completely intact.  We packed all the empty boxes and anything we didn't need back into the van and Gary dropped Grace and I off at the hotel for a well-earned rest and he returned home to take care of the dogs for the weekend.
Grace loves decorating cookies so tucked herself away in the corner of the stand to decorate cookies as I prepared my demonstration area and we waited for the doors to open.  Almost as soon as the first person approached our stand, the photos began.  The show wasn't as big or as busy as previous Cake International shows, but we had a steady flow of visitors and I was completely overwhelmed by the number of "Wow", "How on earth?" and "Have you seen this?" comments.  It genuinely seemed like every person passing by would double-take and step back to take a photo or two.  I'm sure that wasn't really the case but it certainly seemed that way.  After 18 months of self-doubt and feeling completely deflated, I was catapulted to Cloud 9 and wish I could have bottled that feeling!  Of course there are lots of things I'll do differently next time (for a start, I'll make sure we take some tall plinths to lift the cakes a little higher so people didn't have to stoop to peep inside the open tiers and I'll know the height of the booth walls so I can plan my backdrops exactly how I want them to look) but my first ever Cakey Bakey Art Cake International stand was, for me, a resounding success and I couldn't be more grateful to everyone who supported me, not least David, Gary and Grace and my student, Julie, for her unwavering encouragement and cheeky nicknames that never failed to make me smile when I needed it most.  Now to start planning next year's stand!