It all seems so long ago now, but last year at Cake International we ran a competition at the NEC Show with the winner spending a day at the studio in Spain with Paul.
There were a number of terrific entries making it so hard for Paul and Eddie Spence MBE to choose the eventual winner, but when they did it was a very worthy winner indeed.
Sarah Cobb, based in Newark, Nottinghamshire, has been decorating cakes for friends and family for around 5 years gaining a PME diploma in 2012. As a Pro member she was very kind in her praise of how she had gained a wealth of knowledge and countless hints and tips through watching Paul on his weekly tutorials all backed up with a number of attended courses. In November 2013 she plucked up the courage to enter her first competition and was completely blown away when she won, but it came as no surprise to the many people who viewed the competition cakes and had Eddie Spence commenting '.. this girl will go far.'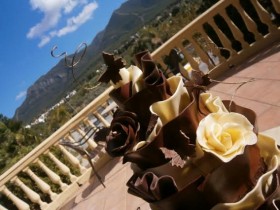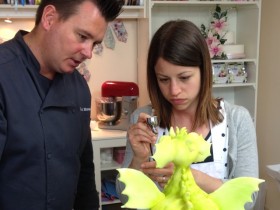 Eddie was right, all the way to Spain. Sarah and husband Jonny visited Paul in the studio in May and as you'll see from the cakes they had a very productive day indeed. There was a lot of laughter and a lot of learning, just as cake decorating should be. Sarah was delighted with the overall experience and Paul now echos Eddie's words after experiencing her ability first hand.
Sarah currently holds down 3 part time jobs and still finds the time to follow her passion and dream of eventually have her own cake shop. I'm sure you'll agree that the quality is there just needs the platform to get known. Have a look at her Facebook Page and give her a like!