A 3D bear who dares to fly…
After setting up our private cake courses in Spain a month or two ago, Cakeflix HQ had its first student visitor last week.
Noreen Hinton, a cake enthusiast from south Wales had attended Paul's renowned 5-day wedding course in April in Linlithgow (not quite as sunny as Malaga) and loved it so much that she decided to visit Mr.Bradford in Spain for some extra tuition.
After the announcement was made that Paul would now be offering what we like to call "cake holidays" to the beautiful Andalusian town of Alhaurin el Grande, Noreen immediately booked a 2-day private one to one class with Paul at his house in Spain. Staying at a beautiful B and B just 5 minutes away she fell in love with the place and plans to come back in the not too distant future house hunting!
Having completed the 5-day wedding cake course where students are all taught how to create their own individual designs, Noreen now sot the task of going from making a tiered wedding cake to making a structured 3D cake for the first time whilst learning how to airbrush as well!
I think you'll agree when you look at the photo's below that it was an overwhelming success!!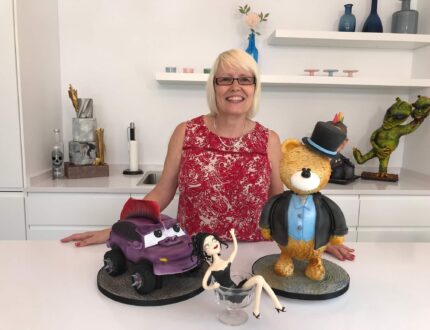 Paul was so impressed that he even had her helping him make a car cake during one of his recent live tutorials on Cakeflix!
However, learning a completely new style of cake or even helping a Paul in cake mode wasn't the biggest challenge of her visit. Her biggest challenge was getting her cute little bear cake back to Bristol on the plane.
Protective like a mother over her new design (as I'm sure most cake makers would be, especially when flying with Ryanair) Noreen boxed and wrapped her bear as tight as securely as possible…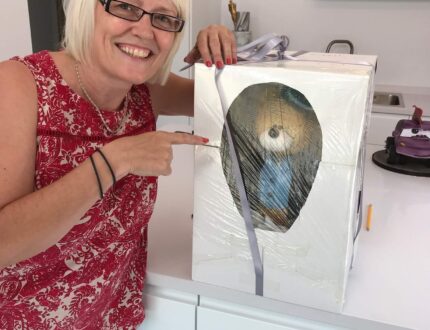 However, still anxious that her teddy bear wouldn't make it home and she wouldn't be able to show off all her great work, Noreen asked if the teddy could fly with the pilots but the ground staff said no.
Funnily enough, after her flight the pilot saw the cake and started talking to Noreen about it, telling her he would have happily let it fly in the cockpit with him. We'll leave it up to you whether or not you think the cake would have still made it back to Bristol or if the pilot would have caved into his urges and given him a taste.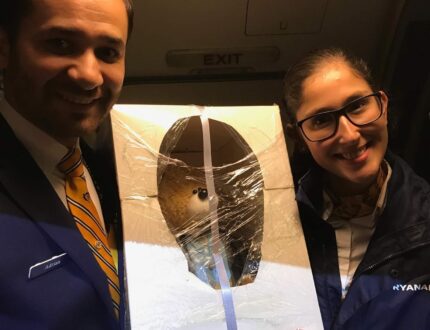 So inspired by her cake decorating adventures so far, Noreen is now set to leave her senior role in banking behind with a view to perhaps even start teaching cake decorating herself one day.
Good luck Noreen, we're sure with designs like this (and your great high security measurements for your cakes) you'll do great.
Looking for a cake holiday of your own? Click here to enquire for you or a party of up to 6 people at a time!