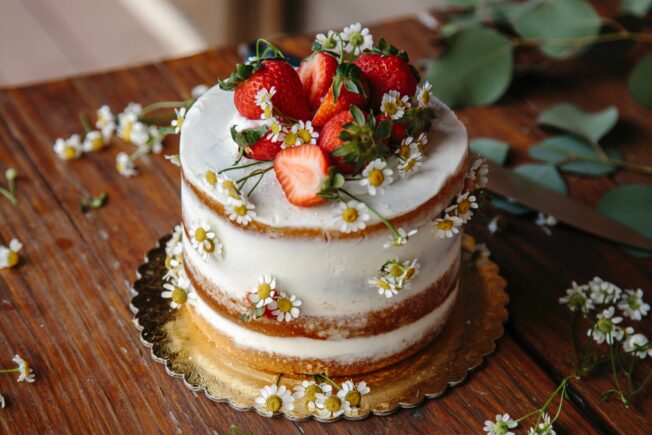 Balancing the world of college studies and a thriving cake business is a delightful challenge. But what's the secret ingredient to making your cake venture stand out? Effective promotion! In this article, we'll delve into five effective strategies that can help you promote your college cake business and entice dessert enthusiasts to savor your delectable creations.
1. Create an Appetizing Online Presence
An engaging online presence is a recipe for success in today's digital age. Set up a polished website that showcases your cake designs through captivating images and easy navigation. Leverage social media platforms like Instagram and Facebook to showcase your cake masterpieces with enticing visuals, engaging captions, and even behind-the-scenes peeks into your creative process. Don't forget to incorporate relevant keywords to boost your search engine visibility and attract potential customers.
2. Capitalize on Local Connections
Your college campus and the local community can be perfect for networking and promotion. Participate in college events, fairs, or farmers' markets where you can set up a charming cake booth. Offer mouthwatering samples showcasing your unique flavors and designs, making event-goers eager for more. Collaborate with local cafés or restaurants to have your cakes on their dessert menus, expanding your reach while introducing their customers to your sweet creations.
3. Tempting Discounts and Special Offers
In the world of business, discounts and special offers are like sprinkles on a cake – they add that extra flair that everyone loves. When it comes to promoting your college cake business, crafting enticing discounts and limited-time offers can be a strategic move to attract attention, drive sales, and create a buzz among potential customers. Here's a deeper look into how this sweet strategy can work wonders for your cake venture:
Appealing to Budget-Conscious Customers
College students and many others are always on the lookout for a good deal. By offering discounts or special offers, you tap into the mindset of budget-conscious customers who are keen to savor your delicious creations without breaking the bank. Introduce wallet-friendly options that cater specifically to students, such as "Student Discount Tuesdays" or "Weekend Treats for Less." This approach draws attention and cultivates a loyal student customer base.
Showcasing Seasonal Delights
Holidays and special occasions present prime opportunities for introducing seasonal discounts and offers. Create themed promotions that tie in with the occasion, whether it's Valentine's Day, Halloween, or the festive holiday season. Offer limited-edition cake flavors, designs, or gift bundles that align with the festivities. This adds variety to your offerings and encourages customers to celebrate with your delectable treats.
The holiday season is often busy for college business owners and regular students. This is a time of relaxation, but writing assignments can get in the way. Even students who are training to be bakers have a lot of extra assignments. If you need some assistance with the latter, you can see here for some guidelines on writing cooking-related essays.
4. Feature Glowing Testimonials and Reviews
Customer satisfaction is the icing on the cake for any business. Sharing positive reviews can build trust and curiosity among potential customers. Encourage delighted customers to leave reviews on your website and social media platforms. Accompany these reviews with images of your scrumptious creations and the happy recipients, showcasing the joy and quality your cakes bring. Positive feedback serves as a virtual recommendation, boosting your credibility and inviting new patrons to taste your treats. 
When operating your own business, students sometimes need some extra help. If you are looking for recommendations regarding helpful online resources, check out this epic WritingUniverse knowledge base. Here, you can find free guidelines and educational resources for students. Platforms like these are a great option for busy students who try to juggle learning and their business while in college, as they are easy to use and extremely helpful.
5. Host Interactive Workshops and Tastings
Engaging with your audience directly can be the cherry on top of your promotional strategy. Arrange workshops where participants can learn cake decorating techniques or indulge in delightful cake tastings. Utilize college spaces or community centers to host these interactive events, ensuring they're conveniently accessible to your target audience. By offering hands-on experiences, you showcase your expertise and create memorable interactions that leave a lasting impression.
Stirring Success Through Savvy Promotion
Promoting your college cake business requires a dash of innovation, a pinch of connection-building, and a sprinkle of online flair. Following these five strategies – crafting an enticing online presence, seizing local networking opportunities, dishing out tempting discounts, spotlighting customer testimonials, and hosting engaging workshops – can lead to a delectable growth in your business. Keep your online platforms fresh, keep conversations flowing, and be ready to adjust your approach based on customer feedback and market trends.
As you savor these promotion techniques, you'll find yourself baking a recipe for a devoted customer base and a flourishing college cake business. Your delightful creations deserve to be savored, and with the right promotional touch, your cakes can become a sensation that echoes across your college community. Experiment with flavors, connect with fellow foodies and watch your cake business rise to a scrumptious success story.
Author: Charlie Martin
Charlie is a self-made businessman who started his entrepreneurial journey in college. He started out by baking cookies and selling them online from his dorm room, and now he has a successful cake and pastry delivery business. His experience allows him to share valuable tips with his eager audience.