Every year new trends emerge in the cake industry, and it can often be difficult to keep up with the latest trends as there seem to be so many! This year has been an exciting year so far, with the very popular metallic cake trend and the chalkboard effect to name a few . However the key trends, which cannot be denied, are the colour trends of the year!
Having come across the very talented Mericakes some months ago, I was aware of how on the ball they were at creating unique and on-trend designs. As you will see from their stunning cake below, Mericakes is not only super talented but they have a fantastic eye for creating beautiful and detailed cakes! So we thought, who would be better than Mericakes to put together a blog about the latest colour trend for 2015?!
As well as being a super talented cake designer, Mericakes offers fantastic classes at their school in Barcelona. Feel free to check out their facebook and website for more information, or to simply "oooo" and "ahhhh" at Mericake's stunning cake designs by clicking on the links below.
Step One
Every year, all those who, some way or another, work in design, wait for Ms. Pantonne to tell us what the colour of the year is. I have to admit that, this year, I'm delighted with the choice; "Marsala".
The first thing I thought was, "Now… How am I going to get this colour in fondant?" As far as I am aware, nobody has invented a machine to mix colours of fondant to create the colour that you want, therefore I sat with my colourants and a ball of white fondant and started testing…
I usually work with Squires Kitchen colour pastes, as my absolute passion are sugar flowers and this brand has a large palette of colours that work really well. After sometime, I finally got the Marsala colour I needed by mixing "Cyclamen" and "Poinsettia" colour paste (but if you use any other brand, use any purple (plum tone) and red).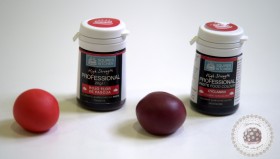 Step Two
The amount of paste will vary depending on the amount of fondant that you need to dye, but I have used 2 parts of Cyclamen and 1 part of Poinsettia (be careful with the amount of red, since it is the only colour that, after dying the fondant, continues to rise a couple of tones). As it is a rather dark colour, you'll have to add the dye in two or three batches. Also remember that, if you live in a country with wet weather, you must dye your fondant, at least, 24 hours in advance. By doing so, you give it time to absorb the excess of water that you've added to the colour paste, especially if you've dyed a dark tone.
Although, in my opinion, dying is one of the most tedious parts of my job, I would not change it for already coloured fondant. I love to make new shades by mixing different tones, and always recommend my students to do so too. This gives you a lot of freedom to get any colour that you may want. Very importantly, make sure you take a note of the colour combinations as you will forget them faster than you think!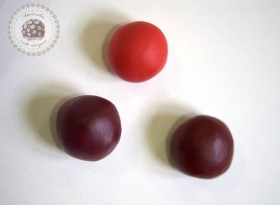 Step 3
So… We have the right colour, but… How do we combine it?
Seven years ago, when I opened my workshop-school in Barcelona, I specialised in wedding cakes that, along with sugar flowers, are my favourite part of Sugarcraft. I soon realised that, a very important part of designing a cake, is the combination of the colours. Before finishing my studies as a pastry chef, I worked for a few years as a store window designer for fashion shops, a job that really helped me to understand how to combine a colour palette effectively. The tones of a design are something to which I devote a lot of time, to the point that sometimes I first seek the color palette and, afterwards, I elaborate design.
Personally, I love this colour palette below. I think all of the colours pair beautifully with Marsala and they are all very versatile colours.

As Marsala is a colour that will prevail in any design, I chose a palette of pastels to combine: cream, dusty pink, peach and, for a sophisticated touch I added a light, golden shade.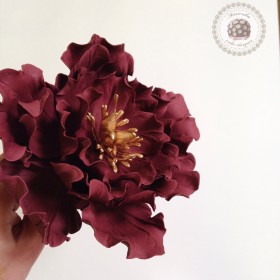 Although, when decorating, I am rather minimalist, this time I've been driven by the excess and opulence of gold and here is the result…Baroque Love wedding cake.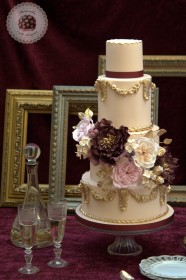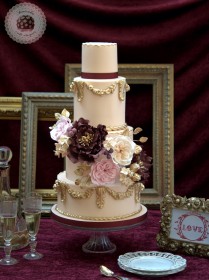 I am absolutely in love with the result of combining Marsala with gold. The gold centrers of the peonies and the golden leaves give a touch of fantasy to the flowers that takes away a bit of the seriousness in the design. This creates a more classic style.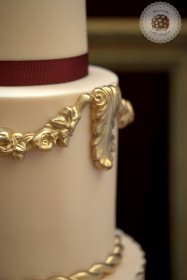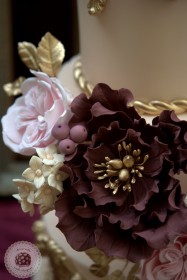 To highlight the gold a little more, I diluted the paste in gold powder with a few drops of white alcohol (gin, vodka, rum…) and I have painted the parts in gold with a brush, twice.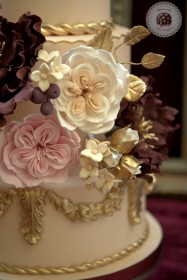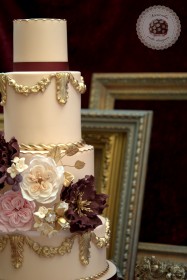 I'm sure 2015 will offer us endless wedding cakes with Marsala as the main focus … Do you dare to try?
Meri xx
---
Thank you to Mericakes for this insightful blog post – I hope you all enjoyed it as much as I did! I look forward to seeing all your "Marsala" inspired cakes and I can't wait to try this unique colour combination for myself 🙂
x