Mary Berry ditches traditional Victoria Sponge method…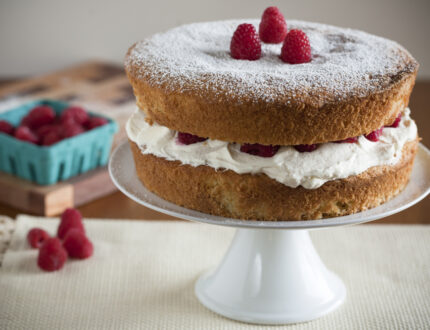 Former Queen of the Great British Bake Off, Mary Berry, has admitted that she no longer follows the traditional Victoria sponge baking method when it comes to making her cakes.
The popular television presenter and food writer wrote in The Telegraph that when it comes to preparing the sponge for her cakes she now follows a simpler, easier method that she claims "gives excellent results every time".
"I no longer prepare a Victoria sandwich with the traditional creaming and folding methods, as this all-in-one method gives excellent results every time," 
Mary says that she has been told many times that one of the major reasons that people are put off baking is because of the time and effort they believe it takes.
"It's such a business!' they tell me," she said. "'All that creaming of butter and sugar. I never seem to have the butter soft enough. And then the tins have to be lined and everything has to be just so."
However, for all those budding bakers who feel that it they lack time rather than ambition when it comes to creating baked goods and cakes. Mary says it really needn't be so difficult!
"They are wrong if they think that you have to take a day off in order to make cakes successfully," the CBE explained. 

"Cakes, tea breads and biscuits can all be made quickly and easily with the minimum of fuss and trouble."
For making a no-fuss Victoria Sponge Cake, the BBC star says all you need to do is mix together baking spread (instead of butter), sugar, eggs, flour and baking powder in a large bowl with an electric mixer and "hey, presto!" your mix is ready for the oven in 5 minutes flat!
If you're looking to create more cakes but are short of time why not try out our NEW bitesize section where tutorials are compiled into short minute-long instructional videos.
What do you think of Mary Berry's quickfire method for making Victoria Sponge? Let us know in the comments below.
**Start your 7-day FREE trial now for over 800 multi-award winning cake tutorials at Cakeflix.**