Marzipan Fruits
Marzipan fruits have been a firm festive favourite in my family for as long as I can remember. My first ever memories of these bright little sweets stem from the age about of five or six when my father took me to his army officer's club to meet Santa. One of my presents which came out of Santa's sack was a shiny box of large marzipan fruits. There was little me thinking the big man was handing me a box of fruit and I felt quite disappointed! Imagine my surprise when I actually ate one.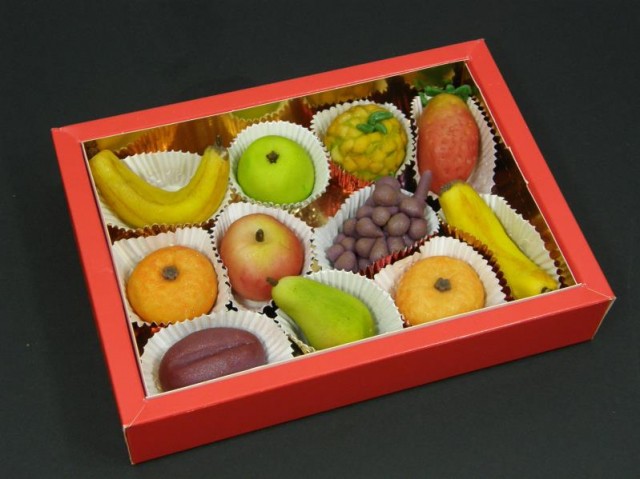 Anyway, well over six decades later I've never forgotten the image or the taste of my first marzipan, perhaps that's why I'm such a glutton for this smooth rich confection. Nowadays many people suffer with nut allergies so care should be taken if giving marzipan based sweets. For those who enjoy this wonderful almond sweetmeal, a box of marzipan fruits is a welcome cheery little gift.
[clear]
So easy to make, all that is required is some store bought white marzipan and a bowl of real fruits to copy. At this time of year there are always scraps of marzipan left over from decorating fruit cakes, what better way to use up the excess by magicking it into any amount of different little delights?
I've left my own marzipan fruits with a matt finish, but you can make yours shiny by spraying them with a little confectioners' glaze or brushing them with an edible glaze made with water and gum arabic powder.
[hr]
Arabic Glaze Mix
To make your own gum arabic glaze:
mix 1 teaspoon of gum arabic powder with 2 tablespoons of warm water.
Stir until incorporated and clear.
Paint it on anything which needs glazing.
Be sure to let one layer dry before painting on the next. If using dusting powders on your pieces, lay them out on a cake cooling tray and give them literally a quick puff of steam from a boiling kettle to set the colour and add a sheen.
Over steaming them will make all the colours run spoiling your creations, so be careful!.
Place the fruits in petit four cases and present them in a window lidded box. Boxes are available from high street baking shops or cake decorating stores.