1.
Making the mirror glaze
In this lesson, we learn how to make a delicious mirror glaze and once again accuracy is key. Helen uses quite an expensive hand blender which is fantastic, but any electric blender you have available in the kitchen should do the trick.
Helen tends to use plastic containers when working with chocolate as they don't retain the heat quite the same that the glass ones do. Thus allowing you more control over your temperatures.
For full tutorial see: Crème de la Crème
2.
Pouring the glaze
Helen now pours the glaze over the mousse as well as a pre-ganached cake.
For full tutorial see: Crème de la Crème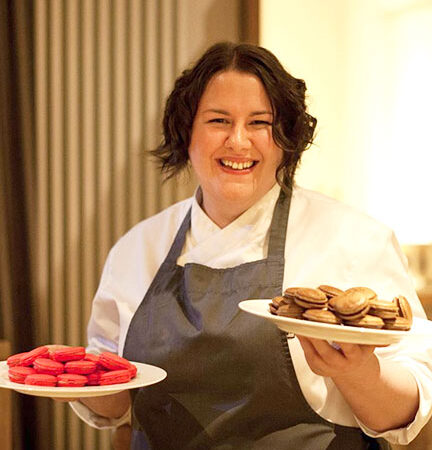 Helen Vass
Helen Vass is an award winning pastry chef based in Glasgow, Scotland and runs her own patisserie & consultancy business, Dulce by Helen Vass. Helen was the winner of the Callebaut Patissereie Chef of the Year 2017 award at the CIS (Catering in Scotland) Excellence awards and was a finalist in the same category in 2016. Furthermore, she also won the Dessert Gold Medal for her work at the Scottish Food Awards & Academy in May 2017. She was the former head pastry chef of 2AA rosette restaurant, Number 16, on Glasgow's Byres Road for nearly 2 years. In May 2016, Helen was part of the winning team of BBC2's 
Bake Off Creme de la Creme
 along with team captain, Mark Tilling and team mate, Samantha Rain.
Helen previously worked in Pastelería Escribà in Barcelona. This role took her out to Singapore to work at Marina Bay Sands on the worlds first theatrical event, Fantasía by Escribà. She also worked at the 5* hotel, Blythswood Square, in Glasgow. 
Every day is a school day in the kitchen and Helen is always seeking to learn new skills and has done stages in the kitchens of World Champion Pastry Chef, Jordi Bordas and Barcelona baker, Daniel Jorda. Furthermore, Helen has done pastry courses with the following chefs in both the UK and overseas. 
Jordi Bordas, 2011 World Champion pastry chef, Coupe du mon Lyon
Mark Tilling, World Chocolate Master (UK)
David Gil & Enric Monzronis, Tickets Restaurant Barcelona
Antonio Bachour, St Regis Miami & Bachour Bakery
Melissa Coppel, Las Vegas
Miquel Guarro, Chocolate Academy Barelona
Martin Lippo, Vakuum, Barcelona
Hans Ovando, World Chocolate Master (Spain)