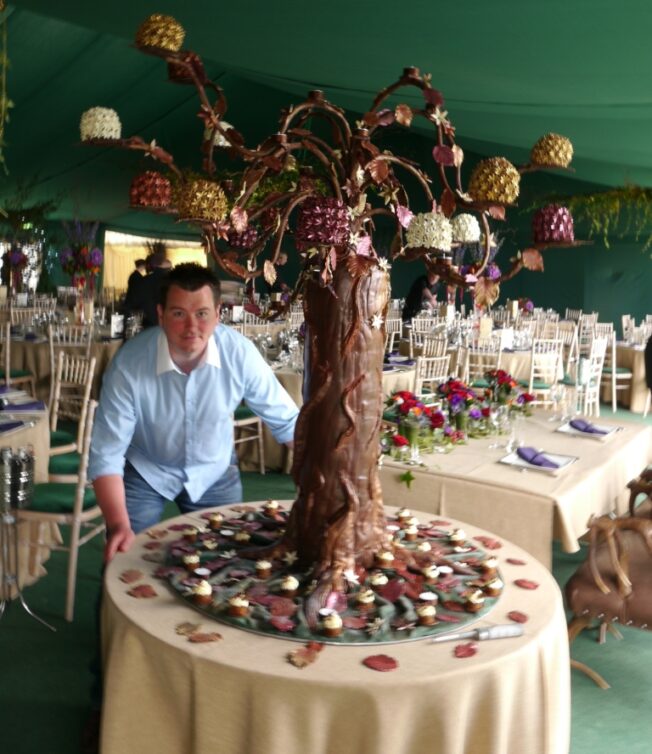 Paul received a special commission to create a wedding cake in the shape of a tree!! Where do you start? Gravity surely doesn't allow for cake to sit on branches? How can you transport such a thing? These are just a couple of questions running through Paul's mind when he took on the challenge.
All in all it took 4 days to create and 4 hours to set up at the venue. First job was to find a blacksmith who could create a sculpture to host such a challenging design. After many phone calls and visits he found someone to help.
They were great and created exactly what Paul asked for. There were still many challenges ahead, but with a lot of careful planning, designing and patience he appeared on Saturday morning like an inventor dying to show off his invention – even the hair was sitting like a mad scientists.
Before anyone could see the cake set up he had to first get the trunk (9 x8″ round cakes) and base into the van without damaging the chocolate covered branches.
A very careful drive later he arrived at Culzean castle to the most amazingly decorated room he'd seen on his many wedding cake deliveries.
After carefully positioning the cake on the table the work then began to add all the leaves, flowers and cakes on the end of the branches.
His work was all made worthwhile when the groom took time out shortly before the ceremony to thank Paul for such an amazing cake. It certainly got a lot of attention from everyone in the room.
Throughout production a slow motion film was taken which we hope to publish soon.
In the meantime you can see the finished article here.