Since making her first cake in May 2011 for her daughter's birthday who would have believed that just 18 months later June from Lady B Cupcakery would have been picking up GOLD at the International Cake Show.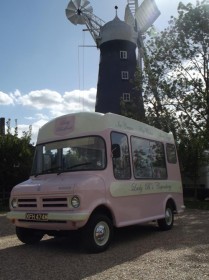 Why Lady B when her names June? Well all is explained when you see the picture here to the right showing a 1974 Bedford ice cream van converted into a swish and delightful mobile cupcake van. After many dedicated days, hours and weeks Lady B was meticulously restored to have its place again doing the rounds this time delivering beautiful cupcakes and wedding cakes to the good people of Lincolnshire. If you seen Lady B then you will certainly remember and that's what effective marketing is all about. Great idea beautifully executed.
In such a short period of time June has given up her full time job to concentrate fully on her business and has her husband there helping out putting sugar models on the cakes and just being there to help out with the day to day things.
All was going amazingly well then came the submission of the cake to Cake International. Quite an intimidating thing to do especially with so little experience, but with a nothing ventured approach June submitted her entry not expecting too much but as you can see from the image here below the cake looked amazing and was justly awarded Gold.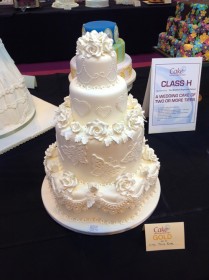 It just shows that it doesn't matter so much about experience its about having a good design, attention to detail and above all the guts to submit the entry. Well done and well deserved.
This must be a huge motivator for anyone who is just starting out and perhaps reading this thinking it always happens to someone else, well this is proof if it were needed that you can achieve your dreams just by putting in lots of effort, having a plan and being prepared to push yourself outside your comfort zone.
June was kind enough to email Paul after the show to say 'thank you for inspiring little old me…and lots of others out there… You have changed my life.'
There's lots of information available via our Pro Membership to help if you are looking to set up and run a profitable cake business or have a business that's not making a profit that you want to turn around.