If you've seen our blog post about this year's hottest wedding cake trends, chances are you'll already be familiar with the foliage look. Combining a love of nature, with a love of... well, cake, what bride wouldn't want one of these at the centre of her big day? Prepare to swoon at 15 of the loveliest foliage wedding cake designs...
Fruits of the forest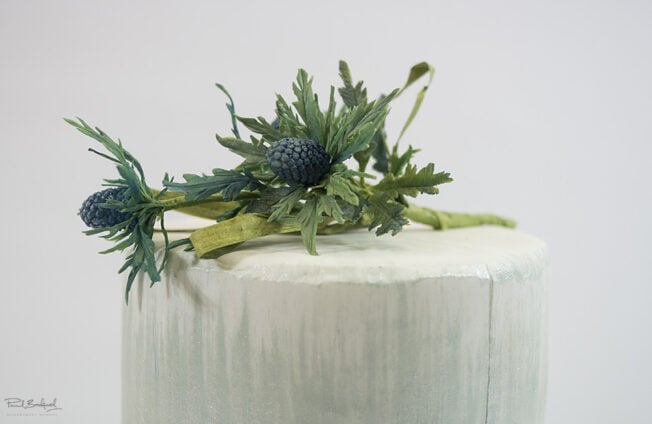 Tap into this season's foliage trend without going too OTT, with Mrs Young's Sea Holly design. Take the tutorial and add this classy little number to your repertoire.
Naked and fabulous
Straddling the naked and foliage trends, this one from Fabmood is looking oh so pretty!
Simple Fern
This wee beauty is from Pinterest. So simple, yet effective!
Thistle do
Loving the metallic sheen to this one from Fabmood, it works so well with the spiked thistles.
A delightful bouquet
This cake looks good enough to sniff.
Simple but special
Sometimes the most simple designs make the biggest impressions, like this one from Pinterest.
Initials cake
Winter foliage
Perfect Pinterest inspiration for a winter wedding.
Drip and foliage
This cake featured on Boho Weddings adds a fresh perspective to the drip trend.
Ivy inspired
Another lovely design featured on Boho Weddings.
Pine cone cake
This design on Pinterest is simple but effective.
Black foliage cake
Harnessing the powers of darkness, this cake is working both the black wedding cake and foliage trends. Featured on Brides.com.
Fabulous foliage
Combining cake painting and actual foliage, this is one lovely foliage cake from Cake Geeks.
Autumn hues
Taking its cue from the glorious colours of autumn, this cake by The Dainty Bow Bakery is ticking all our foliage boxes.
Garden of Eden
We had to finish on this one really, didn't we? I mean, c'mon - just look at all that foliage! This one's from a Garden of Eden inspired wedding, featured on Strictly Weddings.
What do you think of the foliage trend? Share your thoughts in the comments below...