When Paul received an email asking if he would like to tour Australia and New Zealand demonstrating at all the Bake Boss stores, he didn't have to think too long before saying yes.
Never in his wildest dreams did he think that his cake decorating skills would be in such high demand on the other side of the world. Despite the tight schedule, and the fact he'd recently moved home from Spain back to Scotland and was in the throes of renovating the new studio in the garden – he just couldn't say no to such a wonderful opportunity.
It's a classic situation where he pushed himself outside the comfort zone, when it would have been far easier to have stayed at home and with good reason. The tour was set for twelve locations throughout Australia and New Zealand, flights were booked, and audiences of between 40 and 70 attendees were sold out – we were ready for the off!
An unexpected hitch
A couple of weeks before heading off we went on our skiing holiday to Andorra. It was a great holiday with a couple of stumbles and falls, but nothing too serious, well, that's what we thought… Paul was complaining of an abscess, so paid a visit to the dentist where he was told he didn't have an abscess, but his jaw had juddered and some of his bottom teeth were loose. The good news was that the teeth would fix so long as he avoided hard or chewing foods for a few weeks.
However, as he left the dentist and crossed the road to visit his parents, he had extreme chest pain. He went straight to the doctor, who then immediately referred him to the hospital suspecting a blood clot. Panic on!!!  After a number of tests he was referred to another hospital for a CT scan and all the time we didn't know what the outcome would be. This went on for four days. Since flying with a blood clot no-go, we knew our Bake Boss tour was in jeopardy, and we absolutely didn't want to have to cancel at this late stage!
Those who follow Paul on Facebook may have noticed that he went unusually quiet for a few days. This was mainly because we didn't want to alarm anyone, but we were extremely worried. The CT scan thankfully came back clear, so the tour was back on without anyone knowing it was ever in any doubt.
Come fly with me
The morning of the flight to Australia we left the house to a fine covering of snow, which was a great sight knowing that we were heading to an Australian summer. Checking in at Glasgow Airport, our Australian friends were quick to tell us that the whole of Australia was experiencing a heatwave with temperatures of 46C. Such high temperatures really aren't great if you're teaching cake decorating! Especially chocolate cakes… so the panic began to sink in.
Our flight to Dubai was hilarious, well it was for me. Paul and I alternate the window and middle seats, and this was my turn for the window. As we spotted our seats we could see the lady in the isle row had been enjoying a wee drink or two before the flight so I quickly grabbed my seat, put the headphones on and became oblivious to what was going on around. Paul wasn't so lucky. Junie quickly introduced herself with a classic line 'I'm gonna be drinking, are we gonna get drunk?'. This was a surprise trip for her 50th birthday and her husband had clearly experienced Junie's enjoyment of alcohol before. He was in another row with the sound balancing headphones, completely zoned out. She was all Paul's. We had barely taken off when she was filling her plastic cup with suspiciously lightly coloured Diet Coke. As soon as the drinks trolley appeared she ordered a drink for herself and when she heard Paul and I ordering soft drinks she quickly added spirits, which she would take off us as soon as the air steward's back was turned. Having said all that she was good fun and full of stories, but Paul didn't get to watch any movies and gave Junie a right good listening to!
The rest of the journey was less eventful. On arrival at Sydney we were welcomed by 29C heat at 11.30pm, but thankfully the worst of the heatwave had passed. It did feel pretty hot though, given that there was snow on the ground when we left.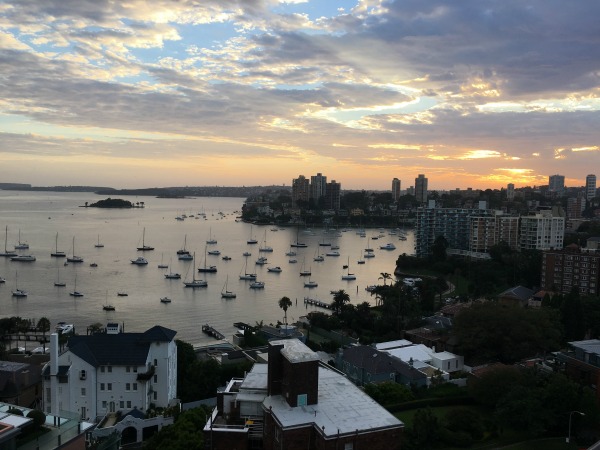 We had two full days in Sydney so made the most of it. Our hotel was close to the botanic gardens and we managed to get an excellent room with a view. We walked and ran around the gardens a number of times, which gave us great views of the Sydney Harbour Bridge and the Opera House.
We climbed the Sydney Harbour Bridge on one of the guided tours and what an amazing view from the top. Thankfully it was a pleasant 30C and not the 46C that the tour guide had experienced just a week earlier. Definitely one for the bucket list if you ever get the chance.
We also had an amazing walk from Bondi to Coogee beach near Sydney. Beautiful bays and coves and we were lucky enough to experience it on a beautiful day, another one to add to the list if you get the chance.
However the welcome sign slightly took me aback but thankfully it went on to say 'Pick up your litter'.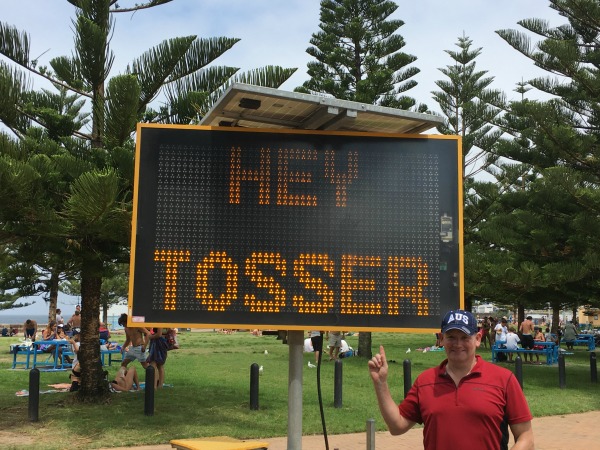 In between our tourist jaunts, we managed to link up with friends which was amazing. Liz Russell who worked for us in Scotland met us for coffee right under the Opera House. Faye Cahill, who needs no introduction, invited us to her shop and out for dinner with her family which was great fun. We also had a beautiful steak dinner with Jane Hutchison, a student and friend for many years, at Darling Harbour.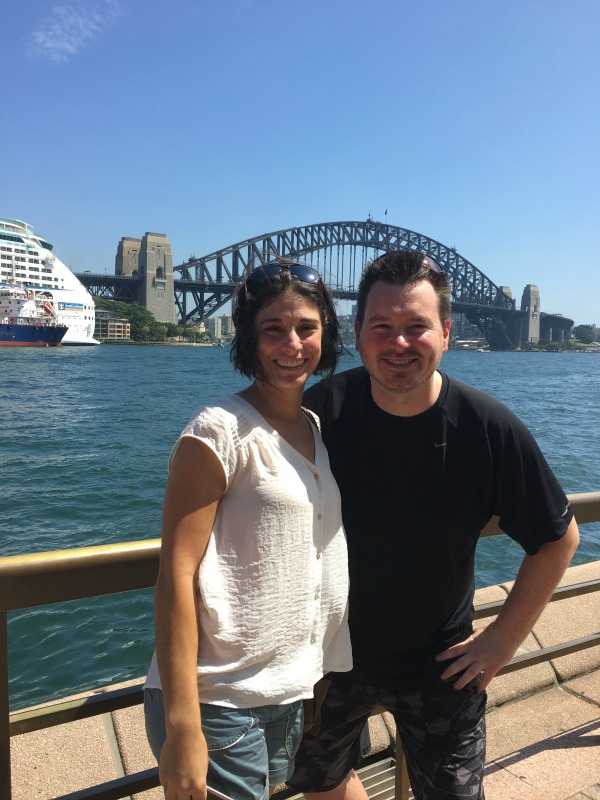 We had a great time in Sydney, but it was now time to get to work and the first stop in the tour was Brisbane…
David x
Stay tuned for more stories from David & Paul's Australian adventures!