In Western culture, wedding cakes traditionally brought the newly married couple good luck. Nowadays, wedding cakes are seen as more of a centrepiece to the occasion and tend to tie in with the overall look and feel of the wedding.
Over the years, more than just the look of a wedding cake has changed. The role it plays as part of the ceremony has evolved too.
Breaking the cake
In Ancient Rome, bread was broken over the head of the bride to symbolise good fortune for both the couple and their future children. Cake hadn't yet been invented, so barley bread was used.
In Medieval England, wedding cakes were stacked as high as possible for the bride and groom to kiss over. If they managed to reach for a smooch, this was a good omen for their married life.
As with many aspects we may today accept as the norm, a wedding cake hasn't always been a certainty at wedding celebrations. In fact, wedding cakes were seen as a sign of social status in days gone by. The bigger the cake – the more important the couple! In Victorian times, white icing was considered a symbol of wealth, and wedding cakes were traditionally fruit cakes with marzipan.
From pie to cake
Up until the 19th century, wedding cakes were known as 'bride's pies'. Often the bride would place a ring inside the pie and whichever lucky person got it would be next to marry. Similar to catching the bride's bouquet in modern times!
Eventually cakes replaced bride's pies, due to sugar becoming more freely available and wedding cakes were typically made of plum or fruit cake. It was also at the start of the 20th century that tiered cakes began to emerge as a popular choice for wedding celebrations. And although it may be hard to believe now – the original dowels for tiered cakes were pillars made from broom handles covered in icing!
Wedding cakes have certainly come a long way from the early days of barley bread. Feast your eyes on some of the wedding styles that epitomise their decades (all sourced from Pinterest).
1960s
Turns out the foliage trend has been knocking around for a while.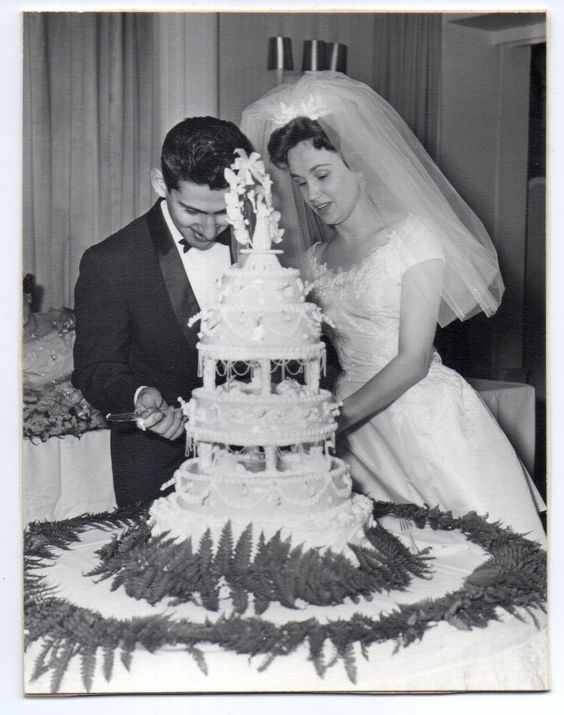 1970s
It's the 70s and things are getting a little complicated.
1980s
Hey, let's go BIG.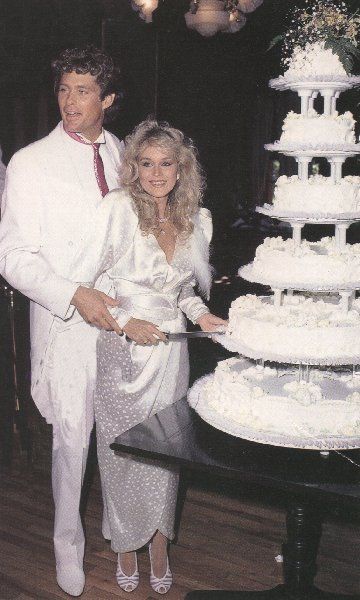 1990s
And then the 90s went mad for cake toppers…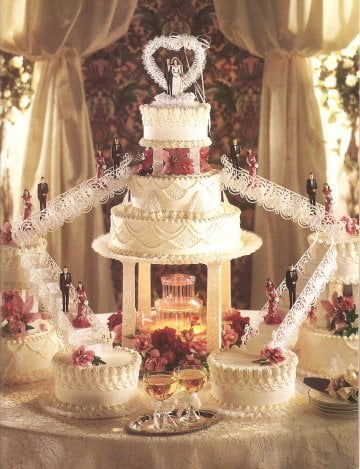 If you're in love with wedding cakes, check out our post on wedding cake trends for 2017.
Got an interesting fact from wedding cake history you'd love to share? Leave a comment below…