Cake of the Month: February 2019
Cake of the Month is a monthly online competition where cake decorators from across the world submit their designs from the previous month for a chance to win the coveted 'Cake of the Month' prize as well as some terrific goodies from our sponsors.
This month's winner will receive some fantastic moulds from the incredible Karen Davies.
Next month we will be upping the anti. So to find out how you can enter and our adjusted rules visit our Cake of the Month entry page.
Panda Paste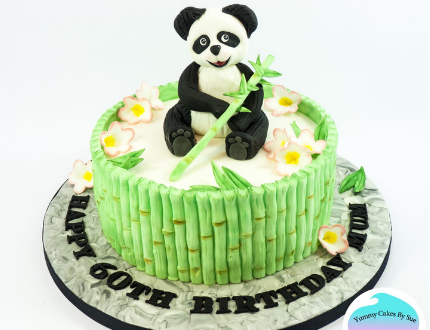 Sue Pinnick only joined as a pro-member last week and after watching one of our live sessions, decided to enter cake of the month! And boy are we glad she did ?
Not fully EGGstinct
Music to your mouths
Susan Reynolds entered this musical themed design for February's Cake of the Month. Susan made the cake for a 40th birthday and as you can see the cake features a wide variety of different musical themes such as 'Rent' & 'Phantom of the Opera'.
Hungry for Handbags
Ken Willis created this handbag for this month's entry and as you can tell by the hand holding it in the photo, it's rather sturdy. Just don't put your keys in it!
Fit for a Princess…
CakeFlix member Lorraine made this stunning Princess cake. The intricate design of the dress and the facial features really make this little lady stand out from the crowd.
Catch It If You Can
Whisking up some Wizardry
Therese May made this Harry Potter themed cake for a recent birthday. Always a popular cake design, we love the super cute Hedwig which sits proudly on top of all this hard work and attention to detail.
Cuddly, Cute and Cakey
Baking a Bentley
Sweet Valentine
In The Bag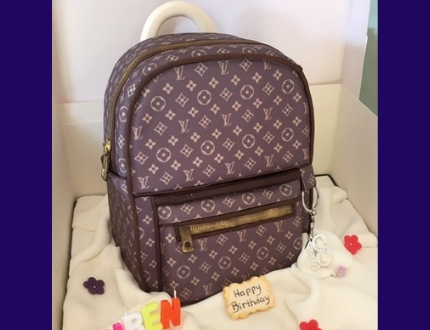 Andrea Babcock made this cake for her friend's daughter's 18th birthday. It is a replica of her favourite handbag making sure that all measurements were identical to the real bag. When it was presented to her, she had the real bag put next to it and you couldn't tell them apart. Andrea was thrilled with it and it's easy to see why!
A very puppy birthday
Jeannie made this wonderful Toy Story cake for her grandson's 2nd birthday. Featuring various members from the popular films, this cake certainly goes to infinity and beyond!
A taste for the finer things
A tasty tour
Little Red Riding Food
Astoundingly Jennifer Moran only started making cakes 7 months ago but says that she has been obsessed ever since.  We don't know about you, but we believe that obsession is really paying off! ?
Cool as ice
Ruth Wallace was commissioned by her sister to make this for her departing ice skating coach. The patterns and design of the blade are simply stunning!
Potty for cake
….And the winner is….
Helen Swan was asked to make a replica of a converted railway building that was relaunching as a coffee shop and this was the cake for the party. Helen said that this is the first (and last lol) building she will ever make.
WHAT PAUL SAID?
There was an amazing range of designs this month and so hard to judge as the skills and techniques were so different. However, this month, there's only one Winner and Paul's chosen the Railway Building due to neat finish and attention to detail. Watch out for next month where there will be 3 prizes with the Winner receiving £200 to spend at The Cake Decorating Co.
Join the community now and get your work exposed with a FREE 7-day trial at CakeFlix.