Huge congratulations to Julie Walker who was CakeFlix Cake of the Month winner for September with this beautiful gonk character cake (shown here).
Julie is the proud owner of Cakes By The Sea based in Broadstairs on the Kent Coast (UK).  Although it was still September, Julie wanted to get into the Christmas spirit by submitting her beautiful gonk character cake, based on one of her favourite Christmas ornaments.
So where did Julie's cake story begin…..?  Julie has two boys, aged 16 and 13. When her youngest was 3, a close 'hobby baker' friend made him a brilliant Gruffalo themed birthday cake. His face was one of pure joy and happiness when he saw it. Julie realised in that moment, that she wanted to have a go at making his next birthday cake to see if she could achieve that same fabulous reaction.
The following year Julie made him a huge Mr Man themed cake, which was so heavy that the fondant ripped in so many places. Like all good and aspiring cake artists, she  covered the flaws with flowers ( and there were a lot of flowers!). However, all the effort was well worth it as he loved the cake and she got the reaction that she was hoping for.
From then on, Julie just wanted to get better and better and try different techniques.  That was the time when she first came in touch with Paul; a Google search on 'how to ganache a cake' led her to numerous you tube videos, that she watched over and over again to get better and kept pushing herself on.  All the while though she only ever made cakes for my family and friends and couldn't imagine taking it any further.
In March 2021 Julie was made redundant from a job that she had had for 19 years, working for a very well-known, (some would say "Grrrreeeeaaat!") cereal maker.  She had worked in finance since leaving University and had had various finance jobs over that time, but always felt stifled and wanted a creative outlet.  She looked at redundancy as an opportunity to do a job that she really enjoyed allowing for a creative outlet. In September 2020 (in the midst of the pandemic) Julie launched her cake business, Cakes By The Sea.  Having relocated from Manchester to live by the south coast just under 3 years ago to be by the sea, she knew that she had to have the Sea somewhere in her business name!
Julie has recently celebrated her first year in business and is thrilled with how it is all going. In that first year, she also passed the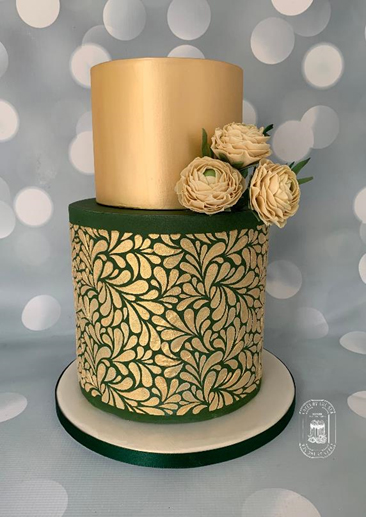 Cakeflix Master Programme which was a huge achievement. Julie says  "CakeFlix Master was the most enjoyable qualification I have ever taken (certainly more fun than my Chartered Accountancy exams) and would love to take a further course with Paul at some point to hone some skills further."
Interesting Facts by Julie:
My Favourite cake skill: I am still very much learning what 'my own style' is, and I am evolving with every cake I make but a common theme throughout is that I love making models and personalising them as much as I can. This is always where I get the best reaction from a customer so I always add personal touches to my creations.
Favourite place to go on holiday: Since moving to the Kent Coast, we feel like we are constantly on holiday, we are still finding new places to visit and one of my favourite things to do is go for a walk along the sea front with my husband and my little Shih Tzu, Eric. Other than the place we now call home, I absolutely love Italy and have been lucky enough to visit on a few occasions. what's not to love; pizza, pasta, ice cream and red wine…? fabulous!
What do you want to do in the future: I would love to be able to bring my finance background and my cake decorating skills together to help out new cake makers who want to set themselves up in business. I have created many templates and spreadsheets to help me out with my accounts to price my cakes properly ensuring that I started my business the right way.  I would love to be able to pass this insight on to help others set up for success. Being a cake maker is a tough business and I see lots of novice bakers who don't have the confidence to price their cakes properly to ensure that they can pay themselves a wage ensuring that they also make a profit.  I did love attending David's CakeFlix Boot Camp. It was so helpful as I was setting myself up and would recommend it to anyone wanting help with creating a business plan. It's a fantastic help to give you a really good start in business. I was so honoured when my workings were used as an example of how to do things the right way; this gave me a massive boost and gave me the confidence to stick to my guns with my pricing.
A huge thank you to Julie for sharing her story.  As a Cake of the Month Winner, Julie is now entered into the Christmas competition of the 12 monthly winners. The Winner of the annual competition gets to visit Paul at CakeFlix HQ to film a tutorial and spend time in the studio.
Cake of the Month competitions are posted towards the end of each month (apart from December which is mid-month) on the CakeFlix Family Facebook Group and are open to CakeFlix Premium and Pro members.
Here are a couple of extra gonk character cakes by Julie sat next to the real thing!