This week in Cake Royalty, we catch up with master sugar artist and chef Dawn Parrot.
Hi Dawn, can you tell us a little about yourself?
I am a certified pastry chef, with specialisation in cake, particularly royal icing. I travel internationally, giving demonstrations and teaching. I've been competing for 12 years. My skills have been self taught from books and magazines. I've been married for 20 years, with two beautiful daughters and my hubby, Dwayne.
I love sharing my passion for the sugar arts. Been published many times, recent accolades are Royal Icing Award winner at Cake Masters Awards 2015, Grand National Champion at OSSAS 2014, 5th place at OSSAS 2016, 1st place at OSSAS 2013.
Wow, so many achievements! How long have you been decorating cakes?
17 years
How did you get started cake decorating?
I moved to the US from Canada. I was looking for something to do and remembered my dad and step mom making cakes when I was a kid. Then I thought – I'd love to do that for my kids.
What design are you most proud of?
My winning cake, Royal Elegance, from the Grand National Wedding Cake Competition, 2014.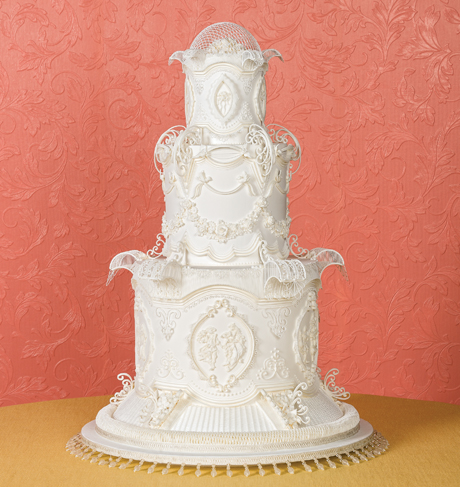 What inspires you?
Architecture, clean lines, pretty much anything I think I can recreate out of sugar.
As a cake decorator – what tool can't you live without?
My piping bags and nozzles.
Who are your cake heroes?
Eddie Spence, Alan Dunn, Kerry Vincent, Karen Portaleo
If you could eat only one cake for the rest of your life – what cake would it be?
Chocolate cake with cream cheese frosting.
Home studio or cake shop?
Travel and teach
Buttercream or ganache?
Ganache
Novelty cakes or wedding cakes?
Wedding cakes
What advice would you give to a cake decorator just starting out?
Try all techniques and styles. Remember it takes lots of practice. Breathe. Just breathe.
What has been your proudest achievement within the industry?
Winning the royal icing award.
What's the best song to decorate to?
Anything 80's
And finally – what's your favourite tutorial on our website?
That's like asking me to pick my favorite child. Love 'em all!
Dawn, it's been a pleasure – thank you so much for chatting with us!