The list of cake designers we admire is (almost!) endless. To pay homage to their incredible talents, we bring you our Cake Royalty series.
We've been in touch with some of the best cake decorators from across the globe to ask for their expert advice, inspiration and the answers to some of life's most important questions (buttercream or ganache?!). So sit back and let us introduce you to the one and only, Mike McCarey.
Hello, Mike. Tell us about yourself.
Graduating from high school I had to decide between art or cooking school. The practical chef emerged and I worked in the hospitality industry for several years, until I answered my fondant muse to just focus on cake.
Ever since then, I've been afflicted with cake box vision. A condition where everything I see is a potential cake. I go to a movie with my daughter contemplating which character would be the best looking sculpted cake. My mind wanders at a concert about how that balcony molding would make a fine cake border. I stare wistfully at the interesting texture of a wall while I check out of a hotel, thinking "that a fine cake finish that would be".
There's no support group to offer me help, so my only hope is to silence the sugar voices by committing these ponderments to cake.
How long have you been decorating cakes?
I've been decorating cakes exclusively for about 25 years now. Yikes! Did I just say that out loud? I need to make a sugar chair and sit down.
How did you get started cake decorating?
I came to cake decorating in a round about way, through my work as a pastry chef at various hotels, restaurants and catering operations.
What design are you most proud of?
I'm most proud of any cake where I'm 100 per cent left to my own devices. I spend most of my time replicating things that already exist in the world like a car, a person or a building. I'm most excited when I get the opportunity to create an original concept that didn't exist before. I would love to design an original car based on my own experience and design preferences. It's those times when I get a true measure of what I've learned and how I have evolved as an original designer.
I made a steampunk elephant earlier in the year that was completely unique with the concept coming from all my own choices based on my experience and what I've learned over time.
Sounds incredible! So tell us, what inspires you?
My number one inspiration will always be the very talented people who work as illustrators. Norman Rockwell, Alphonse Mucha, Dr. Seuss and beyond create a very deep well where I constantly quench my artistic thirst.
As a cake decorator – what tool can't you live without?
I cannot live without Google image search. It will always be my number one decorating tool. If I need to sculpt a wombat, no fancy knife or shaping tool will help me more than having visual reference from the web.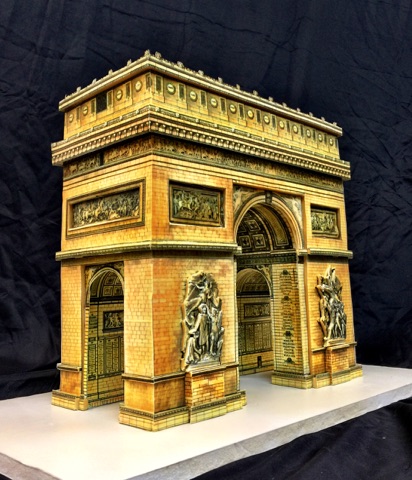 Who are your cake heroes?
Margie Carter is the cake thunder from down under. Her craftsmanship, her originality and the free joyous spirit in which she works are beyond compare.
If you could eat only one cake for the rest of your life – what cake would it be?
Black Forest torte. Cherries and kirsch in a chocolate cake?! Mad genius!
Home studio or cake shop?
Cake shop
Buttercream or ganache?
Buttercream
Novelty cakes or wedding cakes?
Novelty cakes
What advice would you give to a cake decorator just starting out?
Basics, basics, basics ! Your journey should start with attaining a smoothly iced round cake that's straight and true, with a finish that doesn't need to be hidden under a coat of fondant. Achieve that and you have the keys to your kingdom.
What's your favourite cake style from 2016?
We've had a lot of requests for wood grain texturing this past year and its always a fun challenge to achieve as much realism as possible.
What trends do you predict for 2017?
We hope the naked cake trend fades a bit. We miss icing and piping.
What has been your proudest achievement within the industry?
Awards are great, or being published in a magazine is always special, but my proudest moments are always when I achieve something I was shooting for in a particular cake. I aim for 100 per cent success, but the closer I come to that mark, the prouder I will be at any particular moment. So far 85 per cent is my high water mark. I'm trying to do better.
What's the best song to decorate to?
Thunderstruck by AC/DC
Rock on, dude! What's your favourite tutorial on our website?
I love the Puffer Fish Tutorial. It looks like big fun and has a great appealing quality, yet not so difficult that a student wouldn't succeed in a big way.
Thanks for taking the time to chat to us, Mike!