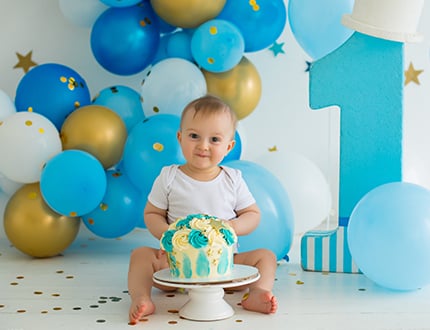 Stephen and Emma are excited! Their baby boy named Smith is turning 1-year in a few days. This is his very 1st birthday! Now they are planning to throw a grand party. In the invitation card, they want their baby's photo. So, they are looking for a photographer for their baby's 1st birthday cake smash photography! 
This type of photography has become a trendy type of photoshoot in the USA. Parents like Stephen and Emma, who want to capture these precious moments of celebration with perfection, look for such photographers. 
This type of photography is not just paid work; it is to create memories with emotion that will last forever. So, if you are a photographer of maternity, newborn, baby, kids, or kids' events, or you are interested in this niche; I recommend you to take a look at our article first. 
What is Cake Smash Photography? 
Cake smash photography is a type of photography that has become trendy in the USA. Simply put, it is a photograph of babies who turn 1-year old, though many parents arrange this for their 2 or 3-year old babies as well. 
The babies with cakes are photographed themed under the preferences of the parents. The whole purpose of such photography is to celebrate the babies' birthdays. 
How do you do a smash cake photo shoot?
Photography of cake smashing requires a setup of its own like any other photoshoot. That's how you would take a professional photograph. As the setup is centered around babies, it doesn't require much heavy equipment. Rather with props, light, camera, etc and minimal staging, you will be able to create a celebrating environment. 
We have sorted this matter out, discussed some of the cake smash photographers of the world, and followed their working method. What did they say to set the stage? Let's know- 
For such photography, if you prefer natural light, then make sure the light is coming from any side; this will give a proper dimension to the center where the baby with the cake will sit. 
If you don't have any other choice but to depend on the artificial light, you may need 1/2 extra lights considering the room. Many experts suggest not to use front light as it is not a very good option for this type of photography. 
Which camera and lens should you use? 
As for photography, Canon is one of the most popular, widely used camera brands, and you should also consider their camera lenses. 
About the lens, you can pick a wide-angle lens that will get you near to the baby for a closer shot. If you are shooting in a small room without much space, I recommend using a prime lens. Many photographers use the macro lens as well for smash photography. 
Use a theme to entice the kids. Make it as relevantly colorful as possible. Make sure the theme matches well with your cake, the background, and decoration. 
Let's say, you have picked the Queen Elsa theme from the 'Frozen' movie; which is crystal-blue. The VIP of your cake smash photography is a 1 year old baby boy. So have the baby wear a blue color attire, get a sky blue color cake and decorate the stage with props of different shades of blue. 
Make background simply cute
As you are shooting for a celebration party for babies, not much complicated or extra decorated background is needed. Better use your background simply. 
If you are shooting indoors, you can have your own decoration as well. You can use any plain color background, vinyl, or pieces of backdrop. You can find them on e-commerce sites. 
If you are shooting outdoors, then you don't have to worry about the background, rather focus on beautifying the scene where the baby is going to be seated. 
Whatever background you have, decorate with some props and balloons, it will be more vibrant. You can use paper or cotton balls, any toys, or gift boxes etc.  
Have something to play with
What can be some suitable props for kids of 1-4 years old babies? They will try touching everything that attracts them. So, pick something soft and harmless. 
Among the props, you can use playthings like cotton balls, soft toys or plushies, candies, bunting flags, balloons, and so on. Or, you can use foods like donuts, chocolates, fruits, etc. As these props work as a tool for them to play, having these will help you to keep the baby from moving around. 
Cake smash photographers suggest picking sponge cakes as those are easy for the tiny hands to crumble. Some specialists recommend not to use red and brown cake because it won't look as cute as other colors. Instead, use plain and simple color cakes like white, pink, light green, baby blue, yellow etc. 
You can take a baby's shower scene here as well; have a little bathtub around. Before cleaning up the baby, let the baby play with the water in front of your background; adding a bubble bath will make it more exciting. Babies are natural water lovers. By doing so, you will be able to capture some astounding playful moments of the baby. 
Working with food and baby together is sure to get messy. Make sure to have everything from time to time. For that, you can tell your clients to bring towels for their baby, and you can have baby wipes and towels for your usage. Having a clean environment will help everyone to stay focused. 
Cake Smash Photography Tips to Follow
A baby cake smash is indeed an exhilarating and fun type of photography because being around children is such a pleasing feeling! But, working with them is somewhat challenging; you can't order or request them to stay put in place; they do whatever they love to do. 
Professionals who are working in this niche have some tips to follow. Let's take a look at them. 
Pick a time when the baby is energetic, not the time when the baby is sleepy, silent, or does not want to move. 
Keep your props simple and movable. Make sure your setup includes nothing harmful for kids. 
Make the baby acquainted with your arrangement. Some kids will instantly light up seeing the setup, but some shy babies need time to learn what's happening around them. Give the babies some time to adjust. Try to communicate with them. 
Take a couple of shots before smashing the cake. Let the baby play with props, look at them, let them be amazed and happy before placing the cake in front of them. Click all those moments. 
Try clicking all the emotions and expressions. To do that, use fast shutter speed, so you don't miss any opportunity to get the best shots. 
Use a mess-proof matt for the floor so that it can be instantly cleaned.  
Have your images edited

before delivery. If you can't do it yourself, outsource photo editing services from renowned companies. 
Cake Smash Photography Prices – How Much does it cost to take a Cake Smash Photo Shoot?
Like other photoshoots, the pricing of cake smash shoot sessions is also calculated considering a number of factors, and those vary from photographer to photographer. 
Some photographers generally shoot kids but do smash photography only upon request; their price will vary from those who only do smashing photography. 
However, the average charge for cake-smashing photography will be around +/-200 and can be much more expensive. 
Top 5 Cake Smash Photographer Hire in NYC
Take a look at top 5 photographers for your baby/ cake smash photoshoot. 
Picture Perfect NY is a New York-based photography business owned by Joseph and Angela. They love photography. The subjects of their photography are maternity, newborn, baby and chile, and children's events. They ensure the privacy of every client. And the service they cover is available in more places other than New York. 
Shirly Schvartzman Photography is a newborn and family photo studio based in Brooklyn, New York. The studio specializes in newborn and child photography, cake smash sessions in surrounding areas as well. They personalize every session for particular clients and provide everything they need. 
Brilianna Photography is famous in New York for newborn, baby, and maternity photography. Their operations are conducted in some other areas around Newyork. Proprietor Irina has been working for the past 7 years and offering simple and elegant maternity, newborn, and babies (in their first year) portrait service. 
Big Apple Portraits is an experienced photography studio for newborn, child, and family photos. They are well known for enjoying capturing moments and memories of clients. The team ensures a friendly ambiance and professional work and attitude. Also, they have services that suit your budget.  
Luciana Golcman is an award-winning photographer.  Her popularity soars up for maternity, newborn, baby, children, baby's events, and family photographs in New York. It serves the NY city and the tri-state area. She enjoys capturing moments of innocence, uniqueness, and sweetness of babies, pregnant moms, and families.  
Final Words
A cake smash photography is all about celebrating and creating memories. Looking at a baby growing up is really a mesmerizing experience for parents. They are prone to treasure these precious memories. So, help them cherish this occasion forever. Good luck on your journey!